Did you know the average consumer in the United States spends more time on apps than watching television? Many young adults spend over 3 hours every day using apps. So, it's not surprising that you're looking to create an app for your business.
Several app developers can help you create an app that solves your customer's pain points, improves user experience, and appeals to new prospects. However, choosing the right app developer can be tiresome. There is an unending list of app developers and development companies out there.
In this guide, we've provided the best app developers you can find on the market so you can build the perfect app for your business. We also look at mobile app development companies, the role of mobile app developers, and specific need-to-know tips for selecting an app developer that's the right fit for you. So let's get to it.
What Is an App Development Company?
An app development company is an organization created to build and roll out applications for diverse operating systems and devices. All the apps you can run on your phone, tablet, laptop, and whatnot are designed by app developers.
Additionally, app development companies program apps and constantly test them to improve usability and user experience. They help craft your brand image in your customers' minds and provide mobile solutions to customer problems. If you're looking to create and launch an app for your business, you should consider working with an app development company.
What Do App Developers Do?
App developers play a crucial role in every user's online experience. They build software that allows users to capitalize on the internet's power. For example, you can make video calls with friends worldwide and sign business documents from a thousand miles away because of a digital solution.
Even though there are many roles for app developers, these responsibilities cut across for them all:
Improving User Experience
According to Forrester, having a good UX design increases your conversion rates by 400 percent. This means your app needs to provide solutions relevant to your customers' needs. That's where the app developer comes in.
App developers have the skills to build relevant mobile solutions with user-friendly interfaces to improve user experience. They think beyond the mere use of the product, having the user's experience with your app as their focal point.
Testing Apps for Quality Assurance
To ensure every feature and functionality of an app is operational, app developers run quality assurance tests (or software product quality assessment). Quality assurance tests prevent functionality errors on the users' end, so users don't have problems with your app.
Providing Support
Every app needs to be constantly tested for bugs and errors. This ensures that the app is running at its best and provides the best experience.
App developers run ongoing maintenance on apps but often go beyond simple programming. They provide tutorials for clients with little technical knowledge and even monitor tech trends to ensure your app is updated.
Types of App Developers
Although there are many variations to the work app developers do, there are four main types of app developers. There are
Enterprise developers (Inhouse or Outsourced)
Boutique developers
Freelance developers
Let's look at how different these developers are and how they can help you.
Enterprise (In-house)
Enterprise developers are essentially agencies that run full-scale app development processes for their clients. They conduct customer research for clients, design and build the app, launch it, and run regular maintenance.
They also require an enormous amount of money. Enterprise developers can build apps faster since they have many employees (designers and coders).
Enterprise (Outsource)
This type of developer is similar to an enterprise (in-house) developer, except they work with freelancers instead of coders and designers. However, they take the freelancers on for complete projects.
Boutiques
These types of developers are niche developers. They specialize in building specific apps for specific industries. Boutiques are usually two-person teams that handle fewer projects than enterprise developers.
Freelancers
Freelancers are people who take on app development jobs on their own. Unfortunately, not many freelancers can build squeaky clean apps as the development process is long and tedious. Moreover, the freelancers who can do this are expensive and hard to find.
Do You Need a Mobile App?
With consumers seeking a more mobile experience, it makes sense to have an app that satisfies that need. But how can your business benefit from an app? Here are some reasons you should acquire an app for your business:
Increases Accessibility to Your Business
According to a survey by eMarketer, 90 percent of people on mobile phones spend their time on apps. This implies that those people are going to enter your app in one way or another.
Most people do indeed spend the bulk of that time on specific apps, but they're going to be scrolling and clicking. So you might as well be an option for them. But it doesn't end there.
You need to simplify the process for your customers. Customers are happier if they can access all they need from a single app. They want to shop, buy and seek staff support from one place. You're boosting customer satisfaction and solidifying customer loyalty if you can make that happen.
Boost Brand Recognition
When you see the "Swoosh" on any piece of clothing, you'll most likely think it's Nike; and you won't be wrong. That right there is brand recognition.
Mobile apps help you stand out from other businesses. The design and interface all build an image of your brand for your audience.
There are also notifications and updates that you can send to your audience. Every time a notification comes through, it establishes an image in your audience's mind. You can then become the go-to brand for problems in your niche.
Collect Customer Insights
You can easily collect customer feedback on your products and services with a mobile app. Most apps also have an insights feature that collects data on customer activity in your app so you can improve your services.
Additionally, certain apps with machine learning capabilities come with predictive analytics that help you personalize the customer experience. You can use this data also to provide recommendations for customers.
Boost Sales
One way to boost sales for your business is through an app. A report by App Annie expects consumer in-app spending to surpass 150 billion by 2022. You can capitalize on this spending to draw in some profit for your business. How?
Users are most likely to follow through with a purchase if they can save what they want in a cart or a wishlist. Additionally, you can push app users down the sales funnel with notifications on discounts and promos.
Do You Need an App Development Company?
You've decided to create an app for your business, great. Your next step will be to employ the services of mobile app development companies. Here's why:
Technical Know-How
Mobile app development companies have specifically trained employees to create user-friendly apps for their clients. They have a proven track record and are well versed in the latest technologies.
You can exploit that knowledge repository by paying these experts to build your app. Plus, you can have your internal team focused on other pressing matters instead of figuring out cross-platform functionalities and whatnot.
Cost and Time Effective
Most mobile app development companies provide clients with a fixed price for their services and a stipulated time to complete an app. This way, you know if building your app is within your budget and when you can expect to launch your app.
On the flip side, you'll spend lots of money building the app on your own, especially if you're still figuring things out.
Updates on New Niche Trends
If you're running a business, you most likely don't have time to study trends in mobile app development. It's understandable; you're focused on staying ahead in your market. However, it doesn't mean you should ignore trends that give your customers an outstanding user experience.
With a mobile app development company, you wouldn't have to. The developers in these companies are constantly updating your app with the newest technology and bug fixes, so you don't have to worry about your customer's experience.
Sadly, many businesses lose money because they run apps with poor user experience and outdated functionalities. Would you rather use an all-in-one accounting app that integrates with your bank or one that keeps a tab on your spending?
App Development Platforms
There is essentially a duopoly when it comes to mobile app development platforms. The two most popular app development platforms are iOS and Android.
According to Stat Counter, Android is the leading app development platform, with 71.6 percent of the market share. iOS comes right after with 27.9 percent of the market share as well. The remainder is distributed among development platforms like KaiOS and Windows.
Best App Development Companies
Here's our list of top mobile app development companies you should consider working with:
Minimum Project Size: $3,000+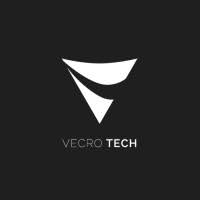 Company Size: 10 – 49 employees
Location: London, UK
Key Clients: London North Eastern Railway
Specialty: Start-ups
Vecro Tech is a custom software development company based in London, UK. With about 15 employees, Vecro Tech specializes in custom software development for startups and small-scale businesses.
Vecro Tech's approach to software solutions is second to none, and it's well versed in emerging technologies. Their mobile app development solutions include native app development, custom apps for iOS and Android, UI and UX design, cross platform solutions, and emerging tech consultancy.
If you're looking for a mix of startup mentality and corporate experience, Vecro Tech is your best bet.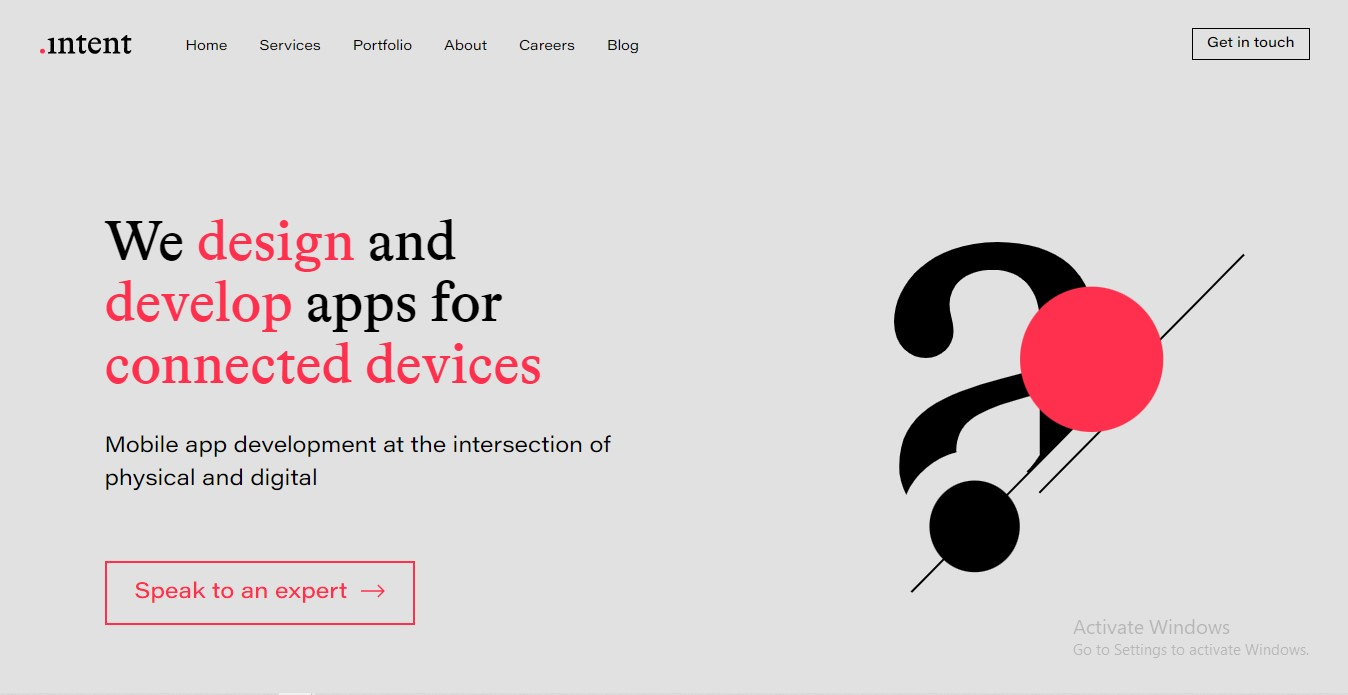 Minimum Project Size: $10,000+
Company Size: 50 – 249 employees
Location: Warszawa, Poland
Key Clients: Google, Nike, Samsung, P&G, Jeep, Mercedes Benz
Specialty: Android and iOS apps, usability audit, usability testing, UI design, cloud solutions, interactive prototypes, frameworks, design sprints
Intent is a top mobile application development company specializing in transforming early-stage ideas into fully functional apps. Intent offers over 12 years of experience alongside results that cement their expertise in mobile development.
Intent has a host of talented developers, designers, and specialists that it can assemble to produce groundbreaking apps for your business. Plus Intent undertakes all its projects with a personal commitment and some A-game.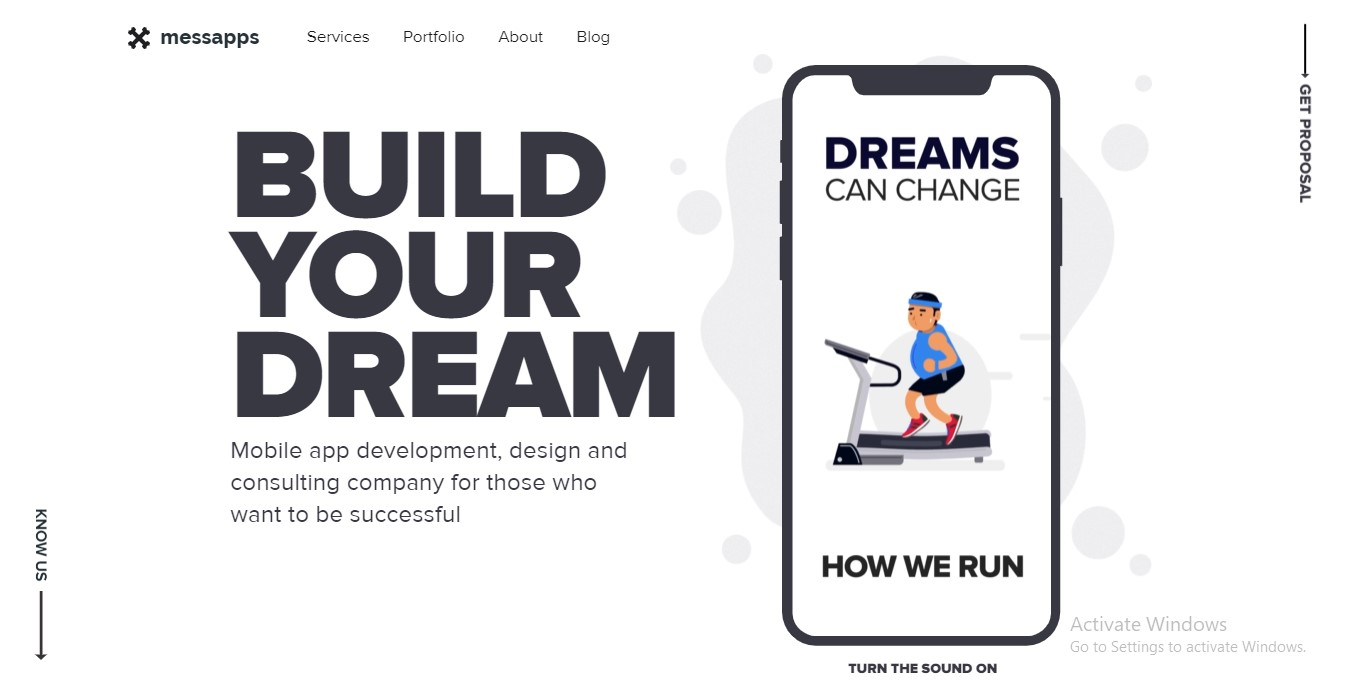 Minimum Project Size: $50,000+
Company Size: 10 – 49 employees
Location: New York, US
Key Clients: Microsoft, Ground Central, Trademade, New York University
Specialty: Application development for iOS and Android, UX/UI design, cross platform mobile app development, e-commerce development, web development, web application development, mobile apps design and consulting
Messapps is one of the best mobile app development services you can find. They offer a wide range of services, from building Android apps to creating custom software for "those who want to be successful."
Aside from its trusted clientele, Messapps has a portfolio that speaks for itself. It also employs a straightforward creation process to turn out interactive and award winning apps. The aim is to keep your users coming back for more.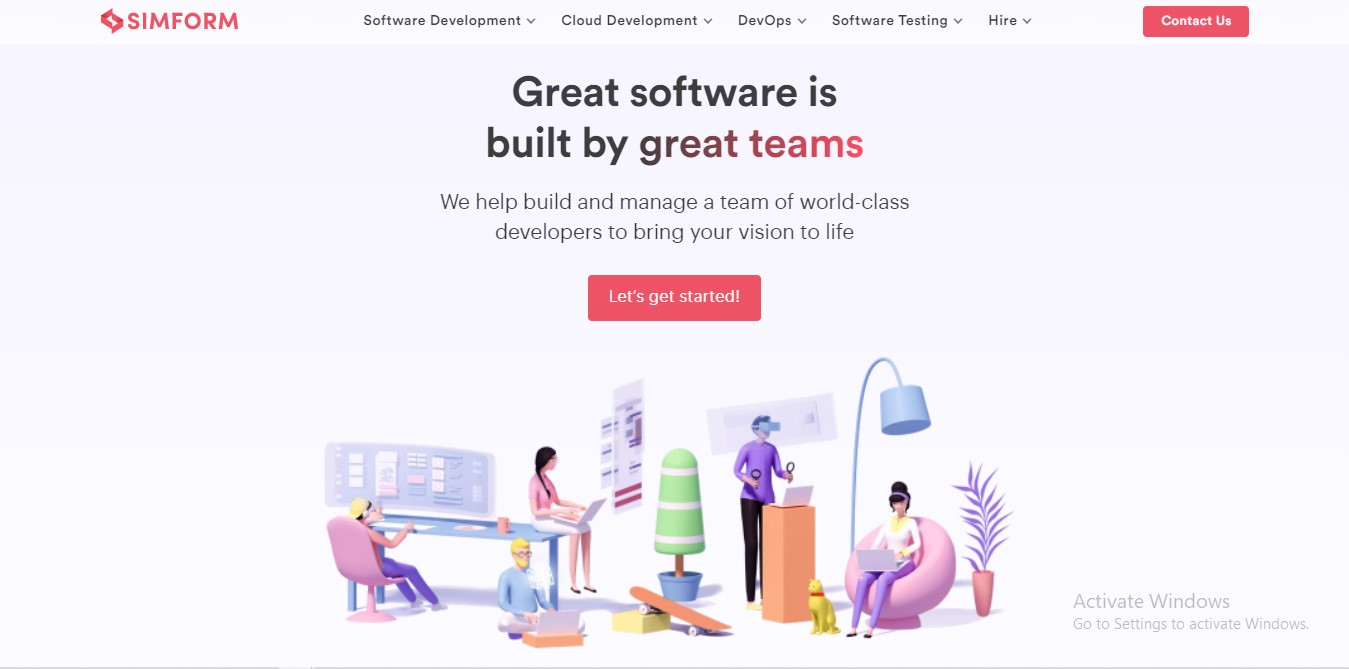 Minimum Project Size: $10,000+
Company Size: 250 – 999 employees
Location: Florida, US
Key Clients: Redbull, Hilton, Sony Music, Boy Scouts of America
Specialty: UX UI design, mobile app design, android development, web app development services, software testing, API integration
Simform is a custom software application development company based in Florida. With over 250 talented employees, Simform is well versed in creating successful apps that solve your customers' needs.
Simform works with a wide range of organizations, starting from startups to several Fortune 500 companies. As a result, Simform is a reliable partner in creating innovative digital solutions, relying on AI and an in-depth understanding of application development.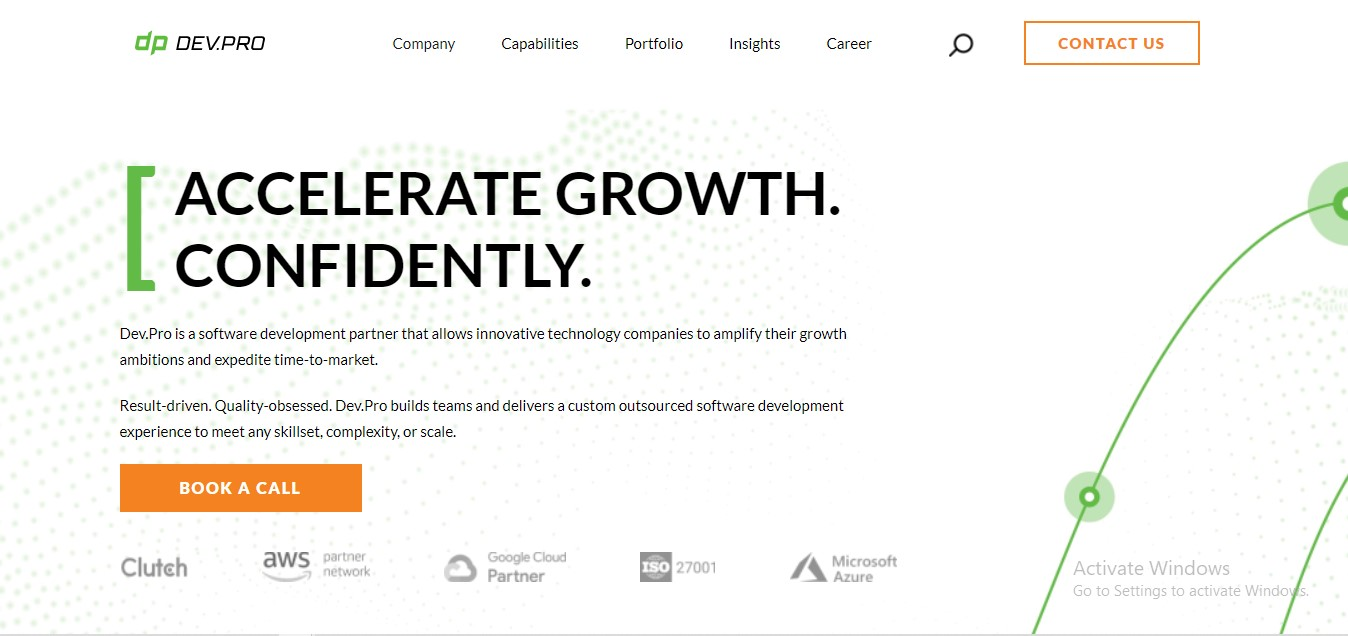 Minimum Project Size: $75,000+
Company Size: 500 – 999 employees
Location: Las Vegas, US
Key Clients: Inveniam, Securrency, Cureatr
Specialty: Pixel Perfect HTML, mobile development, C++, JavaScript, Java, QA, UX/UI design, business analysis
Dev Pro is a mobile development platform that solves client pain points through talent outsourcing. It has over 600 creative specialists who work to produce stunning web and mobile apps under client direction.
Dev Pro focuses on cloud solutions, Dev Ops, and automation services and is well-versed in software development. So if you're on the market for a transparent company that can create award winning web and mobile apps, Dev Pro is for you.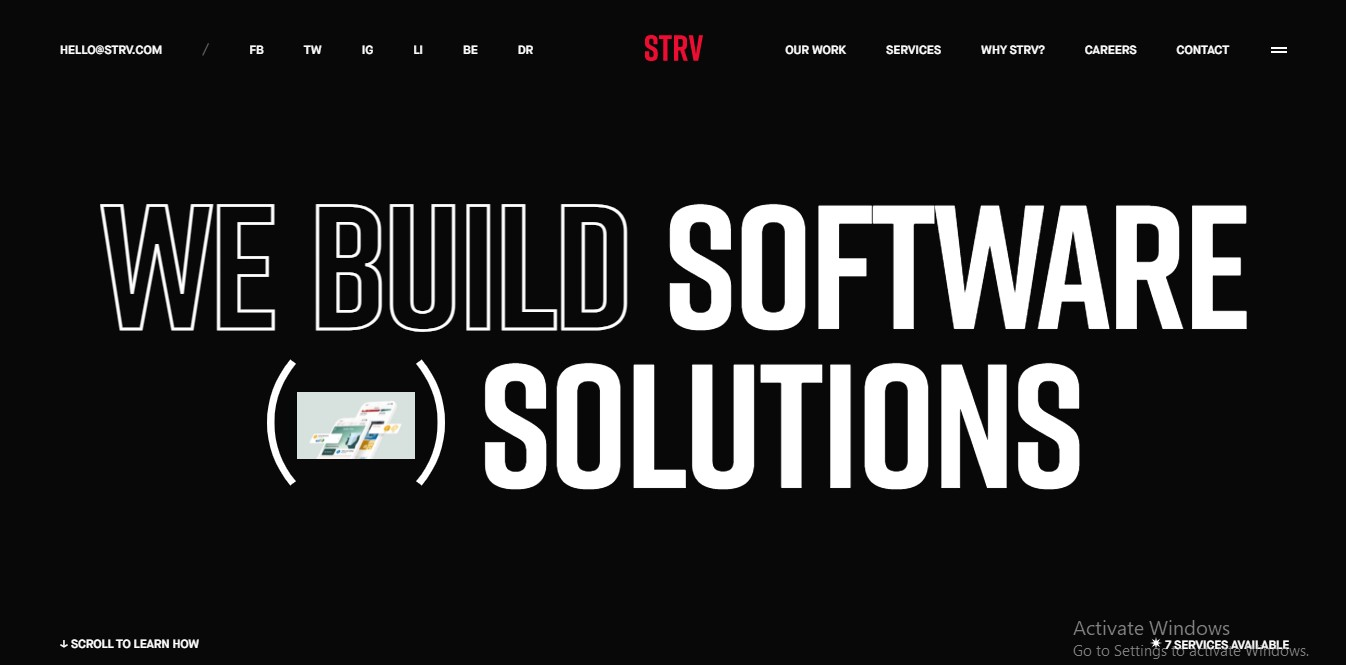 Minimum Project Size: $100,000+
Company Size: 50 – 249
Location: California, US
Key Clients: AutoDesk, The Athletic, Still Life, Barry's
Specialty: Web design and app testing, UI UX design, Android app development, iOS app development, web development
STRV is a top mobile app development company specializing in mobile and web apps for small and large organizations. STRV has a dedicated software development team of over 200 employees and a track record of creating top-notch solutions for digital platforms.
Currently launching over 70 apps every year, STRV has established itself as a reliable partner for mobile application development and UI UX design. If you want an award winning app and web development company, this is the right fit.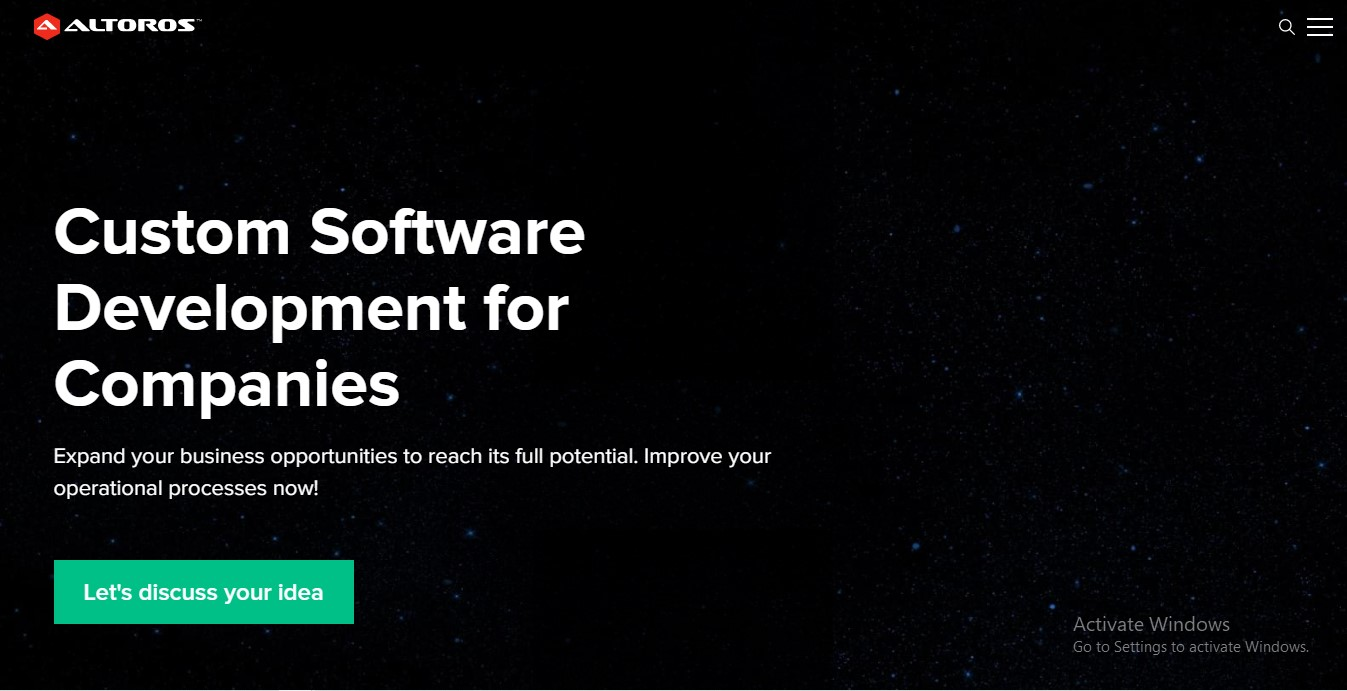 Minimum Project Size: $25,000+
Company Size: 200 – 500 employees
Location: US
Key Clients: Huawei, Samsung, Toyota, AllState, Siemens, Hitachi, Couchbase, MongoDB
Specialty: Cloud-Native, PaaS, Cloud Foundry, Blockchain, Tensorflow, Digital transformation
Altoros is a reliable mobile development company focused on improving business efficiency by delivering innovative digital solutions in record time. With a focus on cloud automation, Altoros seeks to give its clients an edge over their competition.
This leading global technology company offers a suite of services, including React Native app development. So if you're looking to hook your customers in with top-of-the-line technology, Altoros is the company for you.
Pricing and Cost of App Development
Several factors go into the cost of developing an app. However, the typical range for mobile app development is between $100,000 and $300,000.
You need to understand that the cost of developing your mobile app will vary by the:
complexity of the app
development platform on which you'll run your app
app design
mobile app development company you choose
Here's what we mean: Tinder created its app in 2012. With this app, users swipe left or right depending on whether they like a person's profile. The app records user responses and creates a match when the user on the other end also likes the first user.
The starting cost for this simple functionality was $45,000, with a pre-stipulated completion time of 1000 hours.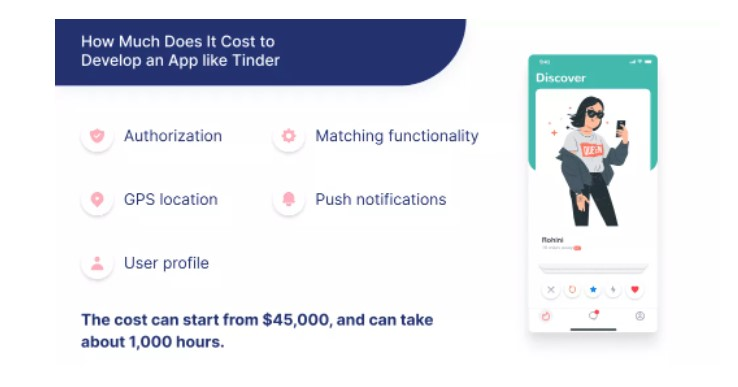 The more complex your app, the higher the cost of development. Here are the typical costs for the different app complexities:
simple apps: $16,000 – $32,000
mediumly complex apps: $32,000 – $48,000
complex apps: $72,000 and above
You most likely have a budget for building your mobile and would like to know the upfront cost of developing your app. This helps you gauge how much you can spend on the development process, so it's understandable.
However, you won't always get a quoted price before your app gets built. For example, most mobile app development companies give clients a quote upfront for mobile app development, but a freelancer may not.
Luckily, several web apps allow you to calculate your app development costs. These web apps include Buildfire Calculator, Estimate my App Calculator and Cleveroad Calculator.
Selecting the Right App Developers
There are many mobile app development companies on the market with expertise, experience and exciting offers to create an amazing app for your business. Here are some tips on how to shortlist your options and select the right developers.
Determine Your App Requirements
After crafting your mobile app idea, your first action is to determine its requirements. Every app has different needs as they change with the app features, budget, development platform, and timeline.
With a clear vision of your app requirements, you can narrow down on the mobile app developer you want to work with. It also helps develop digital business solutions fit for your business.
Research Mobile App Development Companies
Now that you know your app requirements, you have to select the mobile app development companies that can help you. This begins with research.
You can look through our list of the most reliable mobile app development companies from above for help. Alternatively, you can google "mobile app development companies" for an unending list of companies to choose from.
Go With Full-Service Companies
Several elements are involved in the app development process; research, UI and UX design, app testing, system buildup, deployment, etc. A full-service app development company covers all these operations.
This way, all your systems and functionalities are in sync, and you don't spend too much money. In addition, most full-service app development companies have the required in-house resources to create your app.
Choose an App Development Company That Understands Your Brand
According to Forbes, you have only 7 seconds to mold a visitor's impression of your business. This means visitors have to get your message and feel your brand from the onset. It also means the company you work with must understand your message.
Working with a mobile app development company that understands your brand is a way to amplify your brand message and create a lasting impression on your visitors. If you're looking to become the go-to brand in your niche, you need to connect with companies like this.
Check Out the Developer's Portfolio
Another way to know if an app development company is right for you is to research their previous work and portfolios. Then, ask to see their best pieces on the market so you can peruse them.
It's advisable to try out the apps in live mode and test all their functionalities. This way, you can assess their performance and judge if they're a company you want to work with.
Read Reviews
There's a good chance the company's previous clients have said something about them online. You can search online to see what those clients think about the company. It's a way to get an inside view of the app development company's work process.
It's also an excellent way to verify the company's reliability and support system. You'll need some support even after launching your app. You'll want to know you have the company's help when you need it.
There are many review sites you can check out online. These include Amazon Customer Reviews, Choice, Angie's List, Glassdoor and Capterra.
Ask About Privacy and Security Policy
In a study on mobile fraud, RSA discovered that most mobile fraud occurs through the mobile channel. A full 72 percent of it. This goes to say that security should be a driving factor in your selection process.
Your customers need to be assured that their data and transactions are safe. It would help if you showed them that they could use your app without fear of phishing and other mobile fraud. One way to do this is to employ a top mobile app development company that can create secure apps for your business.
Monetization Model
Finally, you need to look into the monetization model of the app you want to build. For example, would you like to offer projects at a fixed price? Or do you want to offer free trials with payment after a pre-determined period? Maybe you want a free app with in-app purchases.
Whatever the case, the monetization model you choose, can help you shortlist candidates for your app development.
Where to Acquire App Developers and Designers
The mobile app development companies we've discussed above are experts who provide solutions to your app development problems. However, you can also find companies on your own if the ones above don't suit your brand.
If you're looking to outsource your mobile development, you can check out these websites for top talents in the mobile development niche: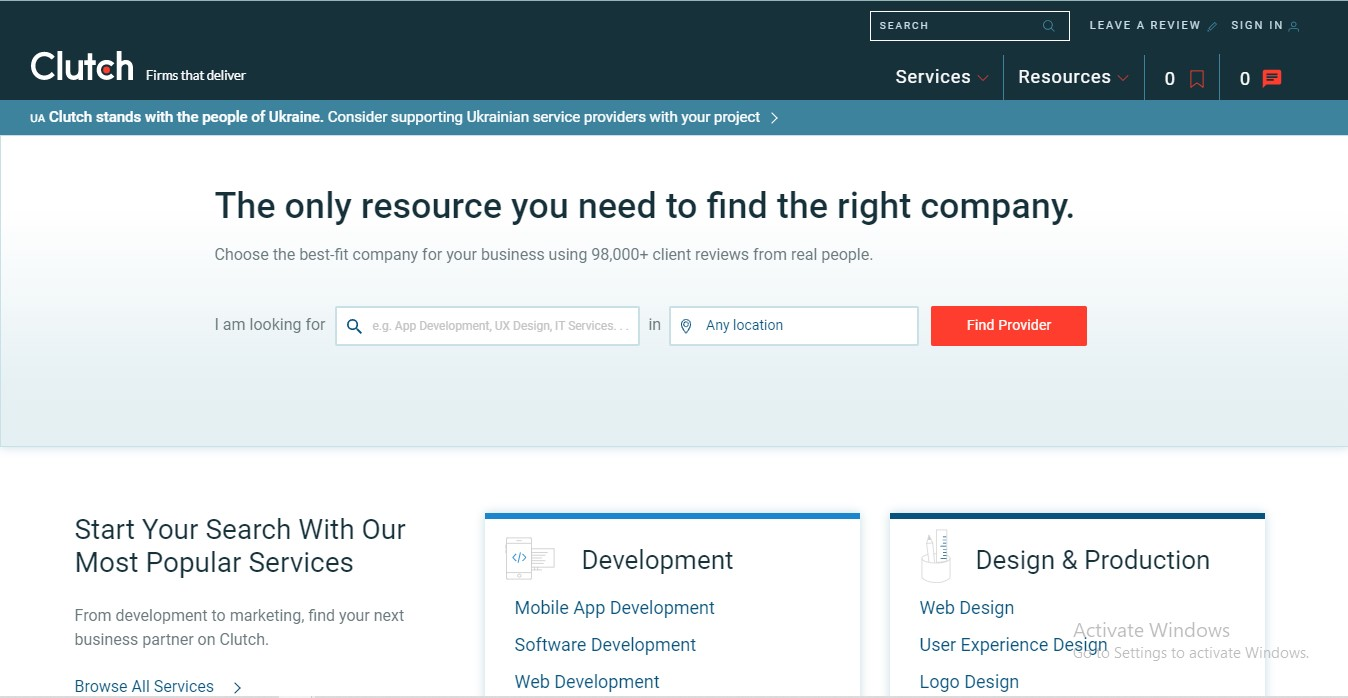 Clutch is a review company that provides you with resources to find the best talents in the mobile app development space. With Clutch, you can browse a comprehensive company directory, filter that directory to suit your search needs, and read in-depth reviews on your shortlisted companies.
Additionally, Clutch evaluates companies qualitative and quantitatively, the most crucial factor being proven client reviews.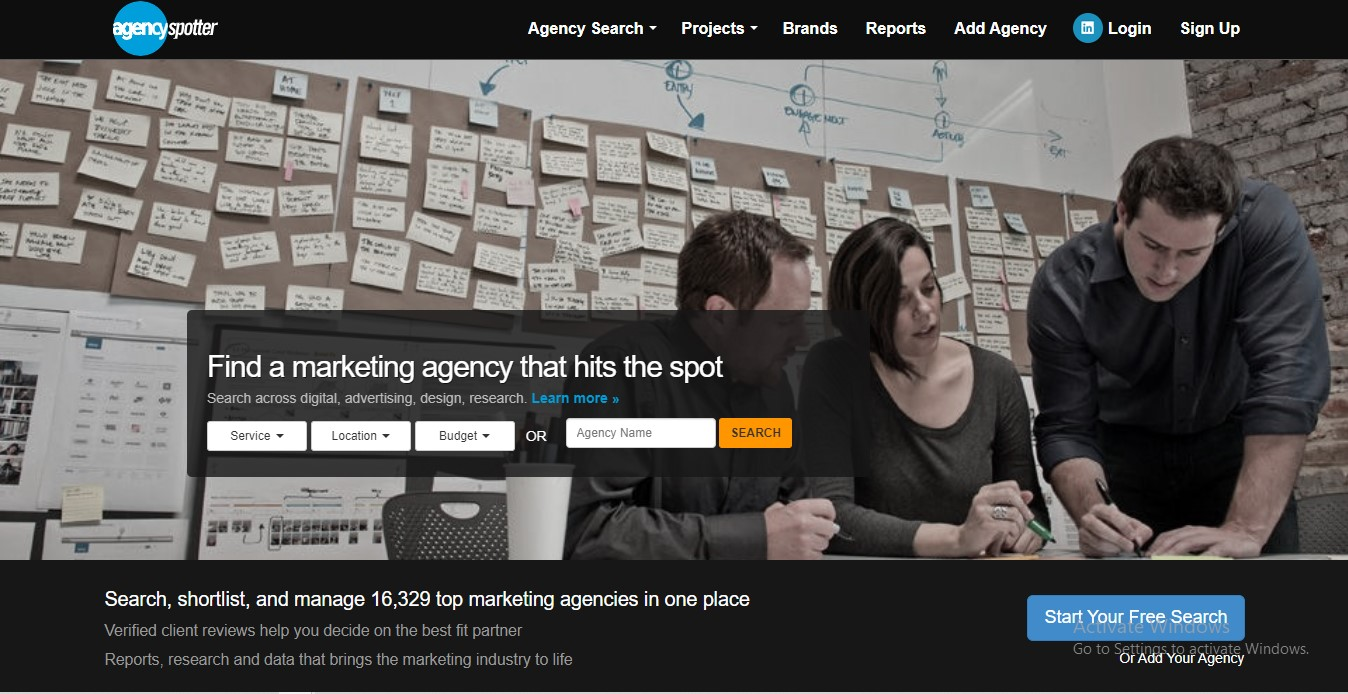 Agency Spotter is a search agency that allows users to scan their catalog for the agencies that fit their style and connect with them. It has over 16,000 agencies listed in almost all agency categories you can find.
Here, you can find app development agencies to help you build a catching app that converts your customers.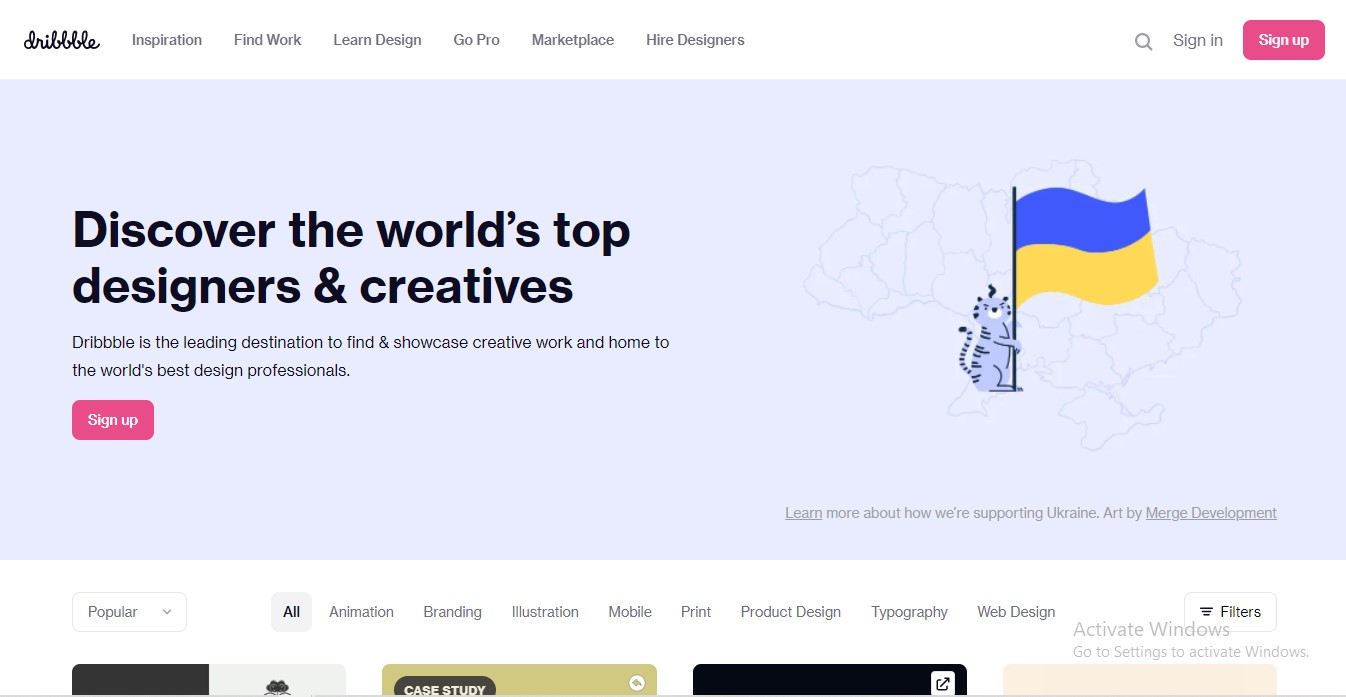 Dribble is a web-based agency that allows users to find the best designers and developers for their problems. The great thing about Dribbble is that developers usually showcase their handiwork, so you can go through the platform to find a developer that calls out to you.
You can also find agencies through Clutch and follow up on their work through Dribbble. This way, you know what you're going for from the start.
Must-Ask Questions for Selecting the Perfect App Developer
Before you hire mobile app developers, you need to get some things straight. The questions below would help you find the best mobile app developers for your business:
Do You Have a Portfolio for Similar Projects?
The best mobile app development companies have previous experience in their industries. Experience means they can handle the development process and respond well to any possible issues that may come up in the process.
A portfolio also reveals the range of solutions the company can provide and its level of expertise. This information helps you determine whether or not the company is the right fit for you.
This isn't a hard and fast rule, but if you're looking for a company that can handle your app development without a doubt, go with one that has a portfolio of similar projects.
Do You Have a Customer Portfolio?
Customer reviews and testimonials give you an overview of your experience with the mobile app development company before you hire them. That's why it's advisable to check for a customer portfolio.
Again, this isn't a conclusive metric you can use to decide on the best mobile app development company for you. But, it helps cement your decisions if a company has good reviews from its clients.
How Does Your Pricing Work?
You may be operating within a budget, so transparency from the get-go is essential. Transparency prevents you from spending more than you have to on your app.
Developing mobile apps is expensive. However, you can find a mobile app development service that fits your budget. It's also one way to shorten your list of companies to work with.
Ensure you understand how the pricing is going to work. You can ask questions like what modes of payment you need to use, the frequency of payments, and more.
What's the Turnaround Time for Your Projects?
You need to know when you can make your app available to your customers. That's where the project timeline comes in.
A project timeline gives a clear idea of when your app will be ready, what milestones will be accomplished at what time, and who will be working on the app. Luckily, you can create a project timeline together with your developers. Every timeline should include:
a list of tasks to be completed
the order in which tasks should be completed
the time for completing each milestone
the personnel working on the app at each stage
the expected time for completing the whole project
This project management technique helps streamline your application development and keeps everyone in the loop.
How Do You Approach User Experience?
Many users today are selective about the software solutions they use. That's why it's crucial to invest in the UI UX design of your app.
A fantastic user experience improves customer retention and loyalty by meeting your customers' needs. Ensure you understand how a company approaches user experience so you can assess whether or not it's a good fit for your brand.
What Design and Development Methodology Do You Use?
The most popular development methodologies are the Agile, Spiral, Waterfall, and Prototype methodologies. Each of these methodologies has its benefits, so the one you go with depends on which one best fits your business.
For instance, the waterfall methodology involves a sequential development process when one task is completed before the other. It also requires detailed documentation and planning before execution. On the other hand, the prototype methodology involves creating a prototype app and running mobile app testing and modifications until the perfect product is built.
What Platforms Does The Developer Create Apps For?
You know the platform you want to develop your app for. So, it's a good idea to ask which platforms your developer specializes in since you want your goals to be parallel to your developer's.
Does the developer specialize in Android app development, iOS app development, app and web development, or even cross platform app development services? Note that you may want to scale your business in the long run, so developing cross platform mobile apps may be in your best interest.
Who Owns the App Code After Deployment?
Intellectual property ownership is vital in app development. The consensus is that the app developer is the app's owner.
However, certain app development companies can write off the app code for you. This transfer of ownership gives you access to all the files connected to your application development.
What Would Post-Development Support Look Like?
App development doesn't end with deploying the app. There are regular updates, maintenance, and more to take care of. Doing this yourself can be expensive since you may not have the expertise.
Ensure the mobile app development company you work with has a post-deployment support system to help keep your app updated and in good shape. How does the company plan to help if you want to scale or expand your business?
What Do You Do After Hiring Mobile App Developers?
Mobile application development involves several steps, and hiring mobile app developers is just the first of many milestones for the process. Here's what to do after you've secured the right developer for your app:
Set a time for periodic updates
Make documents of every stage of the application's development
Make a payment timeline and follow it judiciously
Make room for unforeseen events and accept changes on the go
Be flexible in your expectations as the initial product may have glitches and bugs