If you're in charge of running a church, you know by now that it's no easy task. From the weekly events to the finances and on to the welfare of the people, membership management can be daunting. But it doesn't have to be.
With a church management software, you can automate membership management, keep track of attendance, create financial reports, and more. However, there's an overload of church software on the market. You'll need to comb through tons of management solutions before you can find the right fit for you. But we want to change that.
In this article, we've reviewed several management software and compiled a list of the best ones out there so you don't go through that hassle. We also discuss what a church management software is, its importance, and how to choose the perfect one.
Let's dive in, shall we?
What Is Church Management Software?
Church management software is a suite of tools boxed up into a central system that allows church administrators to organize, manage, and automate their usual church operations. It's essentially an all-you-need toolbox for church administrators.
Now, we've seen what church management software is, but why do you need one?
Is a Church Management Software Solution Important?
If you're looking for a fast, cheap yet efficient way to go about all your church operations, you can't look past church management software. Here's why. Church management software allows you to:
collect and organize membership information;
automate announcements and church event invitations;
showcase your church's website and mobile apps;
build systems to keep staff organized and goal-oriented;
create a community for your members…
The list goes on and on.
Choosing the Best Church Management Software
The key to finding the best church management software is to determine which features of the church management solution you want, how much you're willing to spend, and how easily you and your team can use the software.
These are the most common features of church management software out there:
membership management
financial accounting
events management
attendance tracking
communication management
volunteer management
website management software
We'll discuss the various features each church management software has, the pricing, and ease of use below. However, remember to choose a solution you can grow with. You won't have to pick out new software or pay more fees for a solution in the future if you can get one that aligns with your goals now.
How Church Management Software Pricing Works
All software solutions come with various pricing plans, and church management software is no different. The pricing differs on several factors, like membership size and staff size.
Luckily, most of these software offer trial periods that allow you to use the solution without paying. This way, you can determine whether the church management system is a good fit for you or not.
Top Church Management Software
Here's our list of the best church management software you should consider:
Church Helper – Best for finance and membership management
Tithe.ly – Best for wide range usability
Wild Apricot – Best free solution for small churches
Monday.com – Best for communication centralization
Elvanto – Best all-inclusive management software
ChurchTrac – Best cloud based solution
Breeze – Best user-friendly interface
CHMeetings – Best for pricing
Power Church – Best for medium to large churches
TouchPoint – Best mobile app experience
Shelby Next – Best for larger churches
Blackbaud – Best for payment and membership management
Now, we'll evaluate these software individually and determine what makes them tick. Here we go.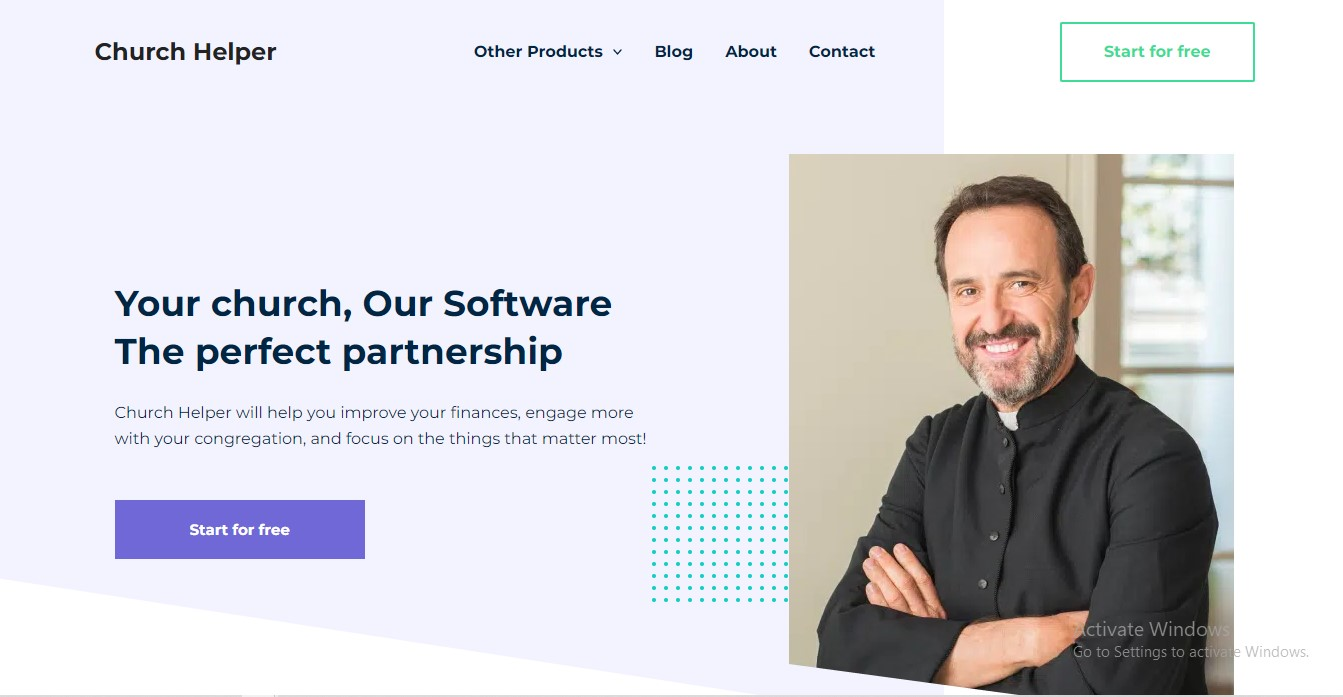 Pricing: $20 per month
Trial Period: Free 3 month trial
Features
Church Helper boasts a wide range of features that allow you to efficiently manage the day-to-day operations of your church. Here's what we mean.
Church Helper allows you to collect and group membership information, and manage that data as you wish. How? You can search for specific member information, add new members, and amend and remove old contacts.
But there's more. This powerful church management software allows you to communicate with all your members, even new converts. This way, you keep in touch with all those who come across your church.
Church Helper also fashions a planning center that allows you to organize and manage events like fundraisers and weddings. This planning center allows you to collect data, link contacts, and create groups for events. You can also track attendance, monitor interactions, and assess the overall performance of those events.
Additionally, Church Helper allows you to create reports on church activities and events, so you can transform your future meetings into relevant and valuable sessions for members. You can also monitor your finances, and create budgets and invoices to track church expenditures.
Pros
Relatively cheaper pricing
Streaming capabilities
No limit on membership information slots
Cons
2. Tithely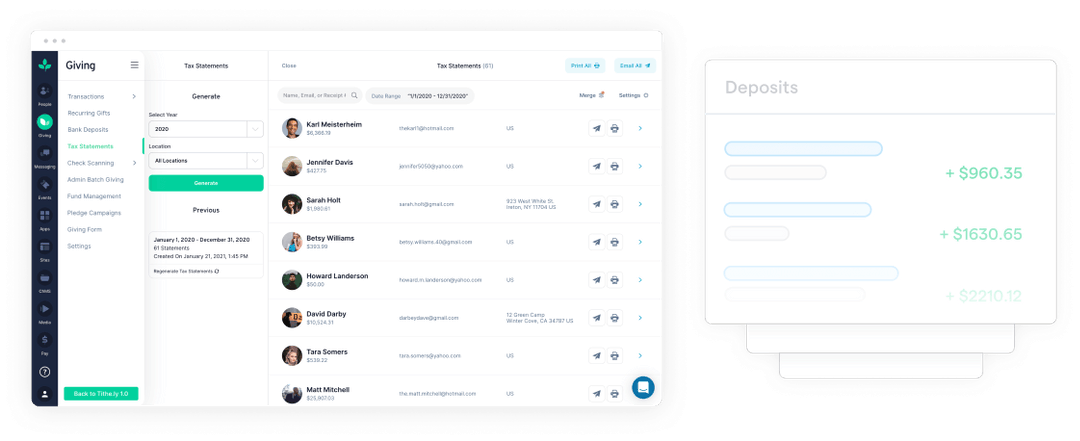 Pricing: $99 per month
Trial Period: Available with no credit card required
Features
Tithely has a dedicated giving feature that fosters online giving through multiple avenues like credit cards and cryptocurrencies. This comprehensive church management software also provides important tools for better membership management. These include workflow automation and check-in systems.
Like many top church management software, Tithely comes with a website builder, volunteer scheduling, report creation tools, accounting software, and an app builder. What's more, Tithely offers a free media kit to aid in branding and advertising.
Tithely's church app functionality gives admins the power to engage their audience and build deeper connections too. In the app, congregants can take interactive notes, listen to and download audio sermons, create growth checklists, give their tithes, and more.
The best thing about tithely is its ease of use. The software is designed to minimize your work load and maximise your productivity. Any one can get the hang of it quickly, which is especially important if you're going to use the software with members as well.
Pros
Free media kit
Highly customizable
Easy to integrate with 3rd parties
Cons
Data migration is a bit tricky
3. Wild Apricot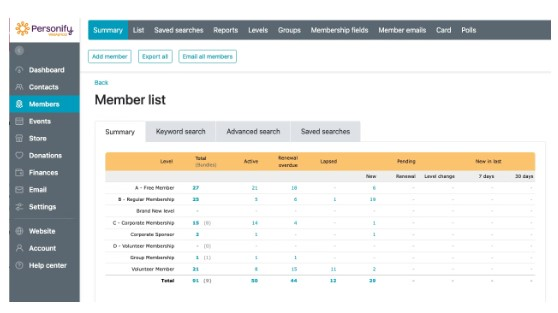 Pricing: Free for organizations with up to 50 contacts (Payment plans available for churches with more church members)
Trial Period: 30 day free trial with no credit card required
Features
If your church is small to medium-sized or non-profit, then you should consider Wild Apricot as your church management software solution. Wild Apricot is an easy-to-use software that streamlines your administrative tasks and day-to-day operations.
With its membership management system, Wild Apricot helps you collect contacts, build an email list, and send out announcements to all your church members. You also get to build and launch a website for your church with predetermined templates from Wild Apricot.
Most churches run a volunteer system to help their members give back the way they can. Wild Apricot understands this need and provides volunteer management software to help you in this regard.
With Wild Apricot, you can roll out ministry-centred products like guides, books, audio sermons and more through its online store. Once you list your products in their unlimited product catalog, you can manage purchases and transactions from your dashboard.
Pros
User-friendly interface
A community for its users
Excellent database and event management software
Cons
Lackluster support system
4. Monday.com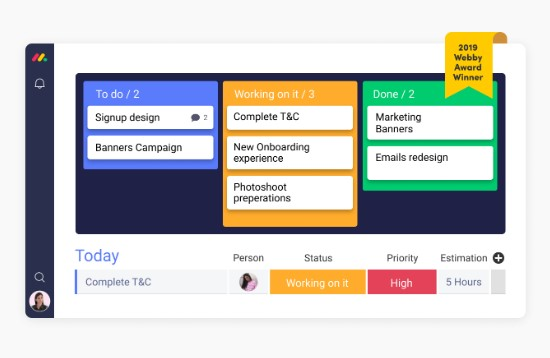 Pricing: Free-forever plan for 2 contacts. Paid plans start at $10 per contact for a month. This implies that every increase in contact increases your price.
Trial Period: Trial version available
Features
Monday.com is a free church management software that offers a user-friendly platform for church administration. Its best feature is its communication centralization software, which helps manage all operations from one dashboard.
But it gets better. Monday.com allows you to automate repetitive tasks so you can save time and also make informed decisions with real-time insights from your dashboard.
Furthermore, you can create project milestones and prioritize tasks according to your capacity. Monday.com's integration system is top-notch, allowing you to keep all your business tools in one place.
Monday.com makes event registration and tracking easier with its analytics solution as well.
Pros
Ease of use
Excellent integration system
Amazing customer support
Cons
Hefty price tag for small church teams
5. Elvanto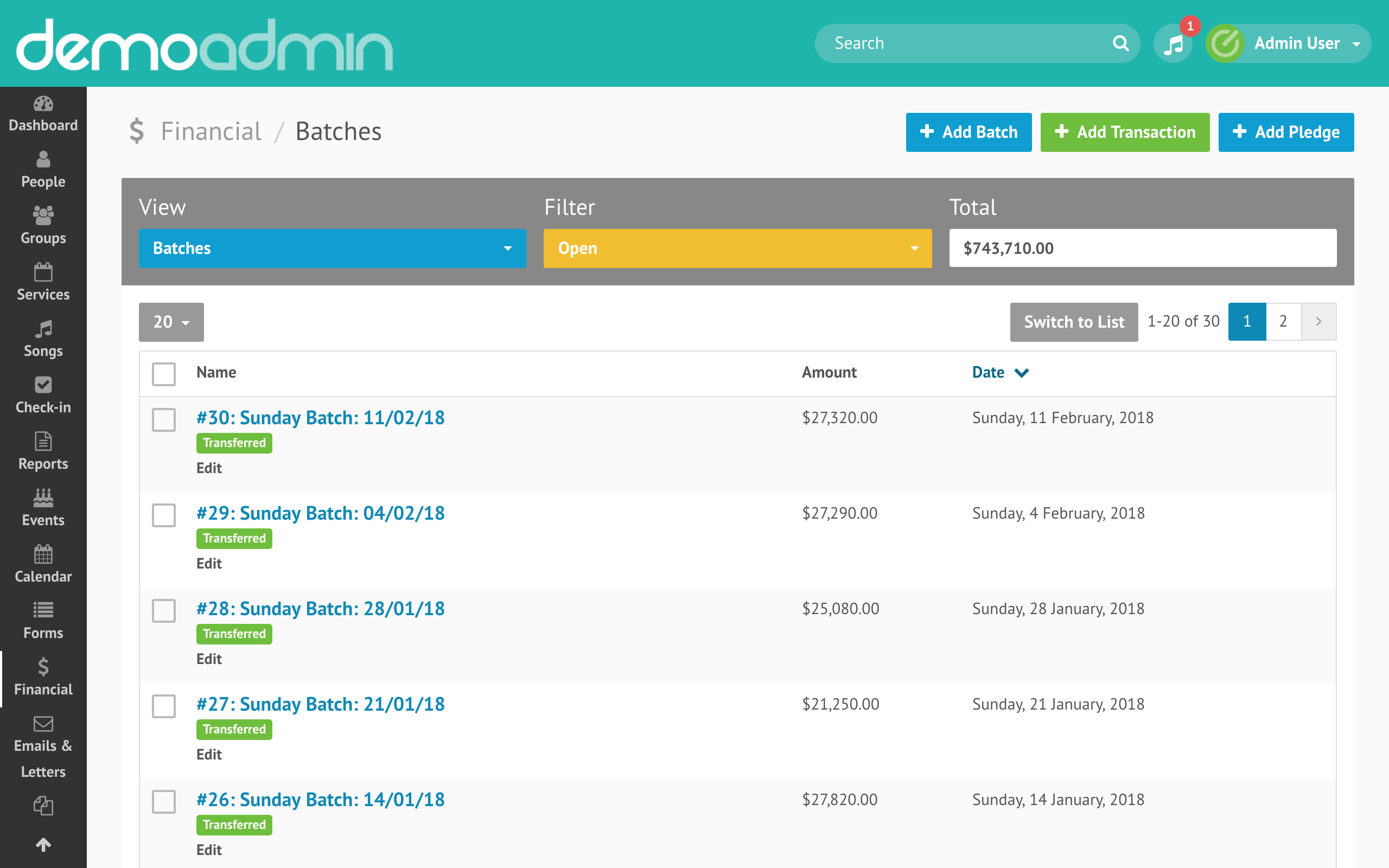 Pricing: $50 per month
Trial Period: Call for demo
Elvanto is an all-in-one cloud based church management system aimed at making church administration easier. With Elvanto, you can create a whole church calendar to simplify event planning, manage church accounting, facilitate online giving, and more.
Elvanto also comes with many essential features you won't find in other church management solutions. For instance, Elvanto provides child check-in to ensure the safety and security of children in your church.
There's also a worship planning software that allows you to create a music database, upload and sync lyrics, and streamline your worship services altogether. Plus, elvanto uses a drag-and-drop system which makes it easy for ministry leaders to use the platform.
Pros
Reliable support staff
Excellent integration with third parties
Discipleship centered
Cons
Confirmation emails for donations are loose and undetailed
Data migration may be a tad difficult
6. ChurchTrac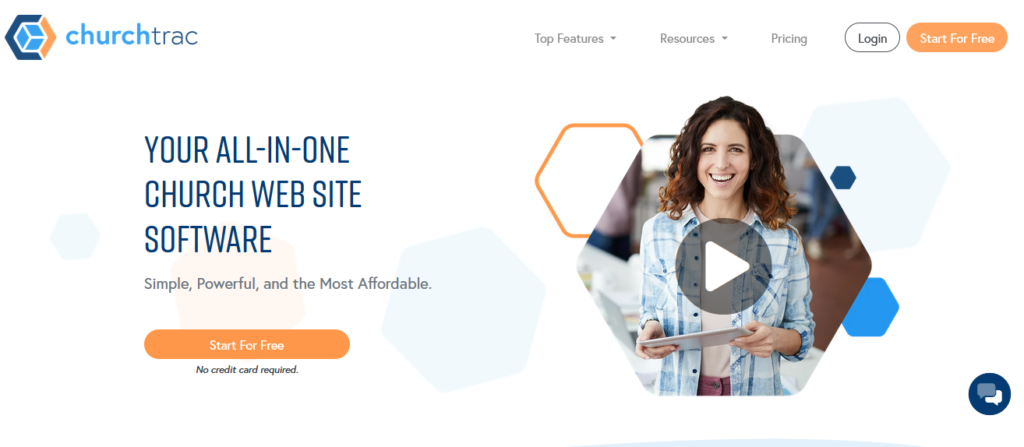 Pricing: ChurchTrac comes in 3 packages. These are free, standard, and plus. The cost is relatively cheap with a range of $5 to $15 .
Trial Period: No trial version due to free package
Features
ChurchTrac is an affordable church management software that assists churches in membership management, event management, attendance tracking, and other administrative operations in the church.
This church management software is your go-to solution for small groups and non profit organizations. It comes with an online donations system, church financing software, and a directory to monitor weekly attendance.
ChurchTrac has all the tools to collect church data and make informed decisions that serve your church members. It also enhances your church events with reporting tools that record all essential activities in any event.
Pros
Competitive pricing
Scalable
Volunteer management
Cons
7. Breeze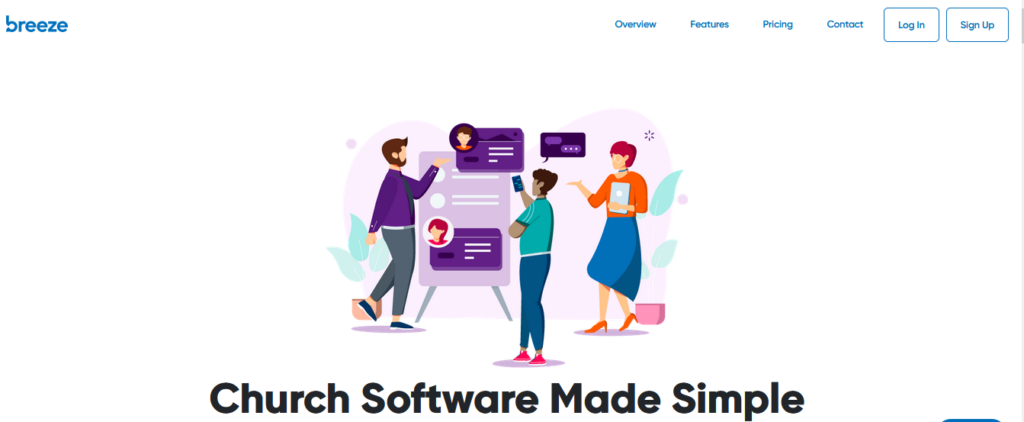 Pricing: Available at $50 per month or $67 for all the features
Trial Period: There's an instant demo you can try out
Features
This web based church management software is best for small to medium-sized churches. Its easy to use and effective in simplifying church administration. If you're looking to get techy with no prior knowledge, you can't look past Breeze.
Breeze provides contact management software that allows you to modify member data, roll out mass emails, and track member attendance. This feature enhances member management and ensures you give attention to all your people.
There's even more to it. Breeze fashions a contribution management software that allows you to process donations and online giving, create invoices and reports, and manage the money that comes into your coffers.
Breeze also offers excellent data migration software and support to transfer all your data onto the platform. It's hassle-free and comes at no extra costs.
Pros
Easy data migration
Excellent customer support
Ease of use
Cons
No accounting features
Certain features may be basic
8. CHMeetings

Pricing: Free for a total of 100 contacts. $10 per month for up to 250 contacts
Trial Period: No trial period available due to free version
Features
ChMeetings is a top church management software solution that assists churches in managing their administrative tasks. Its group management software allows administrators to easily add, modify and remove members with ease.
It also comes with automation that assists churches in creating registration forms, tracking attendance, sending mass emails, and more. ChMeetings provides check-ins for members and church leaders to identify who's consistent and who needs more poking.
This robust church management software has an airtight security program to protect membership data. In this program, you can easily manage who has access to what content on the platform, giving you full control.
CHMeetings also provides an excellent church accounting software to facilitate online giving and donations from members. With CHMeetings, you can generate in-depth financial reports for your church leadership.
Pros
Affordable
Airtight security
Daily data backups
Cons
Mobile app may be difficult to use
9. Power Church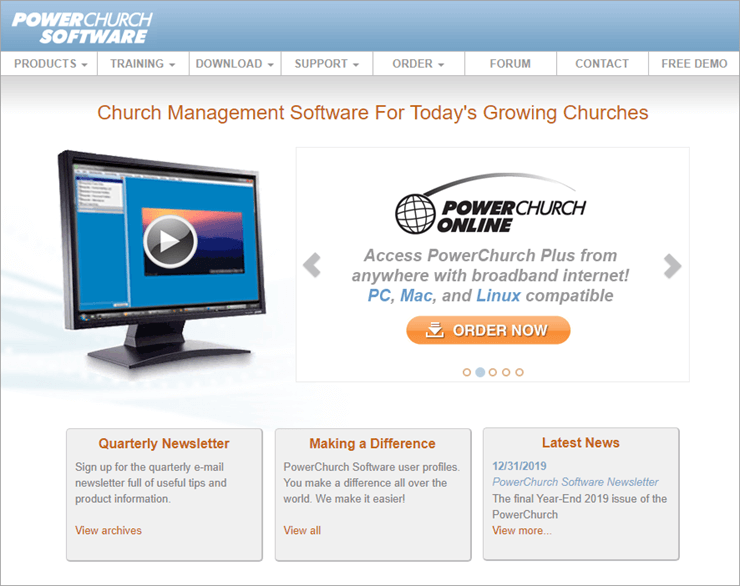 Pricing: One time upfront fee of $395-$415
Trial Period: Free demo available
Features
Power Church is a church management solution designed to satisfy the needs of medium-sized and large-sized churches. It gives you all your membership data at your fingertips, so you can find information quickly. It also allows you to group members into families, which is an important part of group management.
With Power Church, you can build a church calendar for church events and keep recordings with reporting tools in the app. But it doesn't end there. There's volunteer scheduling, event registration, child security management, and a whole lot more.
This church management software helps streamline your bean-counting too. That's right. Power Church has an accounting software that allows you to compare budgets, manage payrolls, and enhance online giving.
Power Church improves your church's outreach with communication tools to keep in touch with members and new converts. It operates through the phone, email, and even postal mail. If you want to stay truly connected with your church members, this church management solution is for you.
Pros
Cost-effective
Excellent accounting software
Cons
No marketing tools
Payments for every upgrade
10. TouchPoint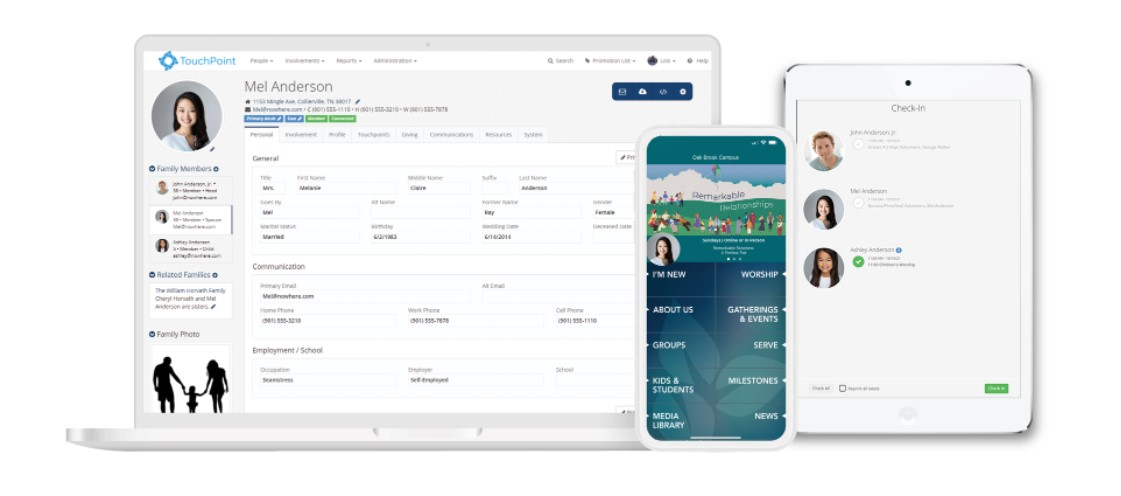 Pricing: $300 a year for a church with up to 100 members
Trial Period: No trial available
Features
This cloud based church management software offers the best mobile app experience on the market. It's highly customizable and provides an end-to-end solution for efficient church administration.
Touchpoint gives real-time updates on the availability of church members, so you know who's sick, out of town, or even considering joining your branch. You can also filter who gains access to what information so your leaders and pastors can work within their confines.
Additionally, you gain access to the ultimate engagement toolkit when you choose Touchpoint. It comes with an event management software, so you can easily invite members and visitors to your church for a program. There's also a volunteer management software that helps you register volunteers, manage their tasks, track their commitments, and send update emails every now and then.
Touchpoint has donor management tools that enhance online giving and donations so you can keep track of what goes where. It also allows your congregants to check their giving and pledges through statements; just like mobile banking.
Pros
Top-notch mobile app experience
Real-time analytics
Complete engagement toolkit
Cons
Steep learning curve
No financial suite tutorials
11. Shelby Next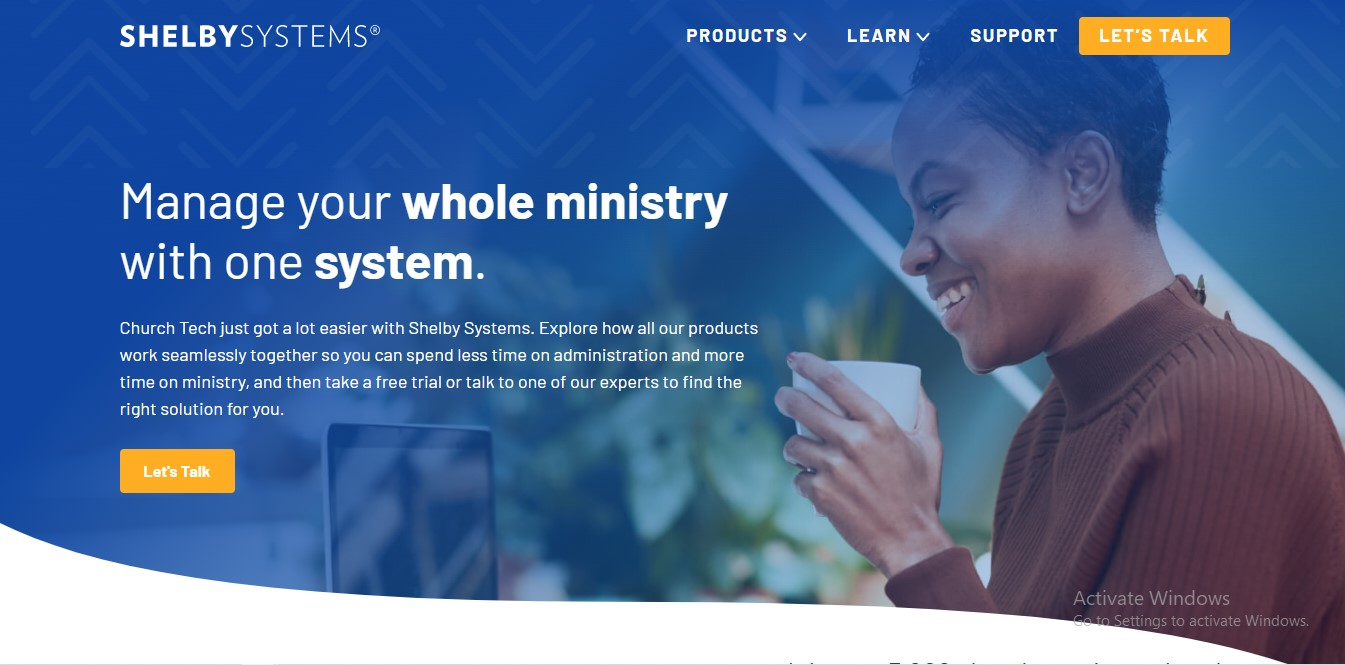 Pricing: $47.70 per month for 100 people. The more people you add, the more the final cost changes
Trial Period: There's a 30 day free trial
Features
Shelby Next is a hybrid church management solution designed to ease church administration so you can focus on your church's ministry. It specializes in church community growth and member management.
With Shelby Next, you can automate follow-ups by creating email schedules and task assignments. It also simplifies online giving by providing multiple financing options to your congregants. But there's even more to it!
You can craft stunning websites to send visitors the right messages and provide unrivalled support to admins. You also get unlimited access to a real support team, live chats, emails, and even free webinars.
If you're looking for an accounting system that goes beyond basic checks and balances, you can turn to Shelby Next. This cloud based church management software provides gross wage computations, payroll programming, and reporting. You can even pay bills and send invoices from Shelby Next.
Pros
Competitive pricing
Unrivaled tech support
Cons
There's no desktop app for IOS users
It requires some technical ability to use its essential features
12. BlackBaud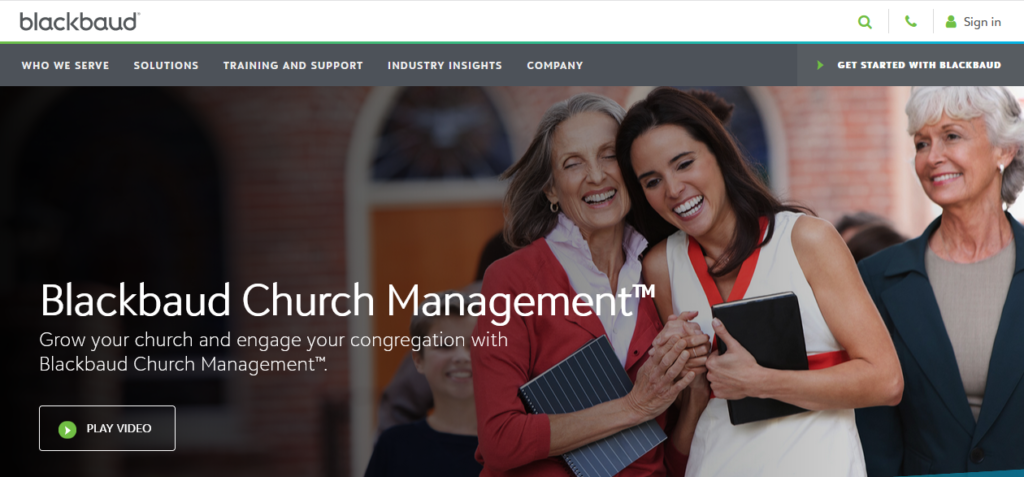 Pricing: Get a quote from Blackbaud directly
Trial Period: Demo available upon request
Features
BlaudBaud is another robust church management software that seeks to help administration and church leaders grow their church without neglecting the people in it. How? Blackbaud provides an all-in-one management solution that covers member management all the way up to accounting.
Blackbaud simplifies online donations and giving by providing one-time and recurring options and an online portal where the church community can manage their own giving. There's also the faith journey tracking functionality that categorizes congregants into growth levels and monitors their progress with time. This way, your members can truly grow.
But no one is left alone. With Blackbaud, you can create some groups (cells if you'd like) so you can help members grow at the basic level. You can also set leadership permissions, track attendance, and monitor growth through this space.
Blackbaud also comes with a feature called MobileMission. Here, congregants can manage their donations, view transaction history, view reports, and even update their personal data. That right there is engagement.
If analytics is right up your alley, then you'd like Blackbaud's reporting functionality. It provides insights from events and creates trends from those insights, so you can visualize your progress as a church.
Pros
Efficient donor management functionalities
Boost membership engagement
Cons
You've now seen our list of the best church management systems on the market.
Even though we've narrowed the list down, you may still be stuck on two or three church software that seem to meet your needs. In that case, you can compare all those church management tools for the standout one. Here's how.
Comparison Criteria for Church Management System
If you want a tie-breaker between two or more church management tools, the six criteria we used below can help.
Value for money:
Once you're spending money, you hope to get a return worth your investment or more. The same applies here. Do the benefits warrant the cost? What features and functionalities from the software can help you?
Customizable:
You'll need to modify the software to match your church's needs. After all, your membership is different from that of the next church. This begs the question: is the software customizable? Can you tweak the software to satisfy your needs?
Usability:
Your entire congregation may end up using this software. There are check-ins, attendance tracking, event management, and more. How easy to use is the software? Are there any tutorials required? Do you need to run training programs before using the software? How about tech support?
User Interface:
What's the first feeling you have when you open the software? The user interface is an essential part of a software. Miss out on that and you're sure to reduce your conversion rates. So, how well is the software designed? Is it intuitive?
Features and Functionality:
In one of the preceding sections, we discussed some essential features of church management software solutions. Does the software have any? In what way do those features align with your objective? How powerful are those functionalities?
Integrations:
Does the software allow third-party integrations? You may need to migrate your data or maybe use an extension. Does the software allow it?
Must-Ask Questions When Purchasing Church Management Software
Here are a few inquiries you can make to get the best church management solutions on the market.
Can I expect price changes in the future?
Is the software scalable?
What communication tools do I have at my disposal?
Is this a church database software?
Can I integrate the software with social media platforms?
Is there a volunteer scheduling feature?
How user friendly is the software?
Is the software still effective with small groups?
How many church teams can work at a time?
Is it a cloud based or web based church management software solution?
Takeaways
If there's one thing clear, it's the time and consideration you need to put into choosing a good church management software. All religious organizations are different, so no one software is the best.
What you need to do is determine where you need help in your operations and which software has the functionality to meet that need. You may need a worship planning software, a church community builder, or even a full-scale church management software. It's all up to you.
The diverse church management software in this guide are your best bet to get the highest quality software there is. Once you follow these tips, you should be good to go.