Having one of the best dance studio software on board your business can be just the boost you've been looking for. This is true whether you're new to managing a studio or have been in the business for decades and want to upgrade. If you're either of those two or something in-between, this guide is just for you.
Our goal here is to help you make an informed decision when it comes to acquiring software for your business. No matter how much you'll be paying for any software, making sure it will be worth every penny must be the top priority.
What Is Dance Studio Software?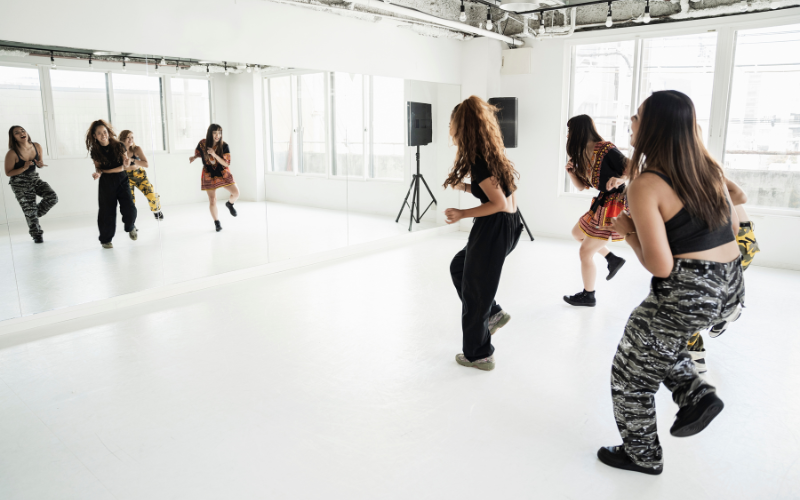 Dance studio software is a type of business management software specifically dedicated to helping dance studios streamline important processes. Using software like this can help automate administration, membership billing, scheduling, student management, payment processing, and class material printing.
Through the automation of such functions, this software can significantly cut the time and administrative costs of running dance studios.
Benefits Of Dance Studio Management Software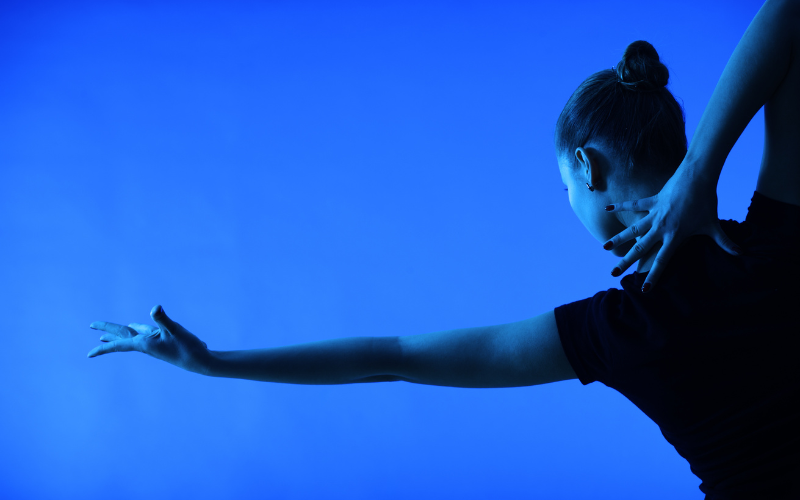 Dance management software comes with a lot of tools that can improve the way you do business. Here are some of the benefits you can get from dance studio software:
Avoid overbooking classes by providing students with a way to self-enrol into open slots.
Streamline the registration process by registering new students, saving their details, and leaving the software to handle student records maintenance.
Have more accessible and efficient billing and payment processing.
Boost profits by managing employee performance (e.g., allocating tasks and tracking their hours) through the software.
Review relevant reports in one central hub to understand business growth.
Do You Need Dance Studio Software?
From small to large businesses, having business management software can be the upgrade that boosts the bottom line above and beyond the goal. This is true for all businesses like running a dance studio.
Letting software handle admin tasks and other day-to-day tasks can help you focus on your dance studio and your students, helping them foster a true love for dance.
7 Best Dance Studio Software
We've compiled some of the top dance studio software available on the market right now. In this guide, we'll discuss these dance studio software—their features, pricing, pros and cons, and essentially, what makes them worth every penny.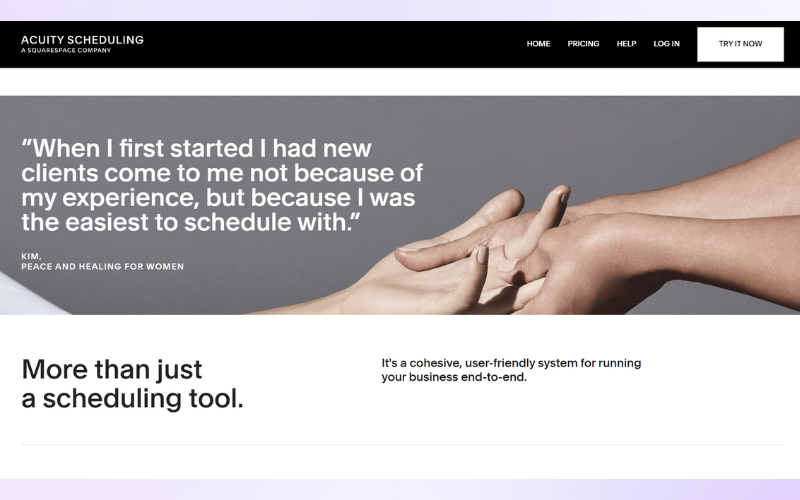 Acuity Scheduling by Squarespace is a 24/7 scheduling software that can adapt to any business. It's a business management software where simplicity meets power. Because of this great adaptability, this software can easily function as your go-to modern dance studio software.
Through their features, you can manage classes, organize your schedule, and organize client information using your customized scheduling page. Apart from those core features, Acuity Scheduling offers some more tools that make it more than a scheduling software. You can sync and share your calendars, accept payments online, offer various services, reduce no-shows, meet clients anywhere, and customize everything.
Another good thing about this software is that a free demo is immediately available on their website. Through (fake) businesses' websites, Acuity Scheduling shows you the powerful features your clients can rely on. That's on top of the free 7-day trial it offers.
Acuity Scheduling's pricing is also very competitive. At $14 per month for the entry-level plan, it's easily the cheapest on this list. This is ideal if you've just started running a dance studio and only have a handful of students.
Acuity Scheduling has a rating of 4.8 stars out of 5 on Capterra based on 5,148 reviews. On G2, it has a rating of 4.7 out of 5 based on 379 reviews.
Pricing
Acuity Scheduling offers its tools and services for the following price levels. A 7-day free trial is available.
Emerging: $14 per month (Save 6% annually)
Growing: $23 per month (Save 8% annually)
Powerhouse: $45 per month (Save 10% annually)
Features
The following are the key features of Acuity Scheduling that make it one of the best software for dance studios:
Control your availability 24/7. You can manage classes in multiple locations, as well as multiple employees. Built-in online calendars for sharing and syncing allow you to only show your clients what you want them to see.
Organize your schedule. Auto-adjust for timezones and let clients themselves easily reschedule and cancel. Send automated reminders to keep clients on time.
Organise client information. Fill-out forms are readily available for your clients upon booking. So, you'll have everything you need to know about them in one place.
Apart from these features, Acuity Scheduling also allows you to do the following:
Manage your business on your end while also providing a client portal for your clients to easily access your services.
Make use of the integrated solution for online payments using Stripe, Square, or PayPal.
Apart from dance classes, you can also offer gift certificates, packages, memberships, private lessons, or group classes through this software.
All client information going in and out of the software stays private as part of the Health Insurance Portability and Accountability Act (HIPAA).
Pros
Its great range of customizability allows this software to function as a business management software for any business imaginable.
All the basic features you'll need for online booking, online registration, and class management is available via the entry-level plan.
Cons
As an all-in-one platform, with a great multitude of features and customizability, you may encounter some that are irrelevant to your dance studio. If so, you'll be paying for features you won't use.
Some clients have reported that they find the lack of live support frustrating. Acuity Scheduling can only be reached via email—no chat or phone.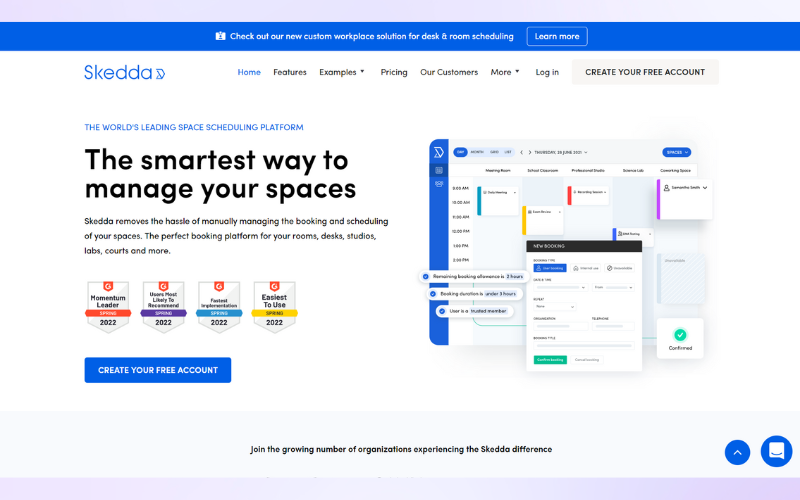 Skedda is a space managing platform that takes the hassle out of booking and scheduling your dance studios. It helps you save time and money by automating time-consuming management tasks and taking your booking processes online.
This software comes feature-packed to make running your dance studio a breeze. Manage bookings via the booking calendar, automate scheduling, review analytics, and so much more, all in one platform. Also, the infinite customizability of this software allows you to create a platform specific to your dance studio.
If you're unsure whether these features will fit your dance studio's needs, Skedda has a free version available. Though some features like online payment and integrations are locked as paid add-ons, you'll still have useful features for free.
Skedda has a rating of 4.8 stars out of 5 on Capterra based on 198 reviews. On G2, it has a rating of 4.7 out of 5 based on 70 reviews.
Pricing
You can choose from three packages to avail of Skedda's services: Core, Pro, and Premium. The platform can be used for free for up to 5 spaces. Pricing is based on the number of bookable spaces alongside other paid platform features. Custom pricing is available for enterprise-size customers.
Features
Here are Skedda's features that give you a better way to manage your dance studio:
Booking Calendar: Easily view and manage your bookings with your Skedda calendar.
Scheduling Automation: Skedda's automation tools will make managing your bookable spaces a breeze; set up conditions once and forget the stress.
Insights/Analytics: Access actionable data through Skedda to make smarter business management decisions.
Maps/Floorplans: Your users can view availability and book directly from a live, interactive map of your space.
User Management: Decide who can book and when, booking quotas, specific rules and restrictions or any other unique customization for a smooth class management experience.
Sign-In Options: Skedda supports logging in with existing Google, Facebook, and Microsoft accounts, plus full SAML 2.0 support; so, you can streamline how your users authenticate.
Online Payments: Use Skedda's payment processing partner, Stripe, to collect funds upfront or with their unique "Book Now, Pay Later" option.
24HR Support: Skedda's friendly team is available 24hrs during a week to help you solve problems and get the most out of your package.
Mobile-Friendly: Skedda is accessible from anywhere with its native iOS and Android apps.
Pros
You can create your very own dance studio software with the amount of customizability available with this software.
Customer support is very responsive via chat, helping customers step by step to understand the platform better.
Cons
With their pricing basis, your selected package can get very expensive if you want to access more of the features it offers.
Online payments are a paid add-on for the free version and the Pro version.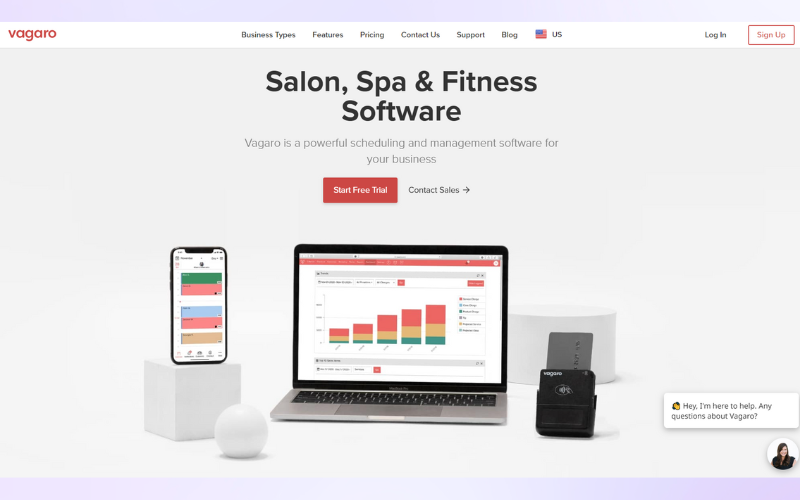 Vagaro is a management and scheduling software dedicated to the salon, spa, and fitness businesses. Just a look through their website and you'll see the various business types they cater to, including dance studios. When used specifically as a dance studio software and app, Vagaro allows you to schedule clients, get booked online, market your dance studio, manage memberships, and process payments—on any device.
This software has a ton of features to offer, from a versatile scheduler to a live stream integration for your online classes. It's an all-inclusive management platform that won't leave you wanting for more. The only downside is that some features are locked as add-ons (e.g., a customized branded app).
Vagaro has a rating of 4.7 stars out of 5 on Capterra based on 2,721 reviews. On G2, it has a rating of 3.6 out of 5 based on 32 reviews.
Pricing
Vagaro offers its various features for the following price levels, which are based on the number of users. A free trial is available.
1 User: $25 per month (1 Bookable Calendar)
2 User: $35 per month (2 Bookable Calendars)
3 User: $45 per month (3 Bookable Calendars)
4 User: $55 per month (4 Bookable Calendars)
5 User: $65 per month (5 Bookable Calendars)
6 User: $75 per month (6 Bookable Calendars)
7+ User: $85 per month (7+ Bookable Calendars)
Features
The sheer amount of features Vagaro offers that make it an all-in-one solution can have us going on for miles of text. So, we'll only discuss some of the key features:
Live Stream Integration: This is perhaps the foremost out of all features when it comes to making a dance studio or dance school business feel modern. In our ever-changing world, having the ability to hold classes online is indispensable. This feature links seamlessly with all the other features Vagaro offers.
Calendar: View multiple dance instructors' schedules, manage your availability, and reschedule classes when necessary—all on one screen.
Marketing Management: With Vagaro's suite of marketing tools, you can promote yourself and daily deals, send automated reminders, get featured, and more.
Online Booking: With this feature, you can get booked and paid 24/7. You'll also be allowing your dance students to schedule their next class when it's convenient for them.
Memberships, Packages, & Workshops: Boost revenues by offering tailored memberships, packages, and dance workshops.
Reports: Get key business information at a glance.
Customer Tracking: Tracking student registrations, attendance tracking, and tracking upcoming sessions will be at your fingertips.
Pros
Since Vagaro is focused on catering to businesses like dance studios, a lot of its features are created with such businesses in mind.
All basic, useful features are available through the initial plans, which are enough for many businesses to have a functioning, efficient dance studio management software.
Cons
A lot of great features Vagaro offers are locked as pricey add-ons, which not all businesses may have the budget for.
Many clients have shared bad experiences with Vagaro's customer service.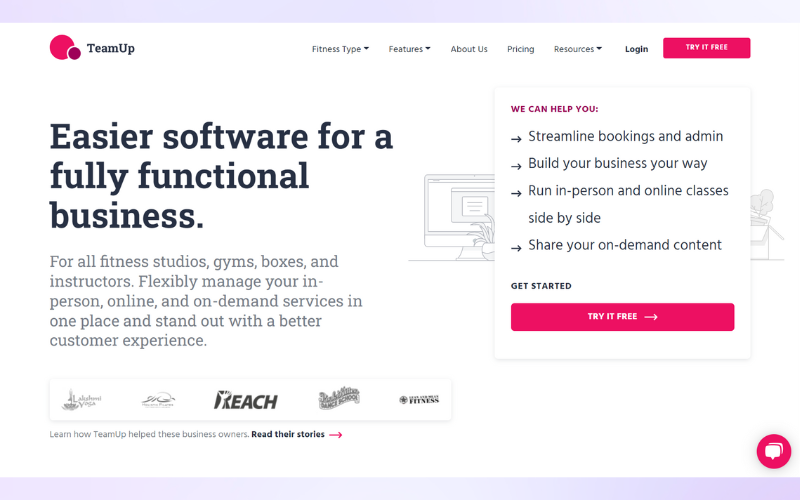 TeamUp is a business management software made for all fitness studios, gyms, boxes, and instructors. Though its branding is not specific to dance studio software, TeamUp offers intuitive features you'll need to run a dance studio. We'll cover the key five features they offer for all businesses further below.
In general, though, TeamUp is focused on helping you with: customer relationship management, classes and scheduling, membership management, and payment processing. On top of those, this software also carries loads of smaller features to make running your business easier. So, you don't necessarily need to fit the business types enumerated on TeamUp's website to consider this among your choices of dance studio software.
TeamUp has a rating of 4.9 stars out of 5 on Capterra based on 184 reviews. On G2, it has a rating of 4.6 out of 5 based on 106 reviews.
Pricing
TeamUp's pricing model scales with your business. You have unlimited time to set up and then a 30-day free trial that only starts when you sign your second customer. You'll pay for how many active customers you have per month and not which features you need.
0-50 clients: $69 per month
51-100 clients: $99 per month
101-150 clients: $129 per month
151-200 clients: $159 per month
201-300 clients: $189 per month
301-400 clients: $219 per month
401-500 clients: $249 per month
501-600 clients: $279 per month
600+ clients: $309 per month
Currently, TeamUp is offering a 50% discount on their starter plan for your first 6 months to help you launch. It automatically applies and ends after 6 months or when you grow above 50 customers.
If you own a franchise, you can contact TeamUp for further details on pricing.
Features
The following are what TeamUp claims to be the five key features it offers for all businesses:
An easier way to run your businesses: TeamUp helps you keep afloat admin with a streamlined dashboard, easy-to-use tools and features, and the ability to see what is going on with your customers and staff at all times.
A better way for your clients to register for classes: TeamUp will provide you with an online booking system, allowing your clients to sign up and register for classes online without having to contact you and make it even easier for them to be clients of your business.
Know the ins and outs of your business, not just the surface: Make use of reporting tools to guide you in making important decisions for your business.
Connect with your clients: Through TeamUp's apps and websites with powerful tools and automation, your clients will know what's going on at all times, and you won't have to reach out to each customer with every update.
Collect and automate payments: TeamUp's payment integrations will ensure customer payments are made on time, you know just how much to expect, and allow you to forecast your minimum income for months in advance.
Pros
It's easy to use for everyone: the business owner, staff members, and clients.
TeamUp's customer service is praised by their clients as being helpful and supportive, may it be through phone or email.
Cons
The entry-level pricing can be quite expensive for you're just starting, especially if you'll end up only using about 50% of the features.
Some clients have shared that TeamUp is not very reliable for tracking and accounting.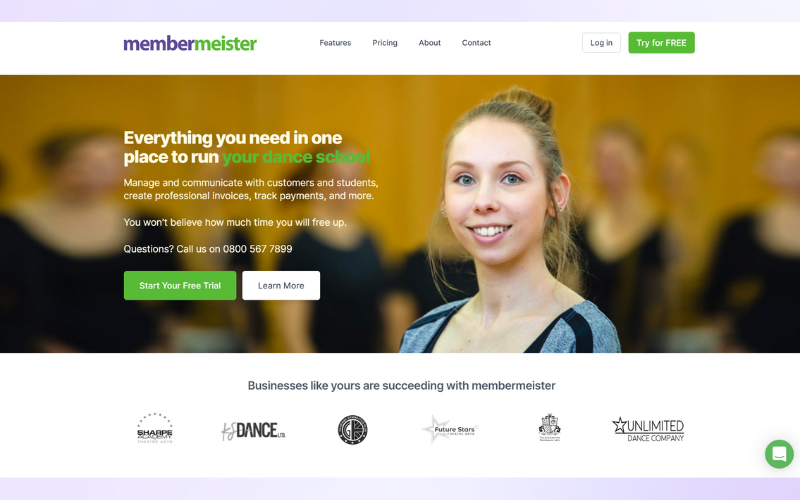 Membermeister is a dedicated dance studio software, where you'll find everything you need in one place to run your dance school. A testament to that dedication is how multiple dance studios have achieved success with Membermeister by their side (e.g., Sharpe Academy, KS Dance, Charisma Gymnastics Club, etc.).
This powerful, cloud-based software focuses on six factors that will propel your dance studio towards much-deserved success. These six are timetables, invoicing, payments, student database, marketing tools, and financial reports. You'll also have access to free, unlimited UK-based support while on-board Membermeister.
Membermeister has a rating of 4.9 stars out of 5 on Capterra based on 100 reviews.
Pricing
Membermeister pricing levels are based on the members you'll have on board. They offer 30-days of the free trial. They also have a 12-minute free demo on their website.
Bronze: £29 per month (up to 50 members)
Silver: £39 per month (up to 150 members)
Gold: £49 per month (up to 300 members)
Platinum: £69 per month (up to 750 members)
Features
Membermeister offers the following features that ensure you it's the all-in-one solution you've been looking for for your dance studio:
Customer Management: You'll easily add and maintain your customers; add their contact details, birthdays, medical notes, discounts, even a photo if you'd like, plus custom fields.
Invoicing: Generate invoices at the click of a button and automatically apply discounts, then conveniently send them out by email.
Track & Trace: Built-in track and trace reports will help you be Covid-ready; quickly pull up a report to see who may have been in contact with who over what timeframe.
Payments Reminders: Sending a friendly reminder through Membermeister is child's play and will only take a few seconds, even if you're dealing with a lot of late payers.
Accounts Statements: Start sending personal, branded account statements to customers who request them.
Registers & Attendance: Instantly have your registers to hand, and give the teachers access only to the ones they need. Use the quick toggle button to mark your class attendance. Check at a glance which students may have any medical needs, allergies or injuries.
Convenient Communication: Email your customers and teachers in minutes with any information you have to share. Membermeister also has a built-in SMS feature—convenient for last-minute changes or cancellations.
Online Registration: By offering online registration, you can be more productive as new customers easily log their details, which are then automatically entered into your Membermeister account.
Staff Management and Access: With Membermeister, you can add new team members easily and tighten their access to suit your level of trust—you control who can log in and how much access they should have.
Pros
As it is a dedicated dance studio management software, you can expect that it'll be an all-inclusive management platform for your dance studio.
This software takes into consideration those who may not be good with technology, as they've made everything simple and user-friendly.
Cons
They do not have as many features compared to other business management software. However, they are reportedly working on adding more features.
Payment processing for pay-as-you-go students is tricky using this software.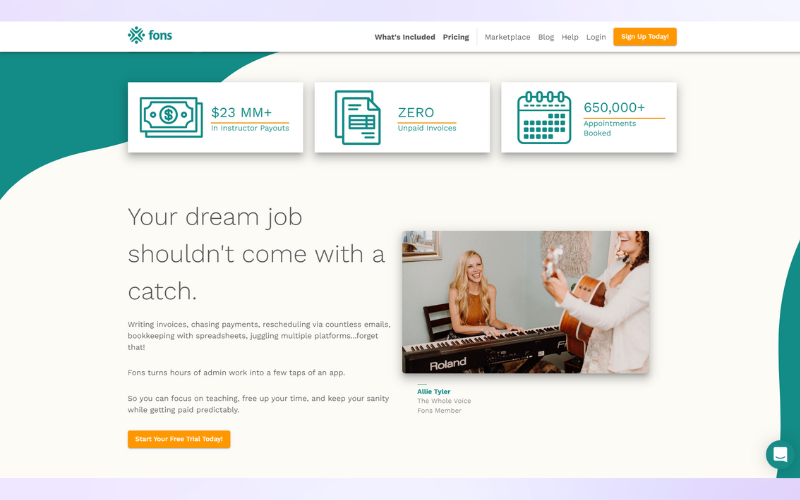 Fons is a business management solution focused on payments and scheduling on autopilot. As it helps automate administration, it lets you focus on your dream job and your lovely students. This is the approach the Fons team applies to their clients—whether they run a dance studio, boutique fitness clubs, a wellness studio, or a one-person team guitar tutoring business.
Using this payments and scheduling software, you'll have access to various useful solutions. These are automatic recurring billing, streamlined scheduling, business management, and staff management. A unique feature of Fons is their QuickBooks integration, which helps you focus on dance studio management rather than keeping books.
Fons has a rating of 4.9 stars out of 5 on Capterra based on 91 reviews.
Pricing
Access Fons tools and features through the following price levels. Their 14-day free trial can be extended by contacting them. You can also schedule a free demo with them.
Up to 5 Staff: $29.95 per month
6 to 20 Staff: $79.95 per month
Unlimited Staff: $149.95 per month
Features
The following are Fons' key features that can help with dance studio management:
Automatic Billing: This feature includes multiple tools to help put an end to invoicing such as per appointment billing, subscription billing, packages, and automatic cancellation policy enforcement. Handling customer payments will be the least of your worries.
Streamlined Scheduling: This software includes powerful scheduling tools to streamline the process: online booking link, quick and easy rescheduling, customizable availability, attendance tracking, integrated calendar, and timezone detection.
Business Management: Access professional tools to help your business succeed, such as client profiles, automatic reminders, free listing on Fons Marketplace, transaction reports, QuickBooks online integration, and Zoom integration.
Staff Management: Having more staff won't mean you'll need to do more admin tasks when you use Fons. Access a unified staff calendar, individual staff logins and roles, and personalized staff availability.
Pros
This allows you to focus on reputation management and personally managing customers, as it takes care of handling payments and scheduling.
Fons' clients consistently praise the customer service, as clients feel they genuinely care to help solve problems.
Cons
Its comprehensive system may not be the easiest to navigate for people—both clients and business owners—that have trouble with technology.
Some features that other business management software offers have yet to make their way to Fons. However, the Fons team have new features on the way.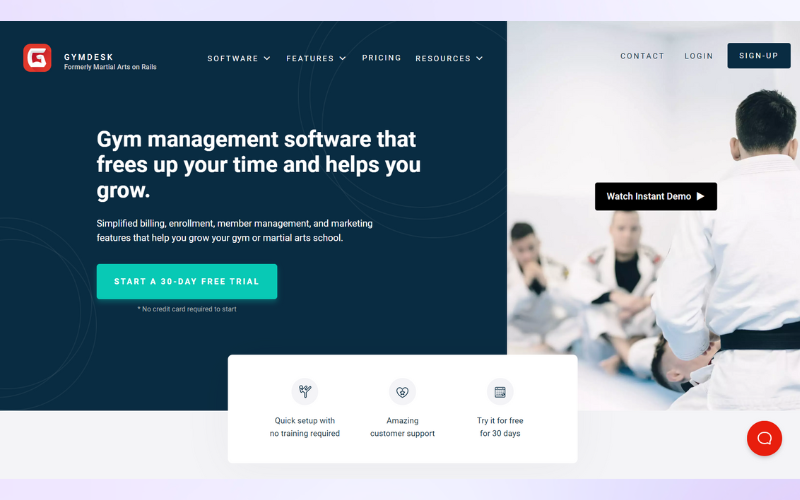 Gymdesk is a modern gym management software that frees up your time and helps your business grow. By leaving your admin and day-to-day tasks to Gymdesk, you can focus on your job of fostering a true love for dance in your students.
More than just a gym management software, this business management solution offers customizable branding for its website and marketing features. So, this gym management software can easily transform into your ideal dance studio software.
When you opt for Gymdesk, you'll get to access their multiple features. These features include member management, billing, tracking attendance, online bookings, website builder, reporting, marketing, and a point-of-sale system. While this software has the most expensive entry-level plan on the list, they have a 30-day free trial you can take advantage of.
Gymdesk has a rating of 4.9 stars out of 5 on Capterra based on 85 reviews. On G2, it has a rating of 5 out of 5 based on 8 reviews.
Pricing
Gymdesk offers its services through the following price levels, based on the number of your active members. Visitors, frozen/cancelled members, or prospects are not counted towards the active member count. A 30-day free trial is available.
Micro Gym: $75 per month
Small Gym: $100 per month
Medium Gym: $150 per month
Large Gym: $200 per month
Enterprise: Contact Gymdesk for pricing details
Features
Here are the following features Gymdesk offers for all their price plans:
Member management: Digital member signup, waivers, reporting, rank & attendance tracking—accessible from anywhere, at any time.
Billing: Credit-card processing, direct debits, automatic payments, monthly reports, and more will be available to you.
Attendance: Easily track session attendance and member progress, learn about your most and least successful sessions, and more—all from one place.
Booking: Set time slots for visitors and members to book appointments for private lessons, introductory classes or regular sessions with limited capacity.
Website: Attract new visitors and members with a professionally designed, responsive website.
Reporting: Stay on top of everything that is happening in your gym with beautiful, easy-to-understand reports and dashboards.
Marketing: Simple without sacrificing power. Get the tools and data you need to take control of your gym's marketing and growth.
Point-of-Sale: Easily sell training gear and other goods with Gymdesk's digital gym point-of-sale software.
Pros
The custom branding and content for Gymdesk's website and marketing features are great to have, especially if you previously don't have any of the two.
The software's system is straightforward to use for both business owners and clients.
Cons
The entry-level plan of $75 per month is the most expensive on this list, which not all business owners, especially those starting, can afford.
Some of the features seem to rely on you using their built-in website builder; so, if you have your own, you'll need to do a lot of adjusting.
Recommendation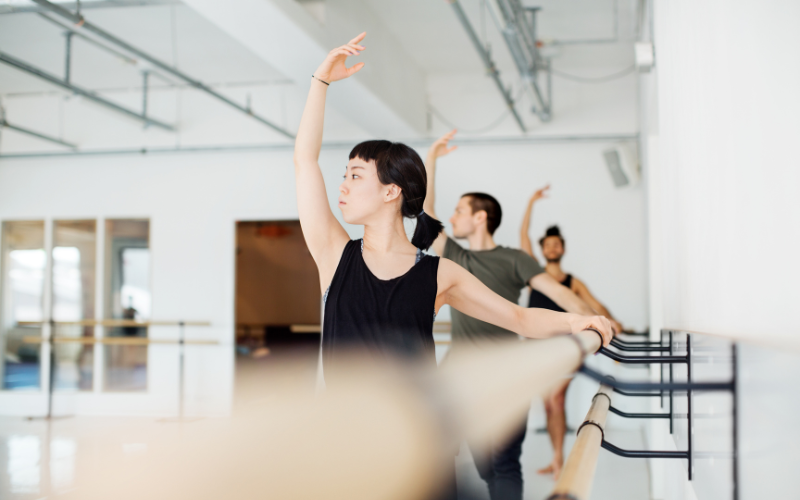 Before choosing which software to try out, carefully consider your business' needs. Ask multiple questions to assess your needs. Does having online registration matter to you? Will an online appointment scheduling software be beneficial to you? Is your current method of class management working just fine for you and your instructors? These are just some of the questions you should be asking.
Now, the good news is that all the software we have on the list comes with free trials. Based on your immediate needs, pinpoint which software sounds like the best fit. Try it and if it works out, great! If it doesn't, you have more to try.
Final Thoughts
Behind the success of any business is the ability to adapt constantly. One of the ways your dance studio can adapt is through having dedicated studio software that can handle online dance studio scheduling, class management, instructor management, and so much more.
Take your time to assess your needs and find the studio software worth the investment. Your best software could be any one of these, waiting to be discovered.