Day-to-day operations can swamp daycare providers and childcare providers with admin tasks, making it harder to focus on the most important part of the operations: caring for the children. Having one of the best daycare software to aid you can lighten the load and bring your focus back on care.
Our goal here is to help you make an informed decision regarding acquiring software for your business. No matter how much you'll be paying for any software, making sure it will be worth every penny must be the top priority.
What is Daycare Management Software?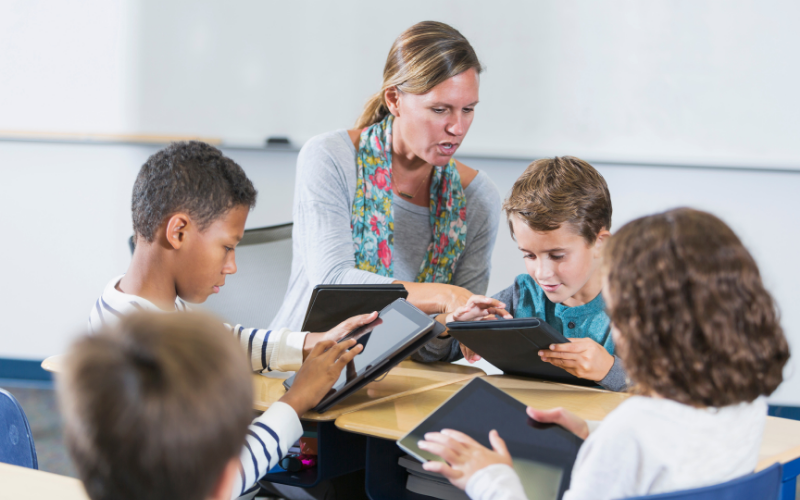 Daycare management software or childcare management software aims to help users manage their day-to-day operations—letting users focus on nurturing every child or student under their wing. Those who will undoubtedly find this software useful include preschool facilitators, daycare providers, private school directors, and child care professionals.
Some of the common features of childcare management software are calendar management, registration management, attendance tracking, billing and payments, communications management, parent portal, and meal tracking. Currently, many childcare management software are beginning to include providing childcare apps for mobile devices, which parents can access with ease.
Benefits of Childcare Management Software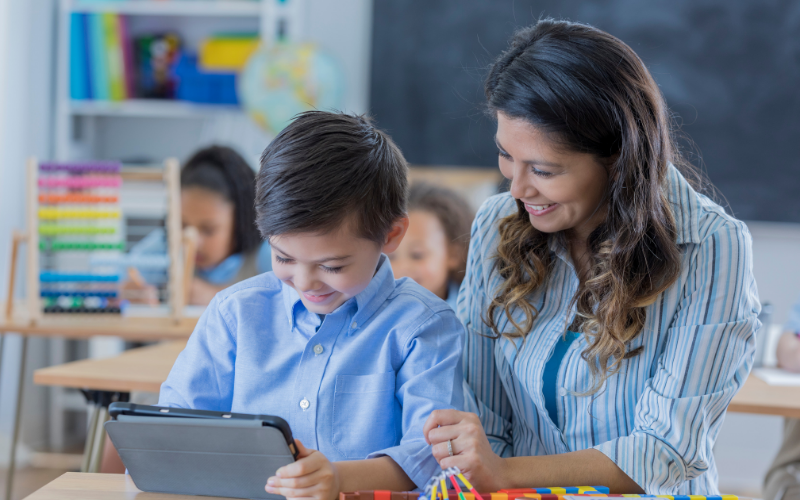 Business management tools like daycare management software efficiently alleviate various sectors from the daily burden of time-consuming administrative tasks. As such, utilizing childcare management software can bring the following benefits to your business:
Automate administrative tasks such as online registration, record keeping, and daily reporting;
Access an in-depth look into children's behavior and growth by keeping a digital record of the students' activities;
Improve parent communication and involvement by sending notifications throughout the day regarding their children's progress; and,
Coordinate staff at an optimum level through digital systems that allow multiple users to access data wherever they are.
Do you need Child Care Management Software?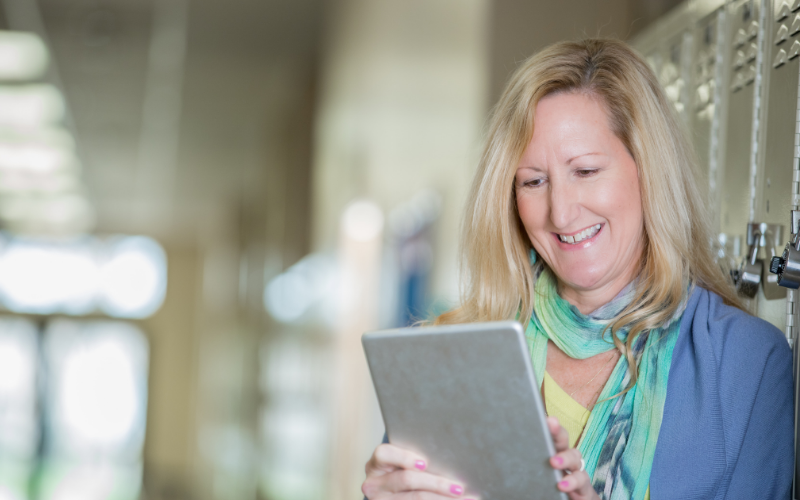 In this day and age, digital business management tools are slowly but surely replacing paper-based methods. This is true for many businesses, including those in the field of childcare management.
At the end of the day, only you and your team can truly decide whether you need childcare management software. As we go through the best childcare management software, see if the features they provide will be useful to the day-to-day operations of your business.
Best Daycare Software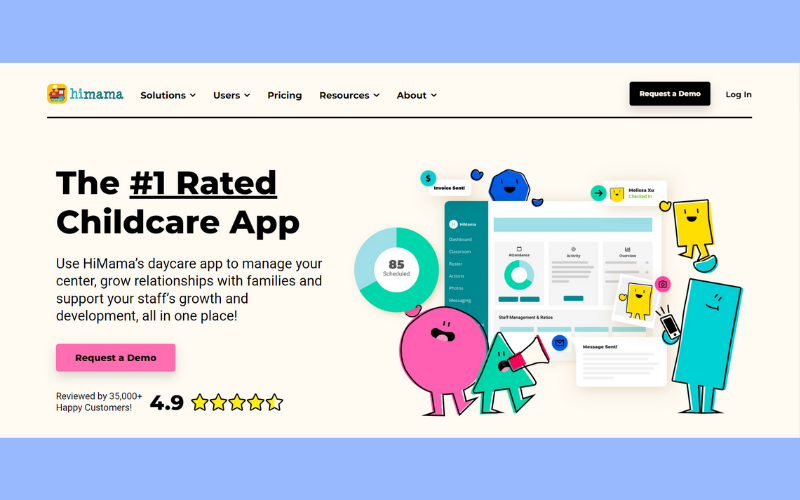 If you've been browsing daycare software lists, it might not come as a surprise that we have HiMama as the top one on our list. HiMama is the #1 rated and reviewed childcare software on many testing and comparison sites for good reasons.
Firstly, it's a true all-in-one solution for owners of daycare centers and directors of school programs. You can communicate with parents, manage your center, automate billing and payments, run assessments, train and develop staff, and create lesson plans all in one place. Secondly, HiMama is a business with a commitment to positive change. As such, they collaborated with the University of Guelph to conduct a study on the impact of childcare software on communication between families and educators.
Lastly, their quote-based pricing model ensures that childcare businesses of any capacity will have their unique needs met through the multiple features HiMama offers. This software is available as a web application and as a mobile app on the App Store and Google Play.
HiMama has a rating of4.6 stars out of 5 on Capterra based on 3,426 reviews. On G2, it has a rating of 4.7 out of 5 based on 77 reviews.
Pricing
HiMama's pricing is quote-based, meaning, you'll need to contact them and they'll give you a fixed price for the software and its features.
Currently, HiMama is offering a discounted quote for the first year of subscription, two months of free access to HiMama Academy, and free access to pre-made lesson plans from Funshine Express until July 31. A free trial is immediately available on their website, while a free demo is available upon request.
Features
HiMama childcare management software offers the following features to ensure you'll have your childcare center at your fingertips:
Operations (for contactless, seamless management of your center)

Contactless billing
Payment reports
Contactless check-in and check-out
Classroom management
Staff management

Parent Communication (for providing parents with constant and engaging updates every day)

Dedicated parent app
Unlimited messaging
Unlimited photos and videos
Digital updates and news feed

Staff Tools (for allowing your staff to do what they do best—teach!)

Daily sheets
Development observations
Informative assessments
Regional frameworks
Lesson planning
Portfolios
Activity planner

Support (for getting the support you need as a member of the HiMama family)

Dedicated onboarding team
Dedicated customer success management
Phone, email, and chat support
Weekly webinars and podcasts
Hundreds of activities
Blogs, guides, and e-books
HiMama community spaces
Industry-leading research
Pros
It's an all-in-one solution for childcare centers and the like that is easy to use for virtually everyone—owners, educators, and parents alike.
A dedicated app for parents is available, which helps greatly improve parent communication and involvement.
Cons
According to G2, HiMama is 13% more expensive than the average child care software. Though 13% might not seem so great of a difference, some businesses will benefit from the dollars saved from getting less expensive software.
Some users of the dedicated parent app have complained regarding the slowness of the app and low-resolution photos.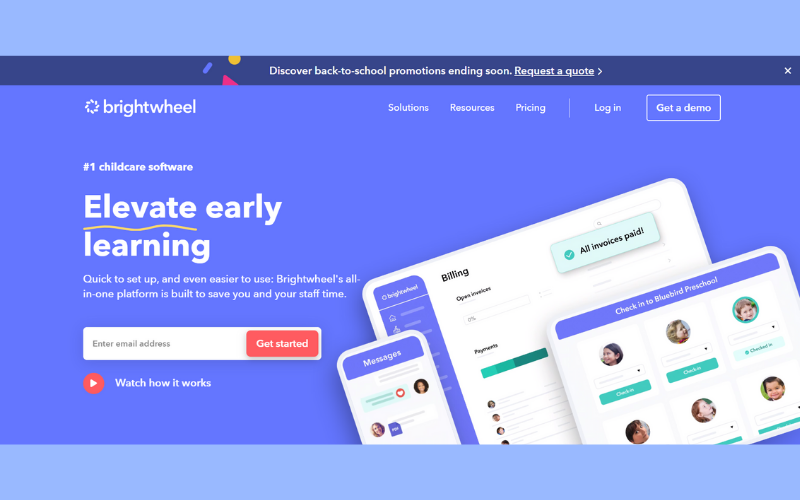 Brightwheel is a childcare management software designed to elevate early education. That includes helping with the day-to-day operations of preschool programs, daycare centers, Montessori, and even nannies and caregivers. With that, administrators and directors, teachers and staff, and parents and guardians will appreciate the multitude of features offered by this childcare software.
Clients using Brightwheel have shared the top three things they love about this childcare management software. First is that Brightwheel is easy to use and saves time with how it simplifies administrative tasks. Second, automatic billing and payments help ensure families pay on time. Lastly, Brightwheel improves communication with families, allowing for quality connections to be made.
Brightwheel has a rating of 4.7 stars out of 5 on Capterra based on 2,909 reviews. On G2, it has a rating of 4.6 out of 5 based on 122 reviews.
Pricing
Brightwheel's pricing is quote-based, meaning, you'll need to contact them and they'll give you a fixed price for the software and its features. They currently have back-to-school promotions available. Their free demo is available upon request.
Features
Brightwheel child care management software has the following features to help you save time, get paid faster, and deepen staff and parent engagement:
Billing and Payments

Tuition collection business management tools that allow automation of recurring payments
One-time charges to students' statements for late pick-up, lunches, or field trips
Attendance-based billing for seamlessly charging the total amount of an hourly rate
Mobile payments and autopay allow families to pay on-the-go
Apply discounts as a percentage or dollar amount
Subsidy tracking to manage and reconcile subsidy funds with ease

Communication

Parent engagement with messaging at-once options for easily engaging and building trust with families
Staff messaging directly through the app for quick staff responses
Photos and videos delivered directly to the parents' phones or on the web
Emergency alerts via SMS
Send reminders quickly, including dates and times
Calendar for scheduling events and activities and sharing with staff and families

Center Management

Enrollment management allows you to create forms, request documents and e-signatures, and make enrollment and waitlist decisions with ease
Online records give you access to student, family, and staff records anytime and from anywhere
Detailed reporting shows you all school, classroom, and billing details, as well as CACFP reports to meet reimbursement criteria
Multi-site management allows designated users to access each site's Brightwheel instance from a single login
Administrator approvals let you assign different levels of access for staff members
Staff payroll reports give you easy tracking of the total number of hours worked for timecards using staff check-in

Lesson Plans

Learning and assessments through recording student progress with text or voice, then share with parents, or only with staff
Benefit from pre-loaded state learning standards as well as DRDP standards
Customize your learning standards to meet the needs of your development framework
Share lesson plans with families to continue learning at home
Track and analyze student or classroom progress with data-rich reports
Share learning and development with staff and parents on your own schedule

Attendance

Check students and staff in with quick scan, e-signatures, or secure pin codes
Create custom questions and capture student/staff health information at check-in
Manage room ratios and staggered schedules in real time
Manage additional approved people for drop off or pick up

Daily Activity Report

Automate daily reports with activities, notes, photos, and videos for each student
Capture learning milestones and memorable moments, and share them with families
Report and track mishaps throughout the day to include in digital daily reports
Monitor student and staff health by logging temperatures
Input the food items you want to tag and track
Run reports to monitor activity for a student, classroom, or your entire center
Pros
The extensive features of Brightwheel cater to multiple childcare business types—from well-established child care centers to home daycare centers.
Allows for smooth teacher to parent communication and creating an engaging community.
Cons
Clients have noted that the software's financial processes are not reliable and cannot be depended on for generating reports and invoices.
According to G2, Brightwheel is 30% more expensive than the average child care software. While established businesses may find the price worth paying, startups and small businesses may have a harder time justifying the cost.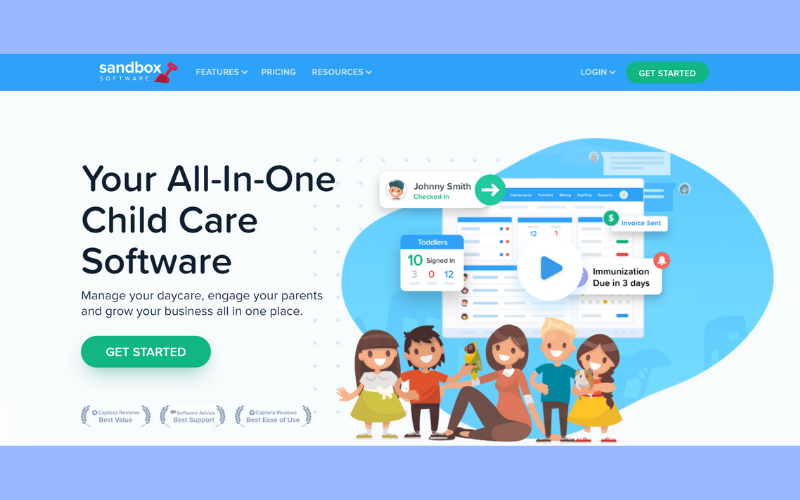 Sandbox ChildCare Management software helps your teachers and childcare professionals to spend less time on paperwork and more time in the classroom. With over 140,000+ active users, 50 million activities logged, and $1 billion payments processed, Sandbox has helped and continues to help daycare owners and educators.
The features this software provides include those under childcare management, parent engagement, and business growth. Childcare management allow you to go paperless with electronic attendance and information management. Parent engagement keeps your parents engaged and informed—anytime and anywhere. Automate time-consuming administrative tasks, so you can focus on growing your business.
Sandbox ChildCare Management has a rating of 4.9 stars out of 5 on Capterra based on 102 reviews. On G2, it has a rating of 4.9 out of 5 based on 20 reviews.
Pricing
Sandbox ChildCare Management software offers its services under the following pricing plans:
0-24 Children: $59 per month
25-49 Children: $79 per month
50-99 Children: $129 per month
100-199 Children: $59 per month
200+ Children: $199 per month
Opting for a yearly payment plan saves you 20%. A free trial is available upon request.
Features
Sandbox childCare management offers the following features to help child care centers focus on the growth of their business:
Child Care Management

Attendance Tracking: Manage Attendance and Track Staff Hours

Attendance dashboard
Head count reports
Staff hours

Timeclock Kiosk: Say Goodbye to Paper Sign in Sheets

Turn any tablet or computer into a kiosk
Simple and secure check in process
Contactless check in with QR codes

Child Profiles

Store standard child information like name, gender, date of birth, and more. All sibling information will be organized in a family profile.

Staff Profiles: Stay on top of all your important staff information from one place

Manage all necessary contact information
Simple and Store medical information, and immunizations
Track staff items like background check, CPR/First Aid and more

Online Registration: Bring your old paper forms back to life — online

Simplify the registration process at your center and get rid of paper forms. Parents can register online and upon approval, their profile will be created in Sandbox.

Teacher App

Tackling daily tasks in the classroom is made even easier

Parent Engagement

Classroom Activities: Track and Share Your Classroom Activities

Track important activities throughout the day and share a daily report with parents at the end of each day.

Photos and Updates: Keep parents connected and informed

Share photos and updates to the newsfeed for parents to view in real time with the Sandbox Parent App or Parent Portal. This will help ensure that parents never miss a moment of their child's day.

Instant Messaging: Communication that's Fast, Simple, & Secure

Email wasn't made for parent communication. Update parents, ask questions, and answer inquiries more efficiently with instant messaging.

Parent App & Online Portal

Parents can stay connected from any device with our Parent App.

Business Growth

Child Care Billing: Automate your billing from start to finish

Flexible invoicing for any schedule type
Government subsidy tracking
Automated Tax Receipts

Online Payments: Getting paid is now faster and easier than ever

Parents can now more easily view and pay their invoices on their mobile devices directly online or through the app.

Detailed Reporting

Instantly pull the information you need from over 100+ reports

Franchises and Multi-Locations

Multi-location management system
Location-based permissions
Company-wide reports
Pros
Startups and small businesses find Sandbox to have more value for their money with the great number of features available at a low price.
Allows your child care center to go 100% paperless.
Cons
Some clients have reported feeling overwhelmed with the multitude of features available, especially when not all features are relevant to their business.
Clients have reported parents having trouble with the parent portal, as it does not have a very easy-to-use interface.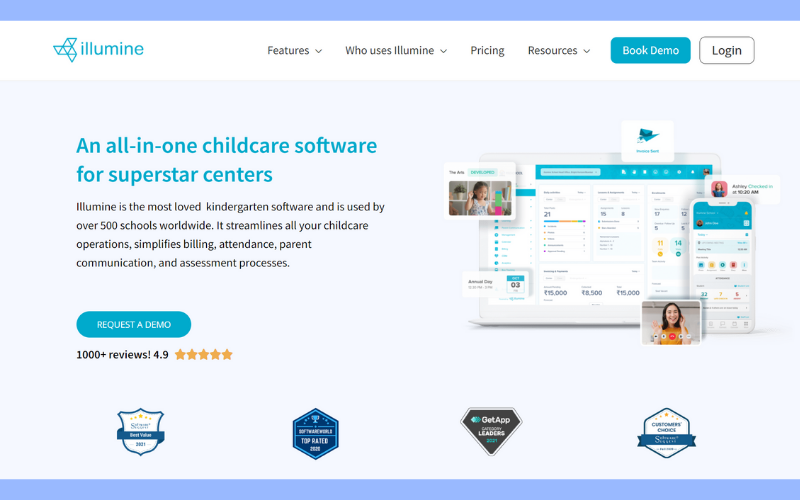 Illumine is a child care management software that help clients optimally run their child care centers. As proof of this, Illumine reports to have helped clients: (1) increase admissions by 58%; (2) save $1200 on resources per month; and, (3) reduce time spent on manual tasks by up to 45 hours.
Apart from the common features found in most childcare management software, Illumine offers live streaming and bus tracking. Live CCTV streaming allows parents to see into their kid's classroom, creating an open and transparent culture. On the other hand, bus tracking allows parents to track the real-time movement of their kids' bus. Clients can access the features on most platforms (Windows, MAC, iOS, and android).
Illumine has a rating of 4.4 stars out of 5 on Capterra based on 86 reviews. On G2, it has a rating of 4.8 out of 5 based on 22 reviews.
Pricing
Illumine child care management software offers their services under the following price levels:
Standard: $1 per student per month
Business: $2 per student per month
Enterprise: $3 per student per month
Custom quotation is also available, which allows you to customize plans according to your requirements. An 11-day free trial is available upon request.
Features
Illumine provides the following features to ensure child care centers and related businesses can have all that they need to make their daily operations as seamless as possible:
Parent Communication

Provide real-time activity updates
Share photos and videos
Make use of in-app messaging
Immediately address parent concerns
Provide parents access to CCTV streaming
Send out daily reports
Manage student leaves
Share lesson plans

Childcare Billing And Payment Software

Automated invoicing
Create PDF receipts
Accomodate credit and refunds
Generate tax reports
Utilize fee templates
Accept credit and debit cards
Process ACH transfers
Set automated reminders
Accept all major currencies
Charge via hourly billing

Digital Attendance

Contactless check-in
Provide medical forms
Record late check-ins
Authorize pick-ups
Go paperless
Monitor classroom ratios
Record temperature
Charge via attendance-based billing

Assessment

Record milestones
Review assessment reports
Access lesson planner
Manage curriculum
View progress history
Compare curriculums compatibility
Generate customized assessments

Virtual Classroom

Collaborate with parents
Zoom certified partner
Interactive whiteboard
Live-screen sharing
Set-up recurring meetings

Bus Tracking

Real-time bus tracking
Access bus driver's details
Receive journey updates
No external software required
Accurate and reliable tracking
Timely alerts
Pros
The customizability of the plan via quote-based pricing makes this childcare management software more accessible to startups and small businesses.
Illumine offers a wide range of features—which you can either customize via quote-based or only choose to access basic/more relevant ones depending on the price plan you choose.
Cons
Some clients have voiced wanting improvements on certain features of the software (e.g., replying to comments, saving/favouriting photos, quicker way to send messages to all parents, integration with other calendars, etc.).
Delayed push notifications for both teachers and parents sometimes occur.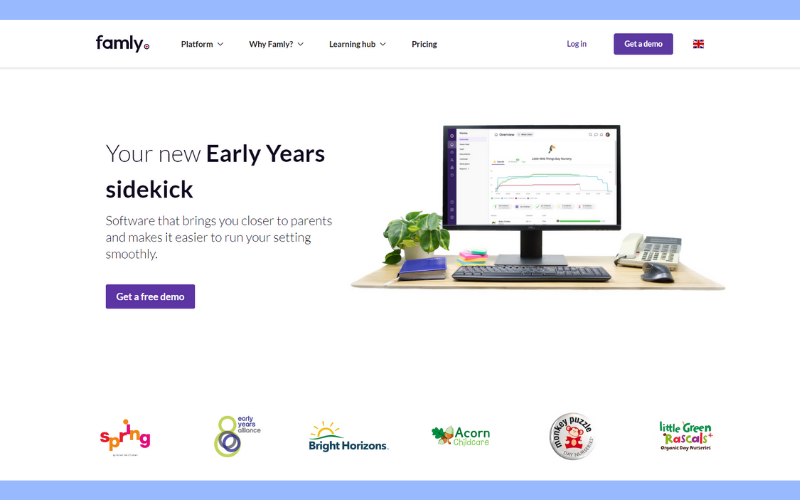 Famly is a child care management software that brings you closer to parents, runs your setting smoothly, and gives you more time with the children. From large, established child care centers to small nurseries, Famly ensures clients a seamless childcare software experience.
Through Famly, you will find it easier to: (1) strengthen parent partnerships; (2) make less invoices, have more quality time; (3) observe and assess in seconds; and, (4) run your setting like clockwork. All the features that help accomplish these four will be listed below in the "Features" section.
If you're new to the business and would like to try a very simple childcare software, Famly also offers a free package. The features in this free package can be a good starting point if you're unsure what features your business will appreciate.
Famly has a rating of 4.8 stars out of 5 on Capterra based on 81 reviews. On G2, it has a rating of 5 out of 5 based on 3 reviews.
Pricing
Famly childcare management software offers its features under the following pricing plans:
Starter: £69 per month
Essentials: £119 per month
Premium: £169 per month
For the Essentials and Premium plans, you'll save £240 when you opt for the yearly payment plan. A free trial is available. You can also avail of a free personal demo upon request. A free package is also available, which includes the Activity Library, learning journals, parent and staff communication, cohort tracking, and daily logs.
Features
Famly child care management software helps childcare centers, nurseries, and home daycare centers alike through the following features:
Strengthen parent partnerships with daily updates, instant messages, and automatic reminders.

Free parent access on mobile and online allows you to send updates straight to their pockets.
Share photos, videos, observations and reminders to individuals or whole groups.
Send reminders for holiday or event RSVPs and let parents report sick days without needing to phone.
Shared child profiles allow parents to update child information and permissions without you doing a thing.
Send direct messages between parents and management, or enable contact to specific staff.
Daily activity feed to update parents on sleep times, toilet or nappies and what they ate.
Sign children in and log food, nappies, and sleep information with just one tap.
Automatic invoice reminders help control your debt and save you from wasting time chasing parents.

Have less invoicing and more quality time as Famly offers invoicing to in-app payments, making managing your finances a breeze.

Send batch invoices or complete custom invoicing runs, split up however you like.
Set up direct debits and receive automatic card payments in-app with Famly Pay.
Enquiries and waiting list management for prospective parents and occupancy control for spare sessions now.
Set financial budgets and see revenue projections to make sure you're on track.
Create individual child plans containing sessions, public funding, and ad-hoc purchases.
See session availability and add discounts or public funding with the click of a button.
Set up automatic invoice reminders, and automatically apply funding to keep on top of any funding shortfall.
Import and export data to and from accounting systems like Xero, and save days of manually matching invoices to payments.

Observe and assess in seconds as your online learning journals just got a whole lot easier with Famly.

On-the-go observations will instantly update online learning journals and progress reporting.
Source reference material from multiple different frameworks, including the new EYFS.
Check out different progress reports based on your flexible assessment set up.
Compare progress or refer to assessments across your setting with just one click.
Review and approve observations or send them back to the practitioner for improvement.
Individual staff profiles give practitioners quick access to their observations and notes on any device.
Observations, messages and daily diaries straight to every parent's pocket.
Beautiful online learning journals which parents can view at any time.

Run your setting like clockwork and never worry about staff ratios, reports, or enquiries ever again.

Child attendance reports compare expected vs actual attendance and help you spot early warning signs.
Individual child profiles with permissions, activities, health details, and other personal information.
From registers to accident forms, collect all the information Ofsted want to see.
Digital daily diaries capture nappy changes, sleep times and much more.
Automatic staff ratios and work hour reports let you plan your staffing levels more easily.
Share documents or send private messages with policies, procedures, or training.
Registers, child permissions, and custom lists make sure you're covered in an emergency.
Occupancy tracking, revenue reports, and debt overviews will help create a sustainable business.
Pros
Famly offers a free package that startups and small businesses can immediately take advantage of—helping small business owners steadily grow.
Easy to use for both parents and child care providers.
Cons
Clients have reported being restrained by the limited compatibility of the interface with older devices.
Payment calculation can get confusing on the parents' side, according to some clients.
Recommendations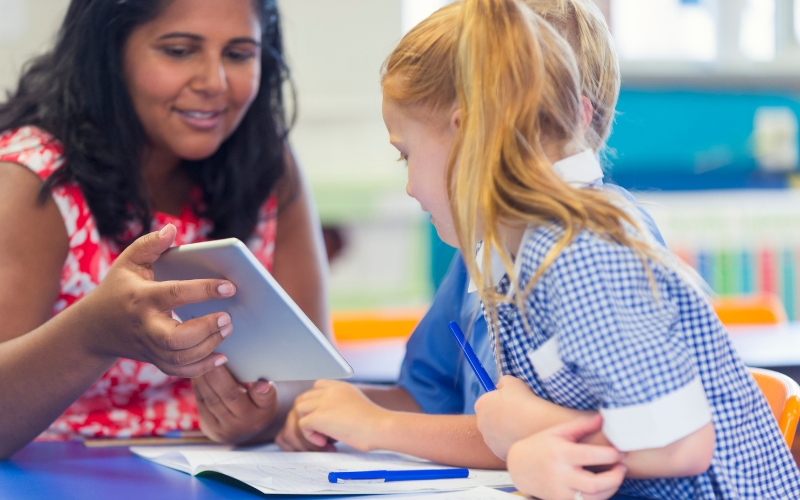 When deciding which childcare software to go with, your top two considerations should be how the software handles financial process and the ease of use for both care providers and parents. All that we've included in this list excel in these two considerations. From there, you can weigh which of these have the features your business will appreciate.
Daycare software can be a pricey investment, so take your time to go through these top daycare management software. Fortunately, all that are listed here offers a free trial or free demo. Be sure to take advantage of those before you finally land on the one childcare software you'll invest in.
Final Thoughts
Finding a suitable daycare software for your child care center can be a tough job. There are tons of software to choose from, and even with our tightly condensed list, it can still be difficult to truly feel a software is the best fit for your business.
However, as you take your time to figure out what your business needs and pin-point the right match software, you'll find that the time you invested will reap great benefits in the long run.