Rank tracking is vital if you're looking for a boost to the first page of search engine results. After all, close to 92 percent of search traffic stays on the first page. Rank tracking helps you monitor keyword rankings so you can tweak your SEO strategy for maximum impact.
As you'll realize, several factors enhance your position in the search results. So, how do you know which strategy is working best for you? It's simple; use rank tracking software.
With many rank tracking software tools on the market, finding the best one for your business can be challenging. So we've compiled a detailed list of the best rank tracking software so you can easily monitor your performance on the search engine result pages.
Best Rank Tracking Software Shortlist
Here's our shortlist of the best rank tracking tools for optimizing your position in search results:
Ahrefs
Semrush
Moz Pro Rank Tracking
SE Ranking
Wincher
Accuranker
Serpwatch
Authority Labs
Advanced Web Ranking
Let's dive deeper into these tools and see what makes them different from all other rank tracking software tools and how they can help you monitor your rank. Without wasting more time, let's get to it.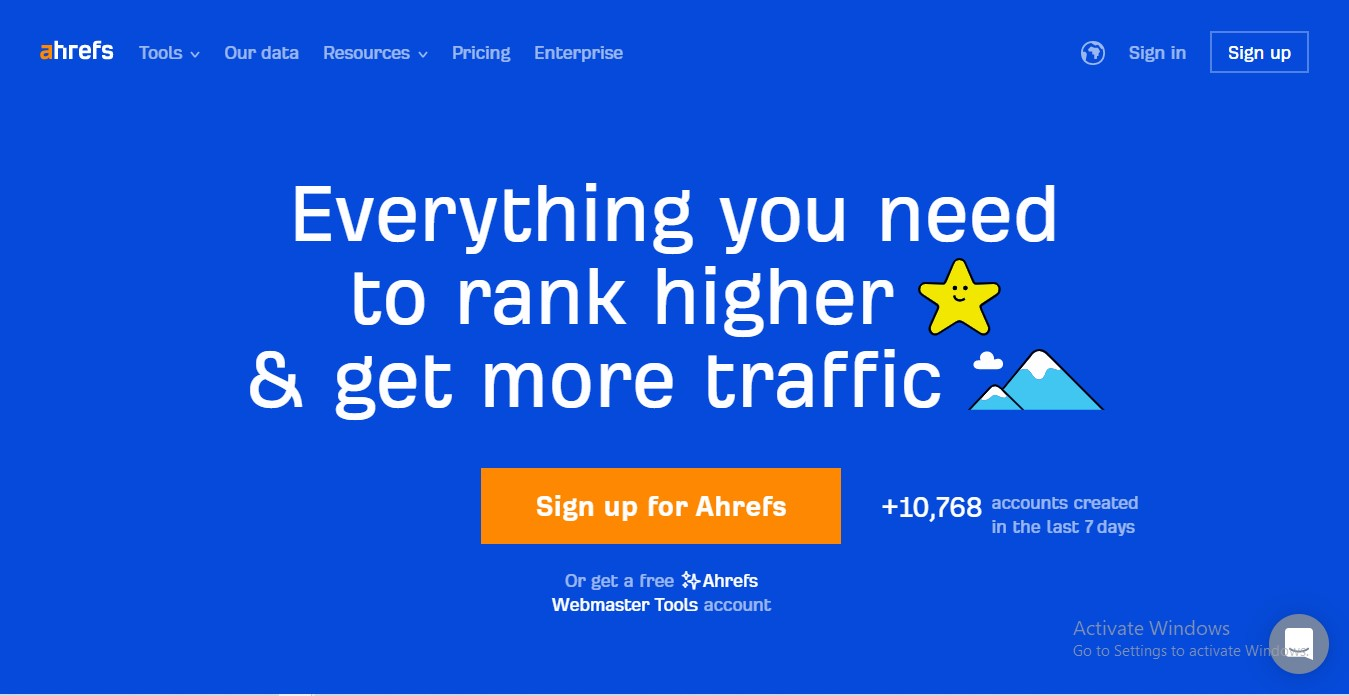 If you're looking for a complete ranking tracking toolbox, you can't look past Ahref. Its all-in-one rank tracking solution comes with all the features to analyze your performance and improve your rank.
Ahref has a site explorer that allows you to streamline competitor tracking. This feature will enable you to analyze keywords for search volumes, difficulty, organic clicks and rankings. This is handy if you want to become the go-to person in your niche.
Ahrefs comes with an easy-to-use interface. You'll have no problem tracking keywords and checking visibility. In addition, you get access to your previous ranks so that you can determine your progress.
Plus, you get to track your rank according to locations as well. This is especially important if you're a brick-and-mortar business and you're looking to build some authority locally.
Pricing
Ahrefs has four pricing plans: lite, standard, advanced, and enterprise. For this article, we're focusing on the monthly prices. Note that yearly subscriptions, however, are cheaper as they come with discounts and two months of free usage.
Lite ($99/month) – Best for small businesses and personal projects
Rank tracker tool
SEO dashboard
Site audit
Site explorer
Keywords explorer
Alerts
Standard ($199/month) – Best for SEO professionals
All lite features
Domain comparison
6 months of history
SERP updates
Batch analysis
Position history chart
Report sharing
Advanced ($399/month) – Best for medium and large scale business
All in standard
Site explorer
2 years of history
Dashboard folders
Google data studio
Enterprise ($999/month) – Best for large agencies and enterprises
All in advanced
Access management
Unlimited history
Directory listing
API
Invoice Payment
SSO
Features
Google analytics and Google search console integration
Filtering options
CPC
Search volume insights
Pros
Top of the line rank tracker tool
Keyword email alerts
Keyword research for different search engines
Site audits
Cons
Expensive
No customizable reporting options
Support
Windows
Mac
Linux
Iphone
Android
Web based
Rating
G2 rating: 4.6 out of 5 stars (402 reviews)
Capterra: 4.7 out of 5 stars (348 reviews)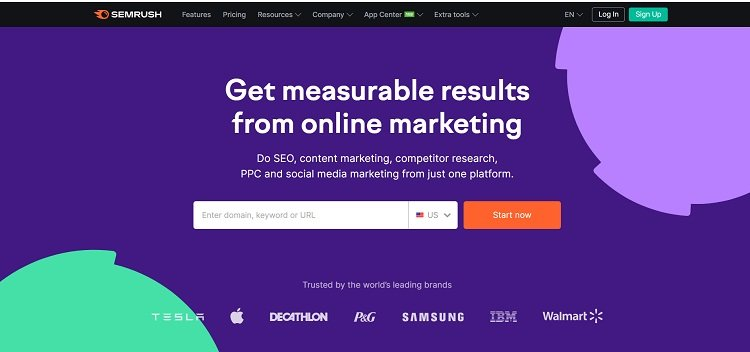 Considered one of the most powerful tools for online marketing, SEMRush goes beyond the basics of keyword ranking tracking. It gives you all the tools you need to boost your SEO efforts. Trusted by world-leading brands like Apple, Tesla, IBM, and Walmart, SEMRush collects data directly from Google and helps you monitor rankings for any URL, domain, or subdomain.
The data available from SEMRush is second to none, suitable for tracking your website's keyword positions on a comprehensive level, both locally and nationally, and on desktop or mobile. You can also filter your insights based on a range of 16 SERP features to determine which keywords will trigger which type of results.
Moreover, you can use SEMRush to track how well you're competing with competitors in your industry. Simply switch to the "Discovery" tab to discover all the domains that rank for your target keywords and sort by visibility level. Unfortunately, if you are looking for detailed reports, it isn't easy to find something with the same information as SEMRush.
Pricing
SEMRush pricing falls into one of three categories: pro, guru, and business. You can save 17 percent by selecting an annual plan. But there's an in-depth look at the pricing plans.
Pro (119.95/month) – Best for newbies and small marketing teams
Five projects
Tracking 500 keywords
Domain, backlinks, and keyword analysis
Daily reportings
Guru ($229.95/month) – Best for medium-sized businesses and growing agencies
All Pro features
15 projects
1,500 keywords with daily updates
5,000 reports per day
Content marketing platform
Google Data Studio integration
Historical data
Backlink analytics
Business ($449.95/month) – Best for large-sized businesses and enterprises
All Guru features
Up to 40 projects
5,000 keyword tracking
Voice metrics quota
API access
10,000 reports per day
Content marketing platform
Google Data Studio integration
Historical data
Backlink monitoring
Features
Full keyword filtering
SemRush sensor
Keyword suggestions and targeting
Global and local ranking reports
Competitors monitoring
Position change alerts
Accurate local map classifications
Content marketing platform
Pros
User-friendly interface
Money-back guarantee
Extensive SEO rank tracking software
Google rank tracking software tool
Ranking reports
Cons
Bit on the expensive side
Too many additional packages
Support
Windows
Mac
Linux
Android
iPhone
Web-based
Rating
G2 rating: 4.6 out of 5 stars (1,541 reviews)
Capterra: 4.7 out of stars (1,828 reviews)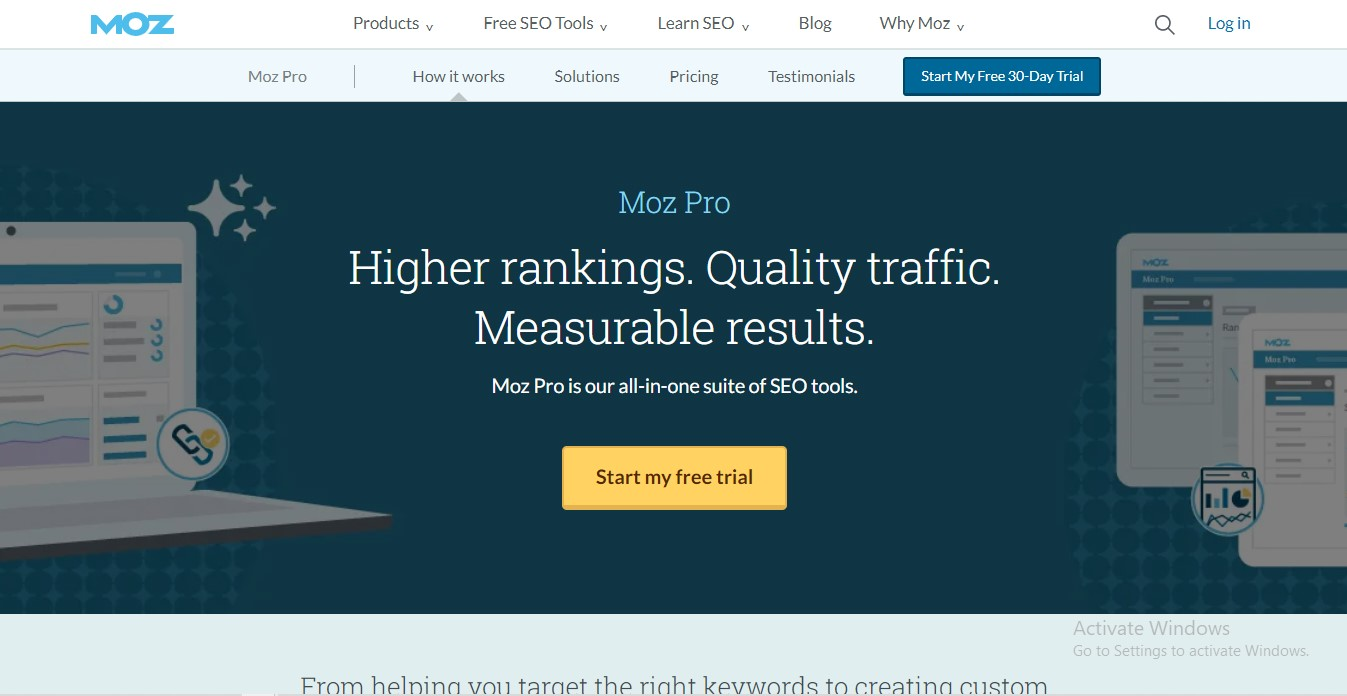 Moz is one of the most famous names in search engine optimization, and for good reason. The wide range of tools the company offers can help anyone rank better online. With keyword explorer, you'll have access to a wealth of information about your preferred target keywords to be more competitive in your industry.
All you need to do to get started is enter a keyword or URL. Then, the rank tracker software will help you discover the best keywords to prioritize.
You can also get entire keyword suggestions and notifications whenever your keyword position changes. There's also a difficulty score on the keywords suggested for your campaigns, so you know how likely you are to improve your ranking positions.
Moz covers multiple search engines with its rank tracking functionality. There's also the ability to instantly generate reports if you need to share valuable keyword information with the rest of your team.
Pricing
Moz keyword tracker pricing is part of the costs of the Moz Pro SEO service in general. The price only changes based on additional SEO features you may need.
Standard ($99/month) – Best for beginners and small teams
Track and trace 3 campaigns
Check 300 keyword rankings
100,000 pages to crawl
Mobile rankings
150 search queries per month
Import 5 keyword lists
Unlimited scheduled reports
Competitor analysis
Medium ($179/month) – Best for medium-sized businesses
All features of standard
Unlimited brand reporting
200 ranking verification queries daily
2 user seats
24/7 support
Large ($299/month) – Best for agencies
All the features of medium
Unlimited report templates
3 user seats
Premium ($599/month) – Best for large agencies and enterprises
All the features of large
Unlimited reporting
Onboarding and support for 5 user seats
Features
Competitor keyword research
Sort by keywords using predictive metrics
Keywords for long-term follow-up
Add your SEO ranking to a historical chart
User-friendly interface
Free SEO tools
Identify keyword difficulty
Pros
Fast crawling speed
Custom metrics
Intuitive interface
Mobile rank tracking
Backlink analysis
Cons
Limited reporting customization
Support
Windows
Mac
Linux
Android
iPhone
Web-based
Rating
G2 ranking: 4.4 out of 5 stars (352 reviews)
Capterra ranking: 4.5 out of 5 stars (311 reviews)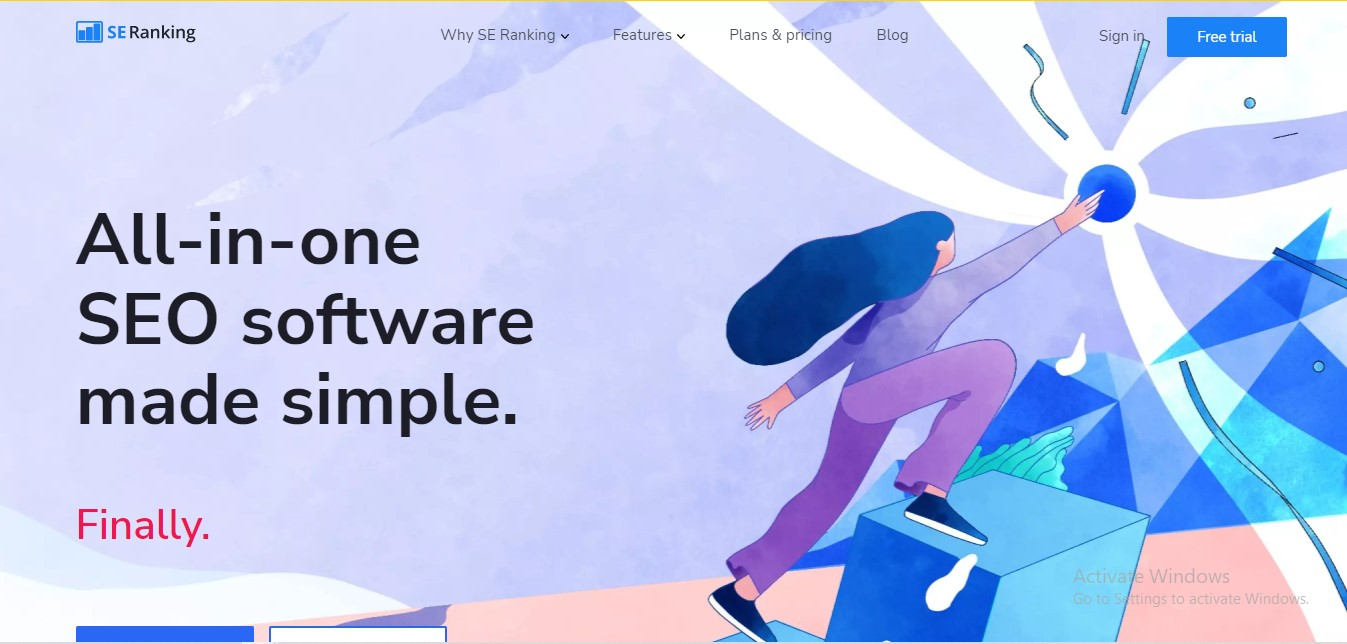 SE Ranking is an all-in-one rank tracking software that simplifies SEO, so you can spend more time growing your business.
At the top of SE Ranking's list of attractive features is its 100% accurate rank tracking service. The solution provides real-time ranking data for your website's keyword search volume on a number of major search engines. You can track your rankings by country, region, and even city level.
Instead of focusing solely on Google rankings, SE Ranking will check all the major search engines and give you the tools to analyze desktop and mobile results at the same time. You'll be able to monitor SERPs as well as maps and ad positions in real-time.
In addition, there is access to competitive intelligence, so you can monitor their SEO performance.
Pricing
You can pay your SE Ranking daily, every 3 days or weekly. The length of your subscription period makes a significant difference, as you'll pay less the longer you're willing to commit to the service. All three packages include:
Essential ($39/month)
Up to 10 websites
Website audit tool for 40,000 pages
Monitoring of 6,000 backlinks
Keyword grouping and research
20 domain backlink checks per day
On-page audits for 100 pages
SEO reporting
Social media analytics
Marketing plan tools
Pro ($89/month)
Everything from Essential
Unlimited number of websites
Backlink verification for 100 domains per day
30,000 backlink monitoring
3 user seats
Page turn monitoring for up to 100 pages
Expanding keyword database (10,000)
Business ($120/month)
All Pro features
10 user seats
250-page change monitoring alerts
25,000 words for your keyword database
White labeling
API access
On-page audits for 750 pages
Backlinks for 300 domains
Monitor 90,000 backlinks
Website audit of up to 700,000 pages
Features
Site modification alerts
Keyword research
White-label reports
Collaborative monitoring
Monitoring of backlink
SEO reporting tools
Social media management
Pros
Accurate rank tracker tool
Flexible pricing plans
Daily rank tracking software
Custom reporting tool
Cons
Extensive features may hinder decision making
Hard to use interface
Support
Windows
Mac
Linux
Android
iPhone
Web-based
Rating
G2 rating: 4.8 out of 5 stars (992 reviews)
Capterra rating: 4.8 out of 5 stars (176 reviews)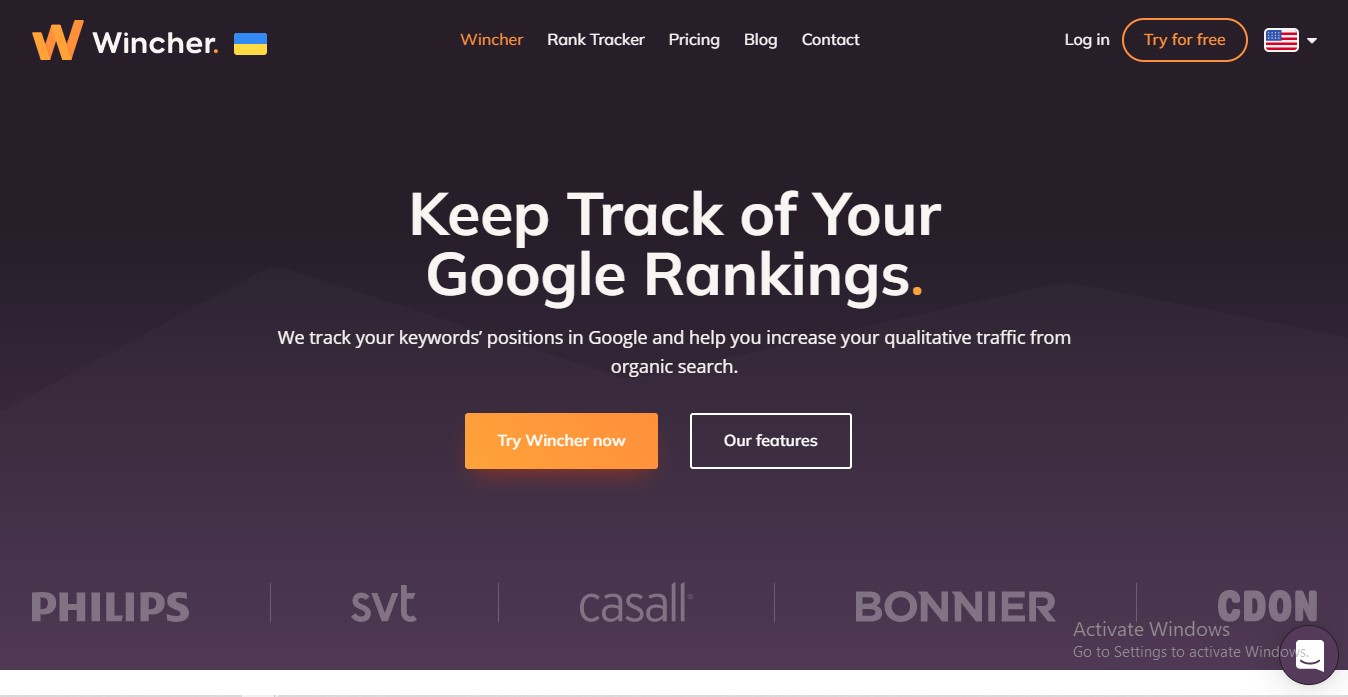 Wincher helps businesses thrive online with its wonderfully cost-effective rank tracker. You can immediately see where you stand in terms of rankings for your top keywords, and there are tips on how to improve your rankings. Wincher also helps you discover keywords you may not have considered before.
Its convenient rank checking technology allows you to monitor your search engine position, provide feedback to shareholders with ranking reports, and even determine your next SEO strategy. There are many capabilities to help you optimize your content for better keyword positions.
Wincher's simple tool can help you find keywords with the lowest competition and high search volume. There is also access to API technology and local classification in more than 180 countries.
Pricing
Wincher's biggest selling point is its pricing structure. There is a free trial to start with, after that the price starts at around $29 per month. You can also get discounts by paying for your service annually.
Starter ($29/month)
Daily ranking updates
10 website
Track up to 500 keywords per day
Business ($59/month)
All Starter features
Track up to 1,000 keywords per day
Access white-label reporting
API access
On-demand updates
Enterprise ($249 per month)
All features of Business
Tracking 5,000 keywords per day
Unlimited users
Project permissions
Priority support
Features
Daily reports and notifications
SERP features
Automatic competition monitoring
Full API access
Support for multiple devices
Accurate ranking in 180 countries
Pros
Good price
Supports any number of users for all plans
Impact driving SERP features
Cons
Support
Windows
Mac
Linux
Android
iPhone
Web-based
Rating
G2 rating: 4.7 out of 5 stars (27 reviews)
Capterra: 4.8 out of 5 stars (52 reviews)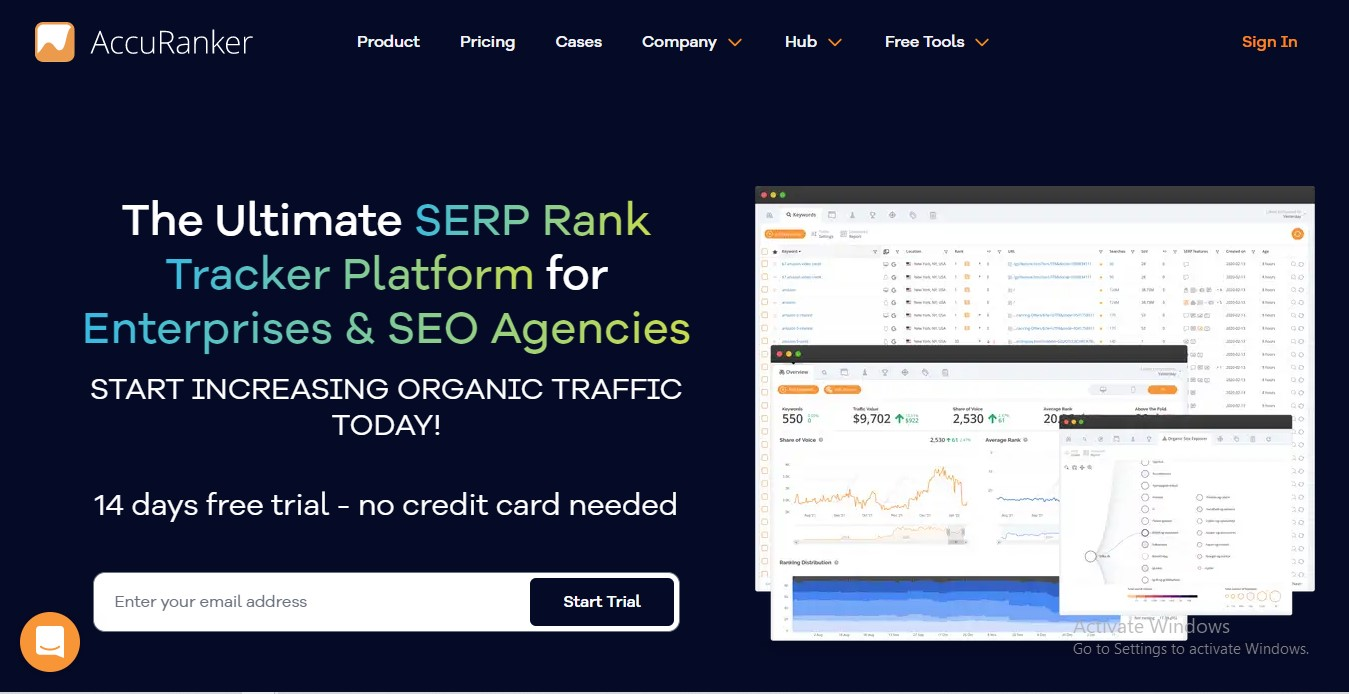 Accuranker promises extremely fast and accurate ranking data and is trusted by over 25,000 brands, SEO professionals and agencies worldwide. This simple and comprehensive search engine optimization tool will give you instant, on-demand ranking updates when you need them, as well as bi-hourly updates.
Accuranker stands out for its excellent combination of high-quality rank tracking features, offered at a low cost. You can access API technology to connect data sources and unlock advanced landing page insights. There's excellent customer service, with one-on-one best practice sessions, extensive help guides, and live chat too.
For an in-depth overview of your SEO efforts, Accuranker's reports are great. There are hundreds of ways to filter your data and you'll be able to share voice metrics information. You can also access custom reports with your own logo, in case you want to impress some clients.
Pricing
Accuranker keeps its pricing reasonably straightforward, instead of having multiple packages to choose from. This means you'll only have one package with all the features included.
This costs about $129 per month, but there's a discount if you're willing to embrace annual billing cycles. There's also a 14 day free trial.
Considered one of the best keyword rank tracker software out there, AccuRanker is packed with features like integrations with all major search engines, local and mobile results, advanced data segmentation, and competitive pricing.
The amount you pay increases when you need to track more keywords. This means that if you want 1,000 keywords, you'll start with the $129 package. If you want 50,000, you'll spend an equal multiplied proportion.
Features
Share of voice
Competition tracking software
Historic search volume
Google search console integration
Advanced web ranking offers
API
Unlimited users
Advanced data segmentation
Unlimited domains
Monitoring backlinks
Pros
Dedicated rank tracking software
Easy to use interface
Third-party integrations
Daily rank tracking
Cons
One pricing plan
Not an all-in-one keyword tracking tool
Support
Windows
Mac
Linux
Android
iPhone
Web-based
Rating
G2 rating: 4.7 out of 5 stars (13 reviews)
Capterra: 4.8 out of 5 stars (177 reviews)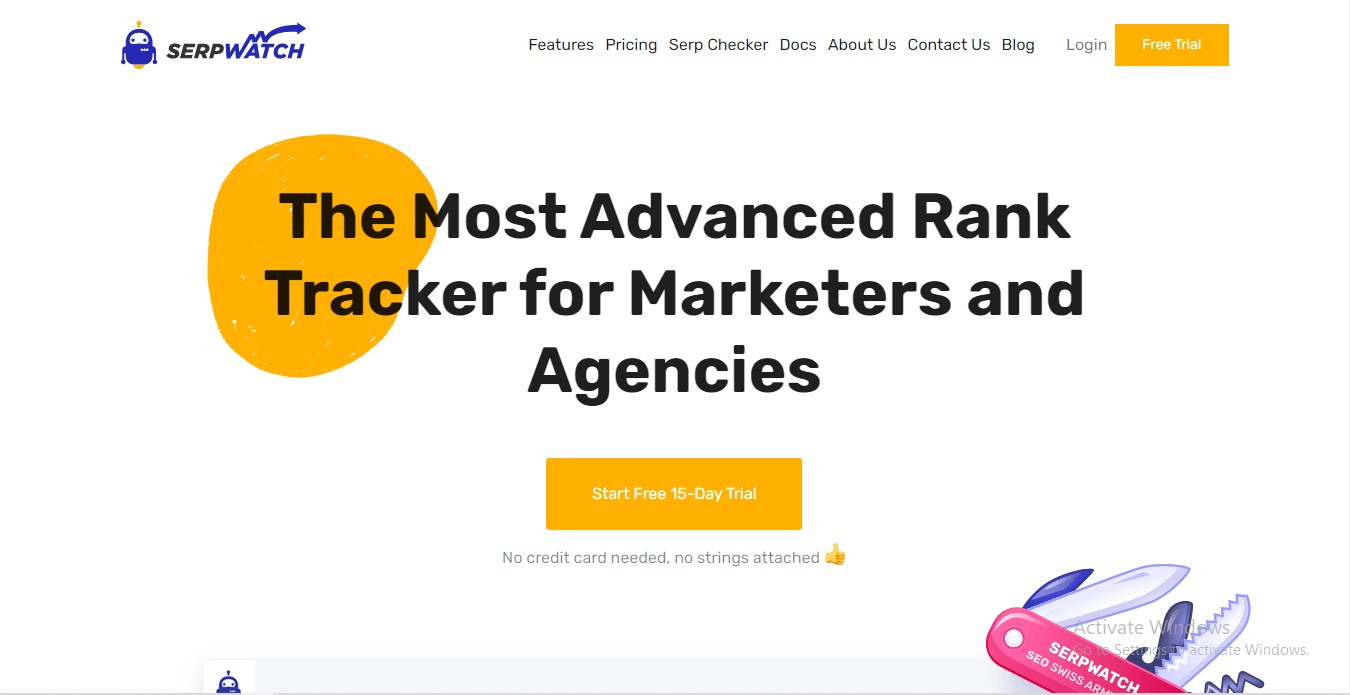 Another powerful rank tracking tool that promises to make SEO easier is SERPWatcher. This keyword research tool does much of the SEO hard work for you, keeping an eye on your site's traffic potential.
All you need to do is enter a link to a domain and you can start tracking. It takes about 30 seconds to set everything up and you can get email notifications every time something changes.
SERPWatcher provides detailed information on local rankings in more than 50,000 locations, including countries, states and cities. You can also access ranking updates on your smartphone with an app. If you're working with a team, you can exploit its reporting tool to share a fully interactive report with a single link.
SERPWatcher is easy to use, with thousands of SERP positions monitored by the system every day. For beginners, there is virtually no learning curve to worry about, so you can start improving your performance almost immediately.
Pricing
There is a 48-hour money-back guarantee to give you a little more peace of mind when you first set up your SERPWatcher service. With annual plans saving you 40% per month, it's definitely better to invest for the long haul. If the annual plan isn't for you, here are the monthly plans:
Starter ($49/month)
7,500 keyword checks
Ranking history
Supports any number of users and domains
Realtime SERP features
Mobile and desktop indexes
Keyword metrics
Growth ($99/month)
All basic features
Google analytic integration
Google search console
SERP feature timeline
Premium ($349/month)
All growth features
Keyword research
White label
Daily rank checking
Features
Keyword organization
Keyword filtering
Keyword starring
Report builder
Intelligence hub
Accurate rank tracker tool
White labeling
Pros
Top 10 competitor keyword tracking free
Intuitive interface
15 day free trial
Report scheduling
Cons
Limited report customization
Not an all-in-one rank checker tool
Support
Windows
Mac
Linux
Android
iPhone
Web-based
Rating
G2 rating: 3.4 out of 5 stars (8 reviews)
Capterra: 3.6 out of 5 stars (14 reviews)
Authority Labs is one of the leading rank tracking software in the market among SEO professionals. The white labeling capabilities of this rank tracker are fantastic. This means agencies can make their brand stand out when interacting with clients.
Additionally, the software is already popular with companies like the Mint, Symantec and Choice Hotels. Within the Authority Labs toolkit, you'll find SEO services to suit a variety of requirements, including a local rank tracker to reliably monitor your local SEO performance.
There is the option to automate local range tracking and mobile tracking with daily reports. You'll also have organic keyword insights, daily data updates, and global tracking.
Authority Labs makes it easy to get to the bottom of your ranking requirements when trying to improve keyword rankings. What's more, your entire team can use the software. The local insights are pretty impressive too, with the option to search by zip code, state, and city.
Pricing
Like many of the top rank checking tools, Authority Labs has its own 14-day trial, so you can check out how the features work before you dive in. This keyword rank tracking tool has four plans: plus, pro, pro plus, and enterprise.
Plus ($49/month)
50 domains
250 keywords
Mobile tracking
Local tracking
Daily updates
Instant reports
Unlimited users.
Pro ($99/month)
All Plus features
1,000 keywords
100 domains
White labeling
Google Data Studio integrations
Pro Plus ($225/month)
All Pro features
2,500 keywords
300 domains
Enterprise ($450/month)
All Pro Plus features
5000+ keywords
Unlimited domains
Front-end API access
Features
Custom white labeled reports
Comprehensive competition monitoring
Support for any number of users
Access to organic keyword suggestions
High-quality ranking data and SERP information
Mobile rank tracking
Global or local rank tracking
Pros
14 day free trial
Mobile rank tracking tool
Unlimited domains
Cons
Limited SEO tools
No free plan (only free trial)
Support
Windows
Mac
Linux
Android
iPhone
Web-based
Rating
G2 rating: Not rated
Capterra: Not rated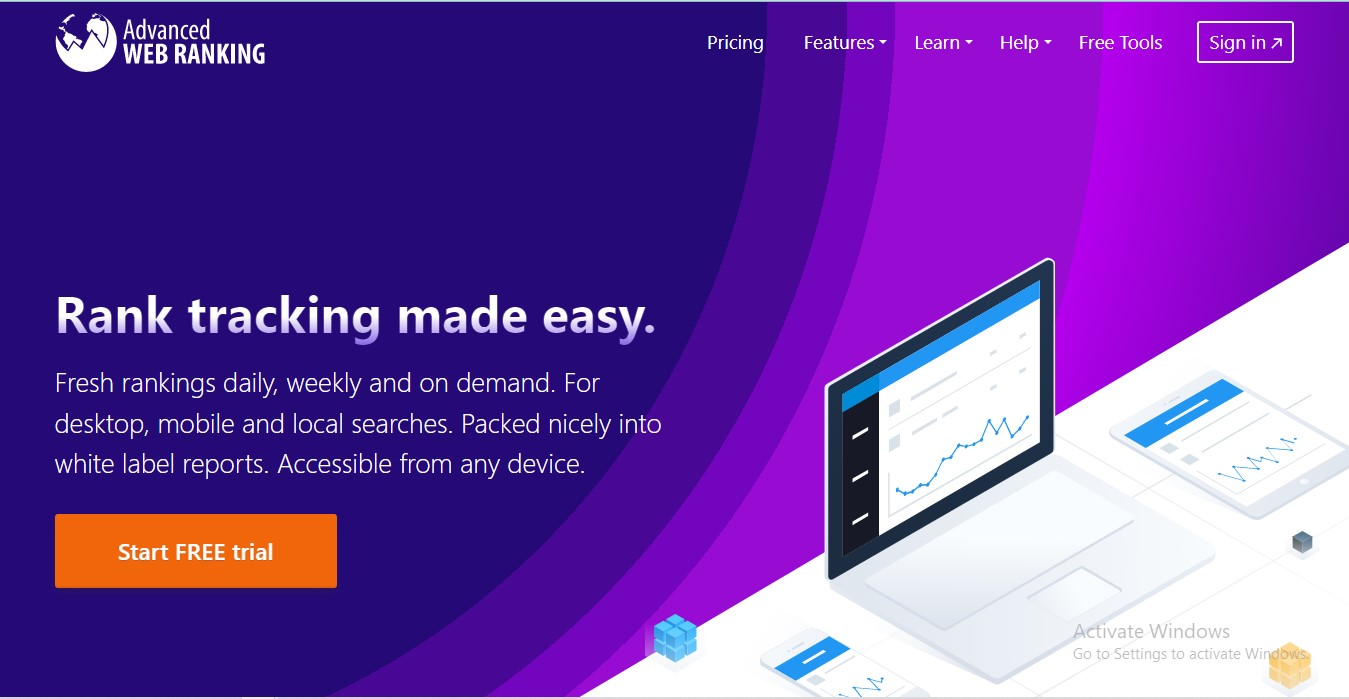 Advanced Web Ranking is a long-standing tool in the keyword ranking tracker space. It helps access information about your newly available ranking keywords whenever you want. You can browse searches in multiple languages, create white-label reports, and even check your insights from your smartphone.
Trusted by some of the world's leading companies, Advanced Web Ranking can examine all kinds of SERP features, with custom SEO reports and a WYSIWYG editor. You'll even be able to search the reports you create through a single link or connect them to third-party tools.
Advanced Web Ranking's competitor research means you can examine your SEO performance in the context of competition and track rankings over time. You can even find out who your competitors are if you're not sure.
Pricing
Advanced Web Ranking offers a 30-day free trial to get you started plus a money-back guarantee if you're not satisfied. If you want to save some money on analysis in the long run, annual packages cost 10% less than monthly options.
Incoming ($49/month)
Competitor keyword tracking
2,000 units
Extensive SERP insights
Local and mobile rankings
Google data integration
Unlimited projects and users
WYSIWYG Reporting
Keyword difficulty
Pro ($99/month)
All Starter features
7,000 units
Competitor discovery
Market share
Agency ($199/month)
All Pro features
14,500 units
Local keyword search volumes
Hourly updates
API
Historical ranking import
Data studio connector
Enterprise ($499/month)
All Agency features
35,500 units
Data migration support
Advanced customer service
CSV exports to FTP
Dedicated account manager
You'll also see how it ranks on platforms like DuckDuckGo, YouTube, and Bing, as well as on desktop and mobile. Like many of the best keyword rank tracking tools, the service collects ultra-accurate data from Google Analytics, Keyword Planner, and Search Console.
Features
Mobile and desktop applications
Custom SEO reports with WYSIWYG builder
Unlimited websites and users
Competitive insights and discoveries
API and integration options
Multiple language support
Pros
Free trial available
Easy to use interface
WYSIWYG Reporting
White labeling in starter plan
Cons
Keyword update may be slow
Limited tools for monitoring backlinks
Support
Windows
Mac
Linux
Android
iPhone
Web-based
Rating
G2 rating: 4.2 out of 5 stars (19 reviews)
Capterra: 4.8 out of 5 stars (32 reviews)
Keyword Rank Tracking Software FAQ
What Is a Keyword Ranking Tracker?
A keyword ranking tracker is a ranking tool for digital marketing that helps you understand your website's position on search engine pages. You can also use these tools for things like finding new keywords, competitive analysis, and SEO support.
Why Keywords Are Crucial for SEO?
Keywords are perhaps the most important part of SEO because they help search engines understand what your website has to offer. When your customer searches for specific terms, Google and other search engines look for those terms in your content to confirm relevance.
What Metrics Are Most Important for Tracking Keyword Rankings?
Visibility is crucial for good word ranking tracking – most companies aim for 100% visibility organically for a high position. Search volume is also important, as more volume means more traffic, while keyword position determines where a website ranks in the search engine.
Are There Free Rank Tracking Tools?
You can access some rank tracking tools for free, like Google Search Console, but you won't get nearly the same level of detailed information you'd expect from a paid service.
What Is the Best Keyword Rank Tracking Tool for Beginners?
This mainly depends on what you want to achieve with your rank tracking strategy. Many companies like to start with Google Search Console. However, if you want more extensive information, you may need something more comprehensive, such as Wincher.
Recommendation
Choosing the right product for you will largely depend on what you want to achieve.
If you are looking for real-time information, Ranking SE is definitely one of the best options. For marketing agencies, Authority Labs is the way to go, while SERPWatcher gives you insight into your daily rank more effectively than other tools.
Most of the above services have free trials, so you can always "try" the service before you purchased a pricing plan.
Conclusion
There's more to great SEO than keywords, but you won't get anywhere unless you know what terms to target. The best keyword rank tracking tools give you everything you need to outshine the competition in today's increasingly cluttered web.
If you're looking to become the top-ranking expert in your niche, you'll need a keyword rank tracking software in your toolbox.