Building a website can be a simple task, but getting it to ranke on the first page of search engines is where it gets difficult. Search engine optimization (SEO) refers to the techniques you can apply to increase the visibility of a website. Though you can study SEO to fully grasp it, using SEO tools will not only make your life easier but will also help you gain better results. With that, let's look at two sought-after SEO tools in the market: Surfer SEO vs On-Page Champ.
The ultimate goal of this post to help you reach a well-informed decision on which of these SEO tools is the better pick for you. So let's get right to it.
What is the purpose of SEO Tools?
You might be wondering, why do you even need to use search engine optimization tools like Surfer SEO or On-Page Champ? To be honest, you don't really need these tools. However, your SEO efforts will yield greater results if you have and masterfully utilize SEO tools.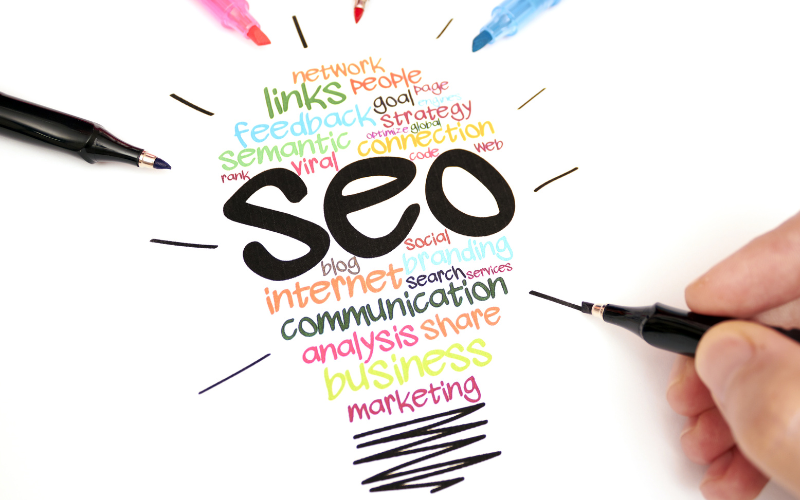 SEO tools dissect websites and identify the potential of web pages to rank higher on search results pages. These tools can provide keywords to aid your keyword research and backlink analysis, as well as valuable insights on your competition on the web.
Of course, another scenario could be that you're outsourcing your SEO to an agency. So, do you still need an SEO tool? In this case, if you want to monitor the agency's progress, an SEO tool will be of great help.
Surfer SEO vs On-Page Champ: What's the difference?
Both tools are useful and popular among entrepreneurs and digital marketers. However, the main difference between Surfer SEO and On-Page Champ is the amount of features you get. Surfer SEO offers more than on-page SEO optimization. You can also use Surfer to plan content strategies and create SEO optimized content.
Meanwhile, On-Page Champ only offers a couple of features. But the platform is still worth considering if you're on a tight budget or do not need the additional features offered by Surfer SEO. On-Page Champ can provide valuable data to help you monitor changes on your website's SEO.
Continue below for an exhaustive comparison of both SEO tools to determine the best software to meet your requirements.
Surfer SEO is an all-in-one suite of SEO tools that gives you everything you need to plan and create content and to optimise existing content. Starting from the Keyword Research Tool and Content Planner, you can create comprehensive content strategies that will help you dominate your niche and deliver what your readers want to see.
For creating your own content, you have Surfer's Content Editor to help you craft SEO optimized content. Surfer analyzes your articles for 500+ ranking factors and provides all the data you need to improve your content.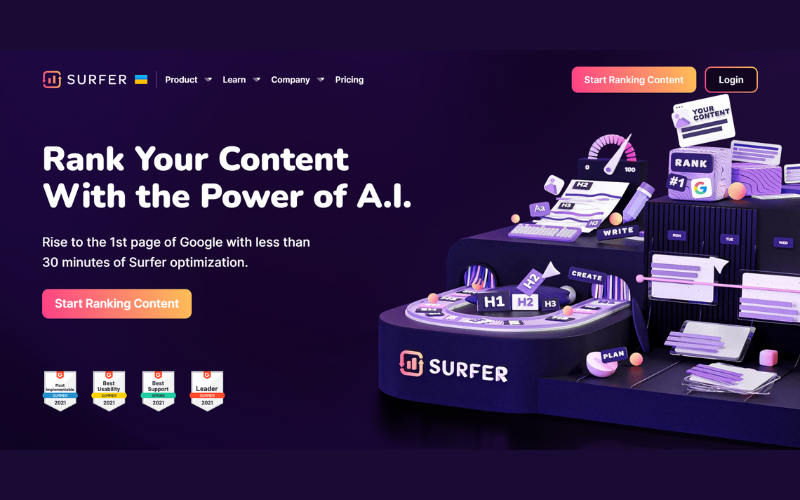 After you've hit publish, the optimization continues. Surfer's SEO audit tool, simply called "Audit", can optimize articles even after they go live. You can further optimize your website by performing competitor analysis using Surfer's SERP Analyzer and following the SEO tasks provided by Surfer's Grow Flow.
On-Page Champ is a platform that can help you track changes to a website and perform on-page SEO tests. It can help you understand what works for you and your competitors, so you can replicate faster and rank higher.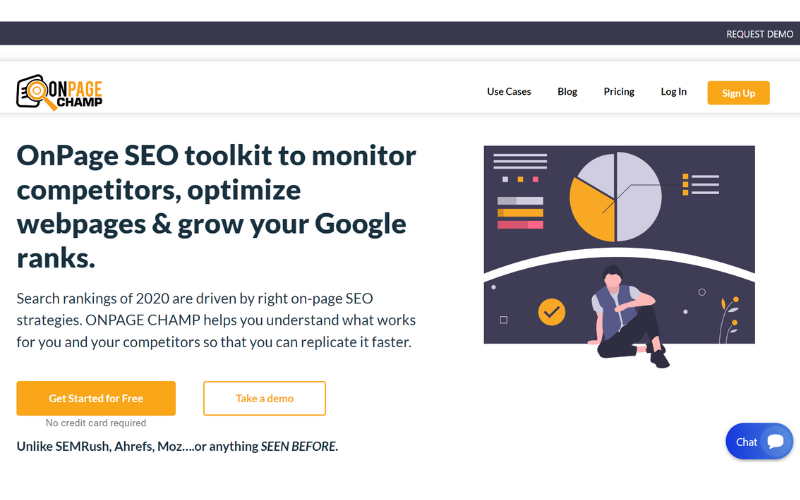 With the OnPage Tracker, you can monitor your website (or your competitor's) for any content/HTML changes. Avoid rank falls and regain lost search rankings using On-Page Champ's website change repository.
With SERP Audit, you'll have the on-page elements of your competitors in less than a minute. The actionable data you'll receive can help you structure the on-page SEO elements of you web page and perform data driven decision making.
Surfer SEO Review of Key Features
Keyword Research
To increase your chance of getting the best possible keyword rankings, it all begins with keyword research. And for this part of your SEO strategy, the Surfer SEO Keyword Research tool has you covered. Entering your main keyword will return search results containing valuable insights for your keyword research.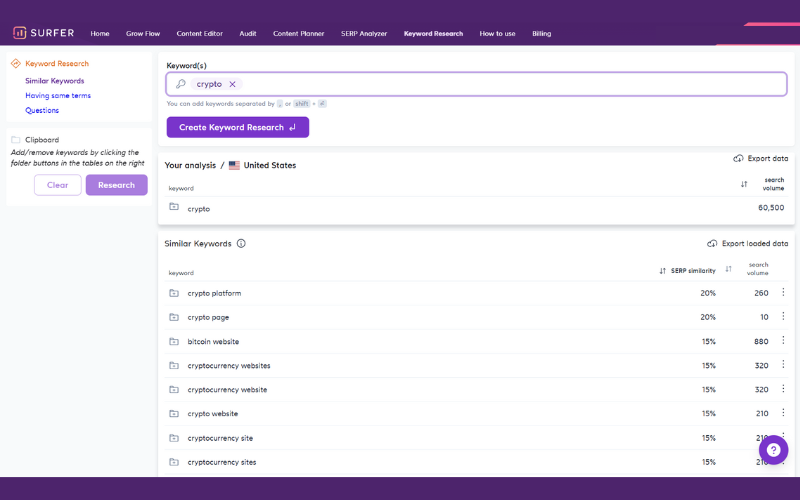 You'll receive relevant keywords, topics, and phrases that you can sort by their monthly search volume or SERP similarity. Modify the location of your search if you want results tailored to a specific location. Utilizing the data you receive from this tool can help you craft a content strategy with keywords geared towards your audience and location.
Surfer SEO also has a free version of this tool called Keyword Surfer. This is a Chrome extension that can show you the search volume for any keyword on Google Search. You can then use the data you've gathered to avoid writing content for unpopular searches.
Content Planner
Receive topic suggestions and keyword clusters based on your main keyword when you use the Surfer SEO Content Planner. With this, you'll never run out of ideas on what to write about. Furthermore, you can be sure about the accuracy of the topics and keywords you'll receive, as they are generated based on Surfer's superior algorithms. You can confidently use these suggestions to dominate your niche and deliver what your audience wants.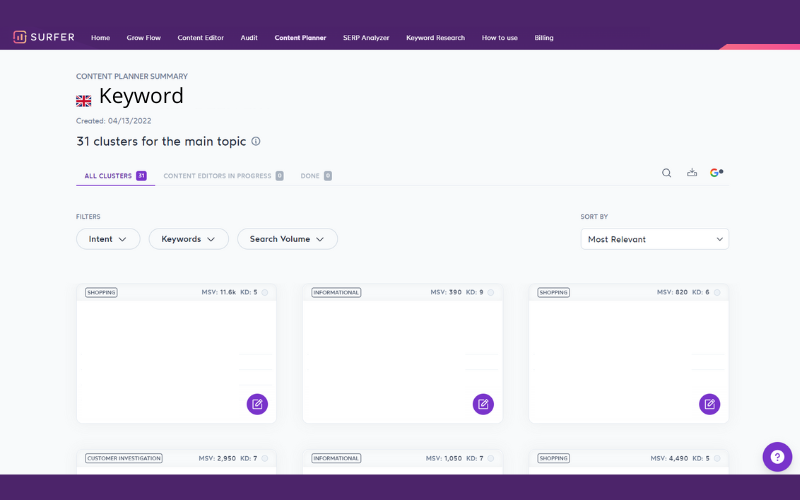 For even greater accuracy, you can connect Content Planner to Google Search Console or Google Analytics. This way, you can receive recommendations based on your raw data.
Content Editor
The Surfer SEO Content Editor is one of the best on-page SEO tools in the market. With it's easy-to-use user interface and options for team collaboration, it's easy to see why it's such a popular feature. After you've created a winning content strategy, you can use Content Editor to begin writing your content.
Entering your target keyword will generate a new document where you can start creating optimized content. Surfer preselects 5 competitors that will be used as the basis of optimizing your content. You can select and deselect these competitors to match the content you're aiming to make.
For content optimization, the Content Editor gives you a content score based on how well you've followed the content structure recommendations (word count, headings, paragraphs, and images) and implemented the suggested keywords. You can adjust the content length and structure when needed.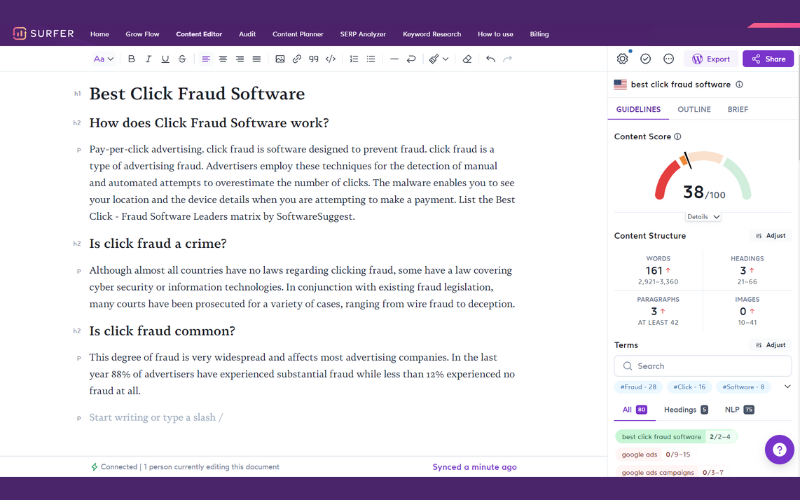 Keywords
The Content Editor keyword suggestions not only contain keyword usage examples taken from your competitors. The recommended keyword density is also available to guide you in creating content with just the right amount of keywords to make it rank high on SERPs. These keywords are a combination of latent semantic indexing (LSI) keywords and natural language processing (NLP) keywords, which when incorporated to your content will place you on the search engines' good graces.
Outline Builder
With Content Editor, you can create a draft of your content in a matter of seconds. The outline builder of this editor provides titles, headings, subheadings, and questions—all with AI-generated paragraphs you can tweak to serve as the skeleton of your article.
Integrations
If content creation within Surfer's native editor isn't your thing, you can use the editor extension to create and optimize content on other platforms like Webflow, WordPress, and Google Docs. This seamless integration makes creating content for content marketing a breeze. You can also send a permanent link to the Surfer document to your team without the need to give them access to your Surfer account.
Another notable integration available on Surfer's editor is the Jasper AI integration. If you already have a Jasper AI account, take advantage of this integration so you can craft optimized content with the help of a smart AI-writing tool.
SERP Analyzer
Conduct an in-depth competitor analysis using the Surfer SEO SERP Analyzer. This data-driven analysis tool lets you peek inside your competitor's domain or URL, so you can gain insight as to what has made them succeed on search engines. After entering the domain or URL, you'll see its visibility, backlinks, and structure plus the keywords, common words, and phrases it ranks for.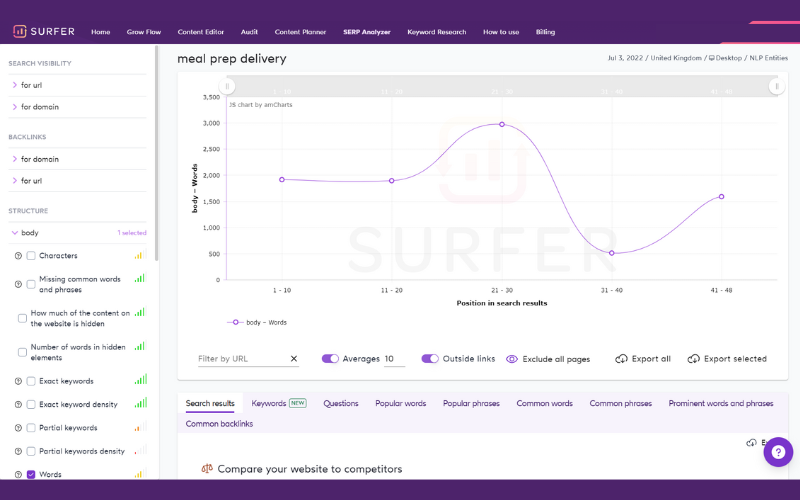 The process is simple and can have you applying the data you've gathered in no time. In doing so, you'll can replicate their success on the SERPs consistently.
Audit
Optimize your existing content by using Surfer SEO's automated Audit tool to crawl your web pages. Audit can identify SEO errors and provide suggestions on how to fix them. In doing so, you can get rid of any issues that's keeping your web page from ranking on the first page of SERPs.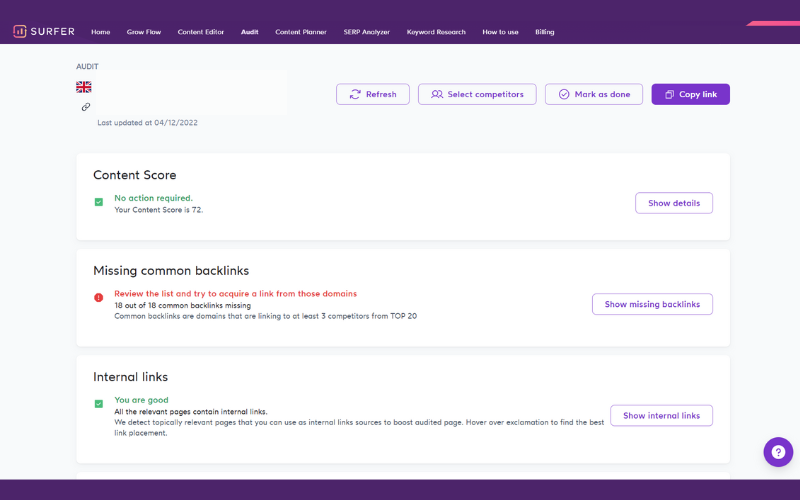 Through Surfer's Audit, you can do the following in a matter of minutes:
Uncover prominent terms your page is missing;
Analyze your content structure and on-page ranking factors;
Choose competitors you want to compare with; and,
Find internal linking opportunities and keyword gaps.
Grow Flow
A relatively new addition to the Surfer SEO arsenal, Grow Flow is an AI growth management platform that will give you data-driven advice and tasks to enhance your SEO efforts. Every week, you'll receive actionable AI-generated tasks that will help you efficiently optimize your website, so you can dominate SERPs as soon as possible.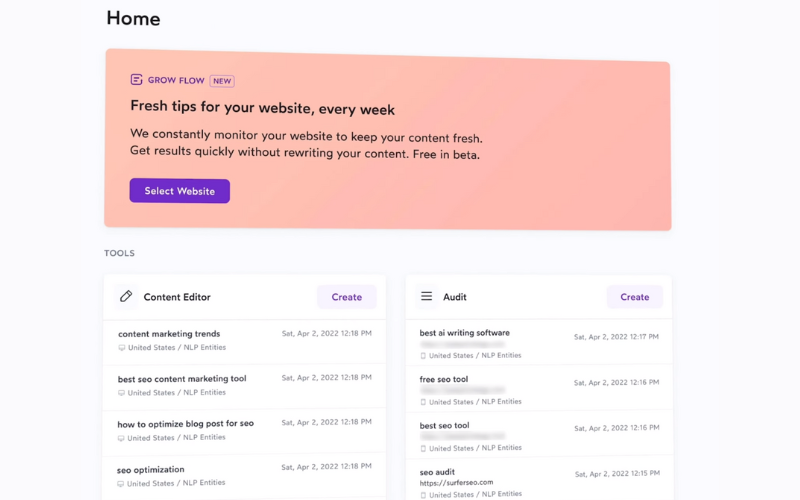 Some examples of the AI-generated tasks you'll get from Grow Flow are the following:
SEO insights on web pages with missing or weak content
Topics that can help you establish authority in your niche
Keywords with high-ranking potential
Notifications of missing keywords in existing content
Relevant internal link suggestions
Analysis of website growth and performance
Unfortunately, the number of domains you can connect to Grow Flow differs per Surfer SEO plan. On the bright side, as long as you have an active Surfer subscription, you'll still receive weekly Grow Flow tasks. Plus, the recent SEMRush integration to Surfer's Grow Flow is something you need to take advantage of if possible. This integration allows gives you up to 20 relevant backlink insights from your top competitors.
On-Page Champ Review of Key Features
SERP Audit
The On-Page Champ SERP Audit makes it possible for you to discover the on-page SEO practices of top ranking pages, so you can identify patterns to outrank them. Utilizing this tool can help you supercharge your SEO campaigns by enhancing your competitor research, providing analyses on 35+ on-page SEO parameters, and allowing room for data-driven decision making.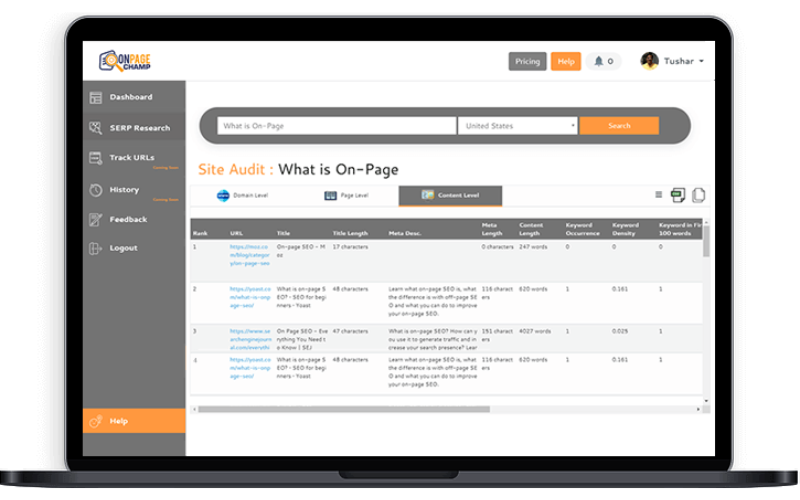 By using SERP Audit, you'll receive actionable data for any keyword and location combination of your choice. Then, based on the data you've received, you can discover patterns between SERP position and on-page elements. For example, certain on-page elements (e.g. page title, outbound links, content length, etc.) might be more prominent on competing pages that rank on the first page of SERPs. Once you have that pattern down, you can optimize your website's on-page SEO elements accordingly.
OnPage Tracker
On-Page Champ's OnPage Tracker can track any website for on-page SEO changes. With the help of this tool, you can avoid blunders that can make your site drop in rank, as well as track your competitor's website so you can always be one step ahead.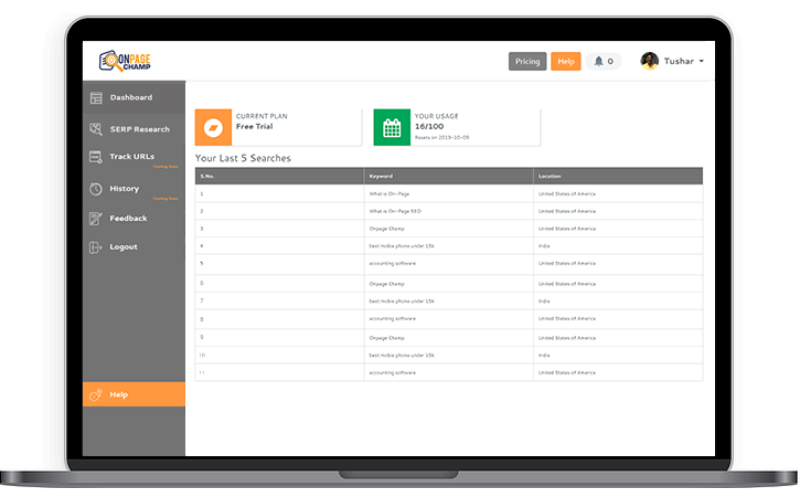 With how OnPage Tracker works, you can enhance your SEO campaigns by performing A/B testing ten times faster, as this tool relates on-page SEO changes to Google rank fluctuations. This SEO tool also automates website monitoring end to end, so it's less prone to human error.
All you need to do to take advantage of this tool is enter the website name. OnPage tracker then starts recording changes every 3/7 days. Any change to web pages, as well as rank fluctuations, will be reported to you.
Surfer SEO vs On-Page Champ Pricing
Both Surfer SEO and On-Page Champ offer competitive pricing plans. Let's examine these plans a bit more.
Surfer SEO Pricing
Surfer SEO is available under three pricing plans: Basic, Pro, and Business.
First is the Basic plan, which is $59/month when billed monthly and $49/month when billed yearly.
Next is the Pro plan, which is $119/month when billed monthly and $99/month when billed yearly.
Last is the Business plan, which is $239/month when billed monthly and $199/month when billed yearly.
From the photos below, you'll see the limitations each plan has.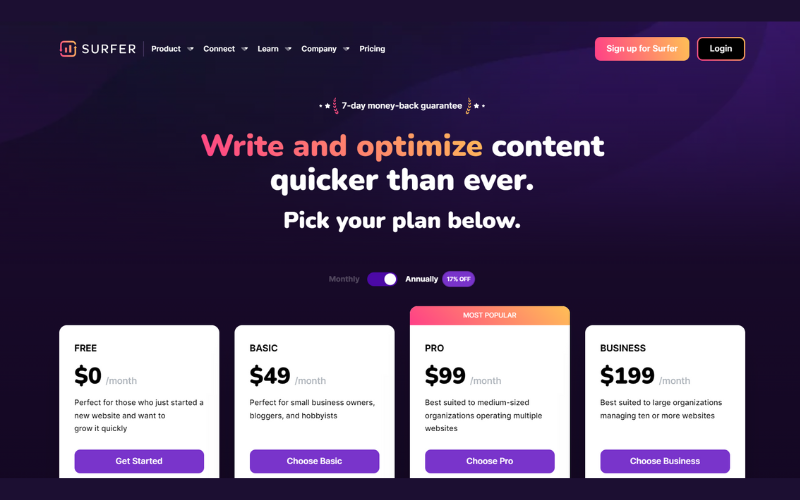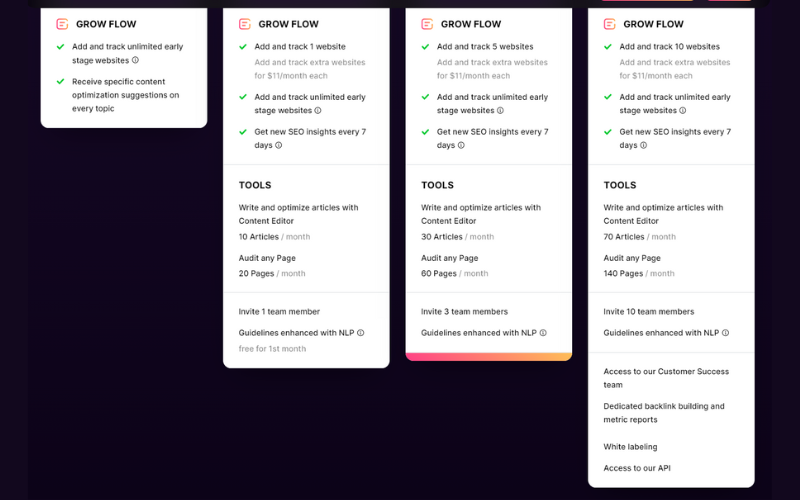 Though Surfer SEO doesn't have a free trial, a freemium is available with limited but still useful features. A 7-day money-back guarantee is also available for all plans.
On-Page Champ Pricing
On-Page Champ's pricing is straightforward, with three pricing plans available.
It starts with the Basic plan, which is On-Page Champ's freemium as it costs $0.
Next is the Standard plan, which costs $14/month when billed monthly and $10/month when billed yearly.
Lastly, the Custom Needs plan is for anyone who has unique needs not covered by the other plans. You can contact On-Page Champ and you'll be given custom pricing depending on your needs.
Refer to the photos below to compare the plans offered by On-Page Champ.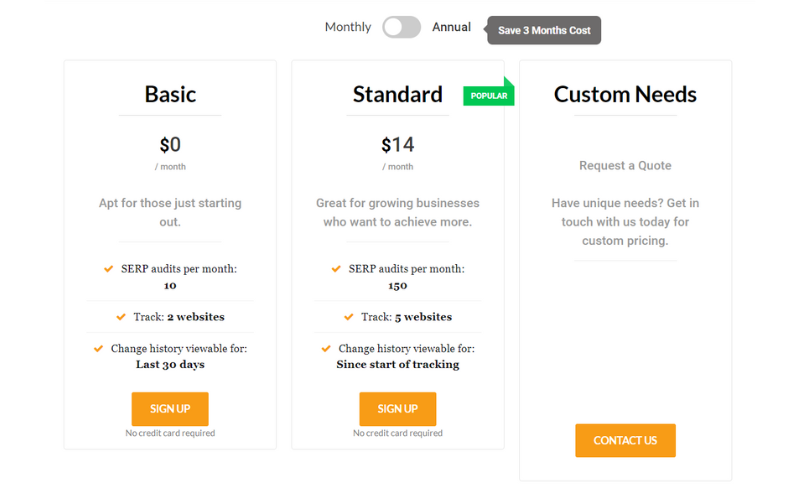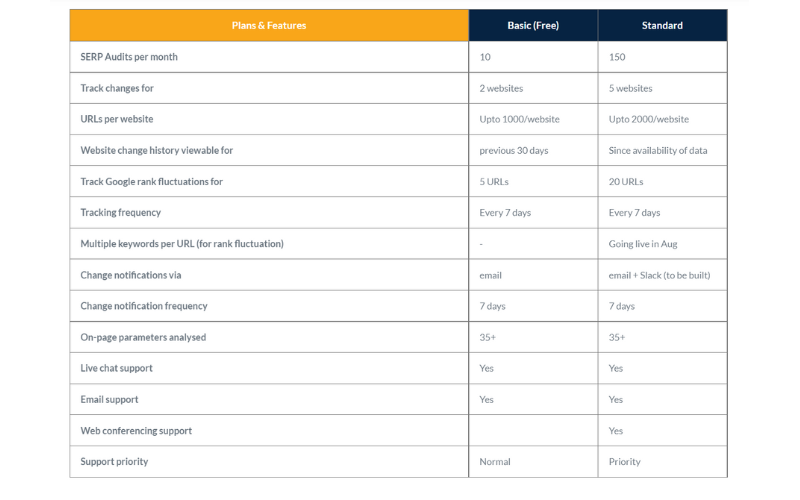 Final Thoughts
Finding the best SEO tool for your needs can be quite tricky. In this case, we've compared two great on-page SEO options: Surfer SEO and On-Page Champ. Both have their pros and cons that can influence your final decision.
Surfer SEO is a great all-in-one platform for all your SEO needs, but the key features it offers doesn't come cheap. If you can afford their plans and will utilize every feature they offer, you can't go wrong with Surfer.
However, if most of Surfer's features will go unused or the plans are way out of budget, then On-Page Champ will suit you better. Especially if you're outsourcing your SEO to an agency, it doesn't make sense to get Surfer with the added cost. Meanwhile, On-Page Champ is affordable and allows you to keep an eye on your progress, which can also help you evaluate the service of the agency you're working with.
Hopefully this helps you make a well-informed decision on which SEO tool is the better pick for you. Make sure to check out our other articles to find other SEO tools that might interest you. If you're still having trouble choosing the best software for you and your business, we'd love to help! Contact us for software advice.