The importance of search engine optimization (SEO) in the business world is only increasing as the years go by. As such, finding the best software to help you with SEO is key to ensuring you're keeping up with SEO best practices. And that's why we'll be looking at two great on-page SEO tools: Surfer SEO vs Page Optimiser Pro.
Not having SEO strategies prepared will hold you back from success. After all, no matter how great your product or content is, if it's not reaching the top pages of search engine results, then potential customers will never get to see it. So, stick around until the end to find out how these two SEO tools can help your business not just survive but thrive in the turbulent online seas.
On-Page SEO vs Off-Page SEO: What's The Difference?
Both Surfer SEO and Page Optimizer Pro are on-page optimization tools. But what exactly is on-page SEO and how does it differ from off-page SEO?
SEO factors, strategies, and techniques can either fall under on-page or off-page SEO.
On-page revolves around the SEO factors and strats/techniques focused on optimizing all aspects of your website that are under your control. Making your content optimized for Google and other search engines and using keywords that users are searching for are just two examples of what an on-page SEO tool can help you with.
Meanwhile, off-page SEO is the SEO factors and strats/techniques centered on matters outside of your immediate control. This includes promoting your website and building credibility and authority through your content.
What Can You Expect From An On-Page SEO Tool?
Optimizing on-page SEO factors can be done manually. But having a tool made specifically for this task can streamline the process, as well as provide data-driven suggestions to optimize your website. To be specific, here's what you can expect from an on-page optimization tool:
Crawly your web pages to identify and fix SEO issues;

E.g. Keyword not appearing in the URL, meta description, or page title

Optimize your written and visual content for search engines; and,
Aid keyword research for future content.
The more optimized your web pages are the higher the possibility that they'll rank high on search engine results. And with an on-page optimization tool helping you with all you need to do, you'll be ranking on the first page in no time.
Surfer SEO vs Page Optimiser Pro Overview
The main difference between Surfer SEO and Page Optimizer Pro is in how Surfer offers more advanced features than Page Optimizer Pro.
As you'll soon see in the breakdown of their key features, Surfer SEO is an all-in-one suite of SEO tools capable of providing optimization before you create content and even after you've published.
Meanwhile, Page Optimizer Pro is a simple on-page optimization tool. Though it doesn't offer as much as other on-page optimization tools out there, Page Optimizer Pro is still worth considering for startups and small businesses. The platform offers affordable prices for their plans, making it more accessible to those just beginning to dip their toes in SEO.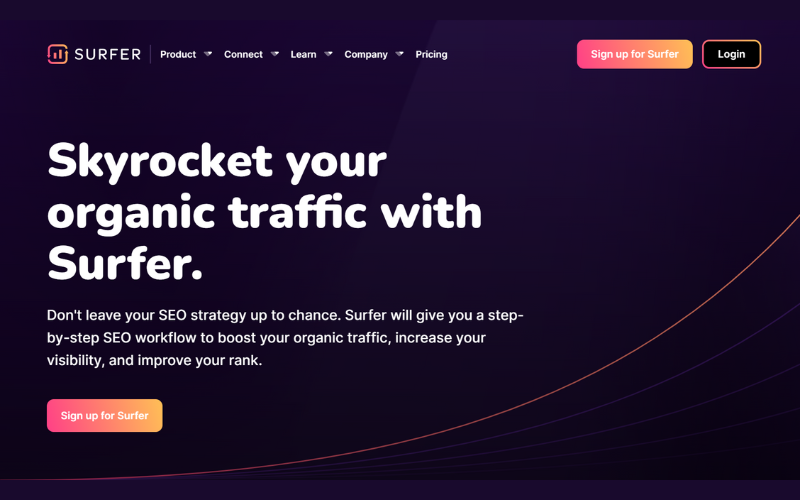 Surfer SEO is a suite of SEO tools aimed to help you research, write, optimize, and audit. These tools include:
Grow Flow | Surfer SEO's AI growth management platform
Audit | Identifies and helps fix SEO issues
Keyword Research | Provides a comprehensive list of keywords
SERP Analyzer | Analyzes any domains (including your competitors')
Content Planner | Returns clusters of keywords related to your main topic
Content Editor | Real-time optimization tool for written content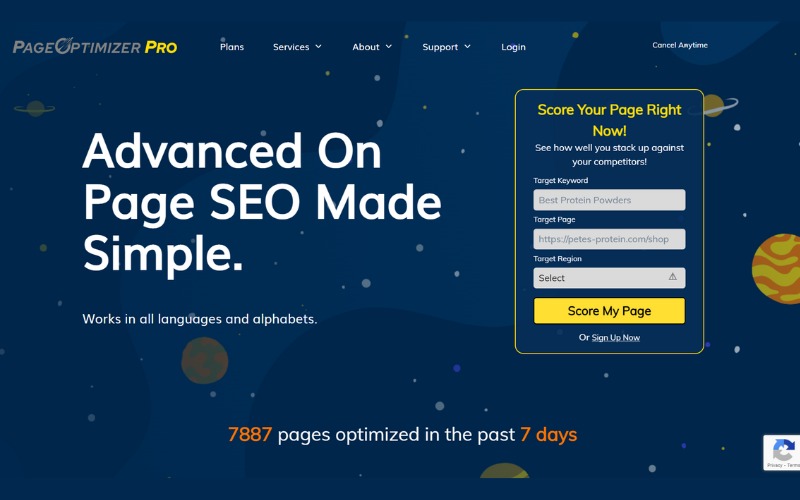 On the other hand, Page Optimizer Pro provides on-page optimization, so you can optimize your web pages for Google. It is based on Kyle Roof's Scientific On-Page SEO Method and is backed by 400+ tests on the Google Algorithm. The features this platform offers include:
Content Editor | Get suggestions from the content optimization tool for the selected keyword
White Label Report | Provides detailed insight on steps to rank above competitors
EAT Analysis | Helps improve Expertise, Authority, and Trust (EAT) of webpages
NLP Analysis | Gives insight into how relevant Google deems your page is for users
Keyword Recommendations | Exact and variation keywords for your target keyword
Chrome Extension | Allows you to optimize your pages directly from your browser
Content Optimization | Surfer SEO vs Page Optimiser Pro
Optimizing content for search engines is the top function of any optimization platform. As such, we'll look at each optimization tool offered by Surfer SEO and Page Optimizer Pro.
Surfer SEO
Surfer SEO offers several tools you can use to optimize your content: SERP Analyzer, Audit, and Content Editor.
SERP Analyzer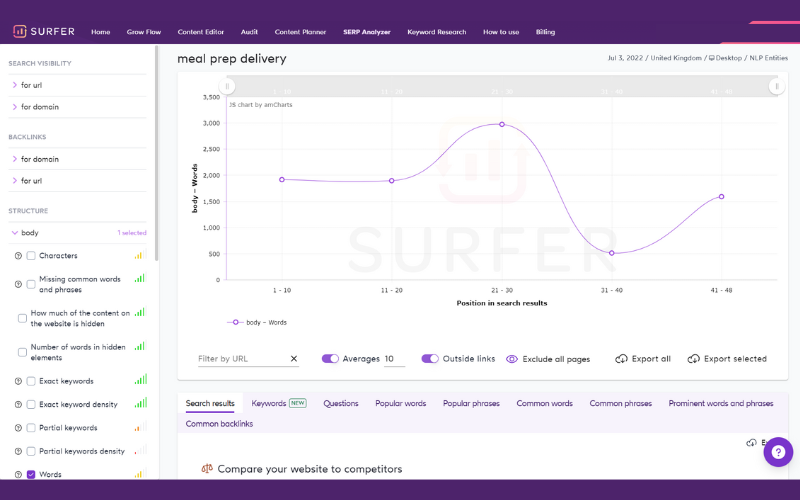 Surfer's SERP Analyzer allows you to conduct an in-depth analysis of your competitors. The data you get from this analysis can then be utilized to optimize your content and get ahead of the competition. You begin the analysis by entering the domain or URL of any website. This, in turn, will show you the domain or URL site's visibility, backlinks, and structure—as well as the keywords, phrases, and common words they rank for.
Audit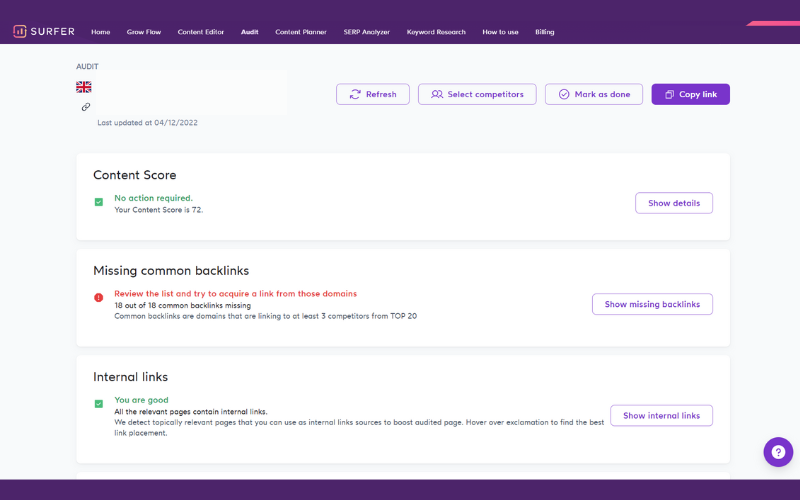 Next is Surfer's Audit. This tool is a testament to the Surfer SEO promise of optimizing your content even after you've hit publish. That's because, with this SEO audit, you can crawl existing pages on your website to identify and fix any SEO issues that are keeping you from ranking. And take note, all this is automated. So, you don't have to waste precious time identifying and fixing SEO errors on your own.
Here are examples of what Surfer's Audit can do for you:
Uncover prominent terms your page is missing;
Analyze your content structure and on-page ranking factors;
Choose competitors you want to compare with; and,
Find internal linking opportunities.
Content Editor
Lastly, the Surfer SEO Content Editor is a tool that can help you optimize and create content. Focusing on the optimization part, this editor begins optimizing your content the moment you enter your target keyword to create a document. You can set the location and crawler type (i.e., mobile or desktop) to fine-tune the optimization.
Once inside the document, you can review your organic competitors, adjust structure requirements, and add or remove relevant keywords. This editor also gives you a content score that goes up or down depending on your content's quality. Following the recommended word count and number of headings, paragraphs, and images—plus implementing the keywords provided by the editor—will earn you a higher score.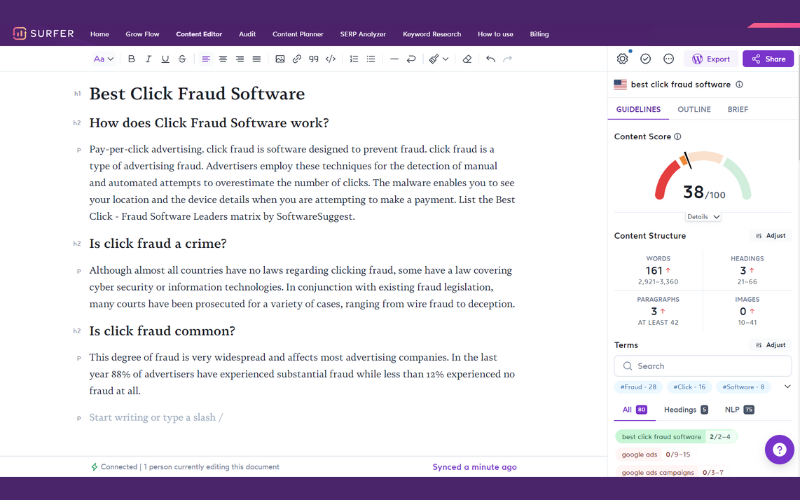 Included in the Content Editor keyword suggestions are Natural Language Processing (NLP) keywords. Craftily incorporating NLP keywords into your content will result in Google deeming it relevant for the keyword you are trying to rank for. And on this editor, these keywords are conveniently located on the right side of your screen, along with samples of usage taken from your competitors.
It's also good to note that you can use Content Editor on existing pages or content. With the WebFlow, WordPress, and Google docs integration, you can use this optimization tool outside the Surfer website. Just head over to the Chrome web store after you've subscribed to one of Surfer's plans.
Page Optimizer Pro
Optimization is undoubtedly the main offering of Page Optimizer Pro. With that, you'll find the following tools to help you optimize your content: EAT Analysis, NLP Analysis, and Chrome Extension.
Content Editor
Page Optimizer Pro's content editor is a live service that provides suggestions from their content optimization tool for your selected keyword. You can apply these suggestions on the report card view. Once you're done, you can conveniently copy the HTML code and paste it into your WordPress editor. By doing so, you've applied the changes without needing to do so manually.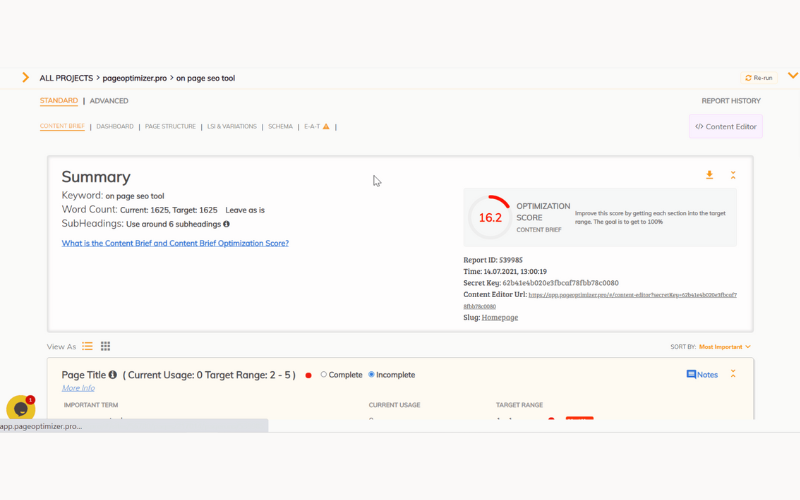 To use this content editor, you'll need to create a "new project" and enter the URL of the page you want to optimize. You'll then be asked to enter the keywords you're aiming to rank for. Lastly, you'll need to select up to 10 competitors' URLs, specifically those that match with yours. Following the suggestions allows you to transform your web page to have the perfect page structure.
Similar to Surfer's Content Editor, Page Optimizer Pro provides you with all the details you need to optimize your content. This includes the word count, headings, paragraphs, and images, as well as lists and image alt texts. You'll then receive an optimization score out of 100 depending on how well you've followed the recommendations. But do take note that this score will depend on the competitors you've chosen, so choose wisely.
EAT Analysis
EAT stands for Expertise, Authority, and Trust and it is one of the factors Google takes into account when ranking a page. Through the EAT Analysis of Page Optimizer Pro, you can improve your EAT and increase your chance of ranking high. To proceed with the analysis, you'll need to enter your competitor's URL to see their EAT signal. From there, you can identify what's missing from your own page to improve your EAT.
Unfortunately, EAT Analysis is only available on Agency Plans.
NLP Analysis
With Natural Language Processing (NLP) Analysis, Page Optimizer Pro splits your web page into entities. The individual entities can then be picked by Google's algorithm, which will then determine the relevance of your content. By utilizing the data provided by this analysis, you can tailor your content to your audience and the Google algorithm.
Chrome Extension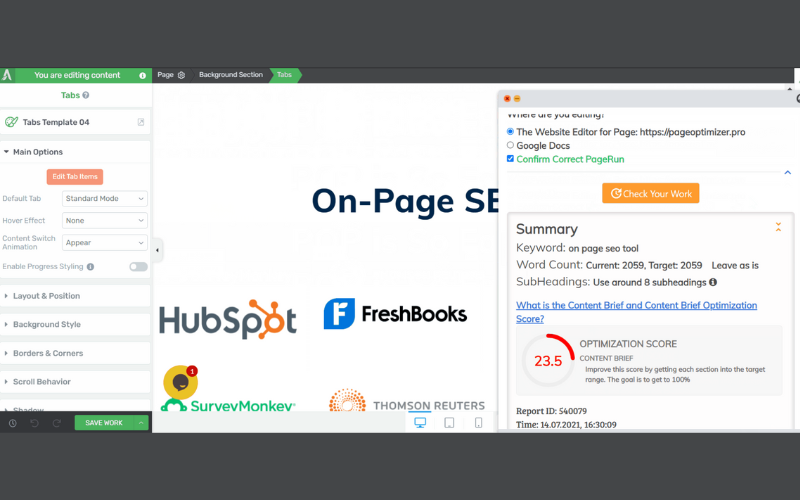 The Google Chrome Extension provided by Page Optimizer Pro is a tool you can use both for content optimization and content creation. With this content optimization tool, you can easily see and apply the suggestions that can improve your content directly on your website editor (e.g. WordPress site). You can also use this extension to crawl your competitor's page and analyze their content for keywords that can improve your own ranking.
Verdict
When it comes to content optimization, Surfer SEO pulls ahead as it offers more advanced capabilities through SERP Analyzer and Audit. These tools are on top of the Surfer SEO Content Editor, which can be used for both content optimization and content creation. Of course, Page Optimizer Pro is doesn't lag behind that much. You can still do a lot of optimization using this platform. It just lacks some of the offerings available through Surfer.
Content Creation | Surfer SEO vs Page Optimiser Pro
Though content creation is secondary to content optimization when it comes to the functionalities of any SEO software, to optimize content in the very beginning means less time optimizing after you've published. And in this department, Surfer SEO offers a lot more compared to Page Optimizer Pro. Let's take a look.
Surfer SEO
For content creation, Surfer SEO has the following tools to help you: Content Editor, Content Planner, and Integrations.
Content Editor
More than optimizing existing content, Surfer's Content Editor really shines the brightest when it comes to content creation. With the Outline Builder, you can create content briefs quick and easy. Apart from headings and subheadings, the Outline Builder also provides unique text generated by Surfer's AI. You'll only need to tweak a few things to create optimized content.
You're also given the Plagiarism Checker within the editor, which analyzes SERPs to check for duplicates. With this function, you can ensure you're creating completely original content.
Content Planner
Helping you create an effective content strategy is the goal of the Surfer SEO Content Planner. This content intelligence tool gives you clusters of related keywords for various topics connected to your main keyword. Utilizing these keywords, you can develop content strategy that can dominate your niche and provide your audience with topics they are genuinely interested in.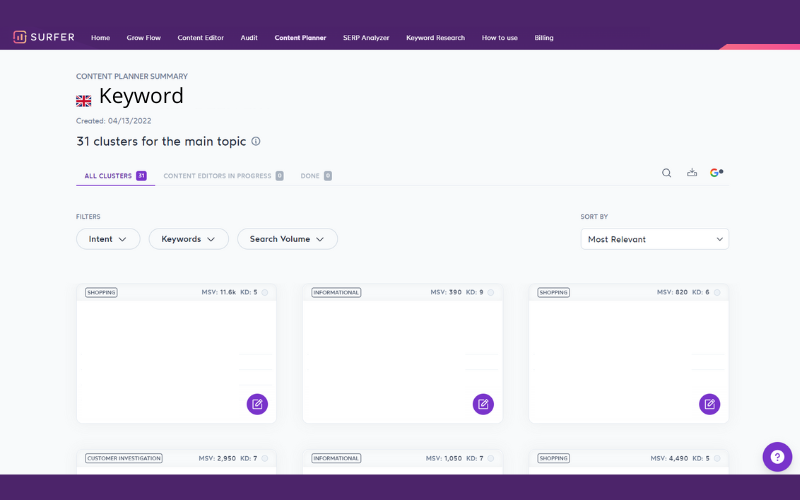 To receive recommendations based on your raw data, you can connect Google Search Console or Google Search Analytics to Surfer's Content Planner.
Integrations
Surfer SEO helps you content creation process with its integrations. We've mentioned the integration to Webflow, WordPress, and Google Docs. This integration gives you more option on where you can create content—not to mention that you can share a permanent link for your Surfer editor documents to other people without the need to give them access to your Surfer account.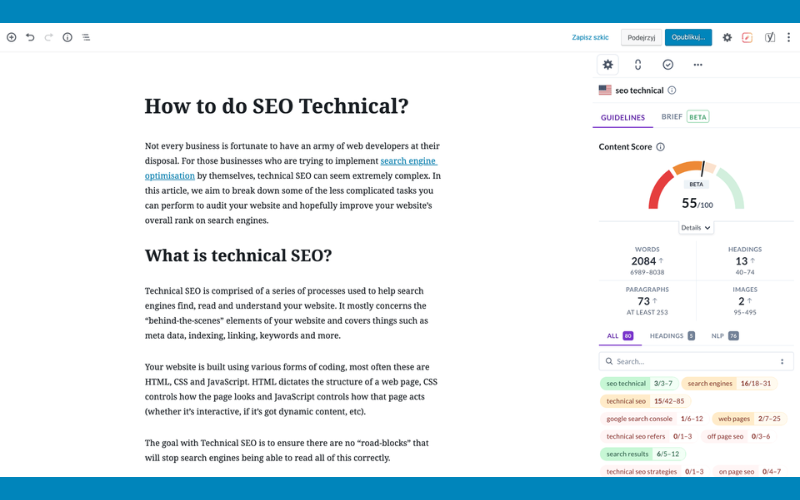 Another notable integration that helps quite a lot for content creation is Surfer's Jasper AI integration. If you have this advanced AI writing tool, you can use it while creating content on Surfer's editor. It's like two great world's colliding—a smart editor with a genius AI writing tool.
Page Optimizer Pro
As content creation is not the focus of Page Optimizer Pro, the only tool this platform offers for this function is the Chrome Extension.
Page Optimizer Pro's Google Chrome Extension allows you to hop unto any editor on your browser and optimize the content you're creating. Whether it be Google Docs, WordPress, or even Elementor, Page Optimizer Pro's Chrome Extension has your back and will help you optimize your content.
As mentioned previously, the Chrome Extension allows you to crawl competitor's URL and gather relevant data to improve your content. The extension also provides details on how you can improve your content via recommendations.
Verdict
Undoubtedly, Page Optimizer Pro struggles to level, much more get ahead of Surfer SEO when it comes to content creation. The sophistication of the Surfer's editor combined with the integrations, plus the Content Planner that delivers clusters of keywords make Surfer SEO far better for content creation compared to Page Optimizer Pro.
Keyword Research | Surfer SEO vs Page Optimiser Pro
Surfer SEO
Surfer's Keyword Research Tool is a great service to use for your content strategy, as well as overall website optimization. All you need to do is enter your main keyword and the search results will give you valuable insights for your keyword research. You'll be given related keywords, phrases, and topics, which you can then sort by monthly search volume or SERP similarity. You can also modify the location of your search. All in all, this tool can help you craft a content strategy using relevant keywords for your niche and location.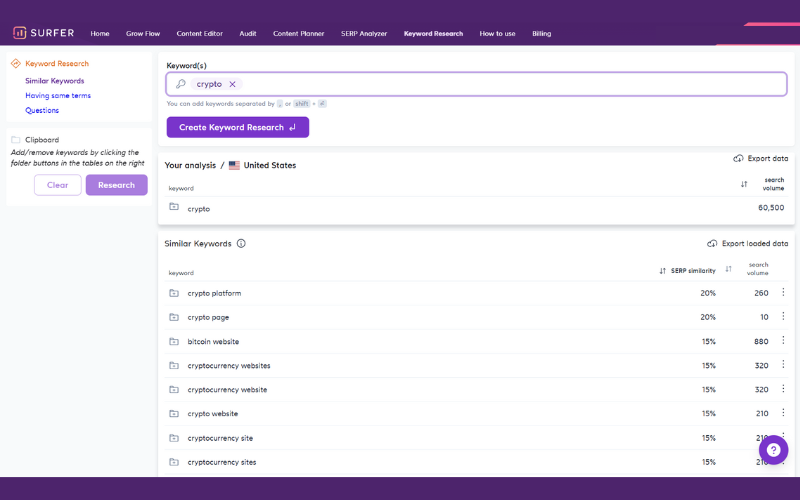 Surfer also offers a free keyword research tool called Keyword Surfer. It is an extension that is only currently available on the Chrome web store. Using this tool, you can see the search volume for a keyword on Google, which can help you lean into making content for popular search terms.
Page Optimizer Pro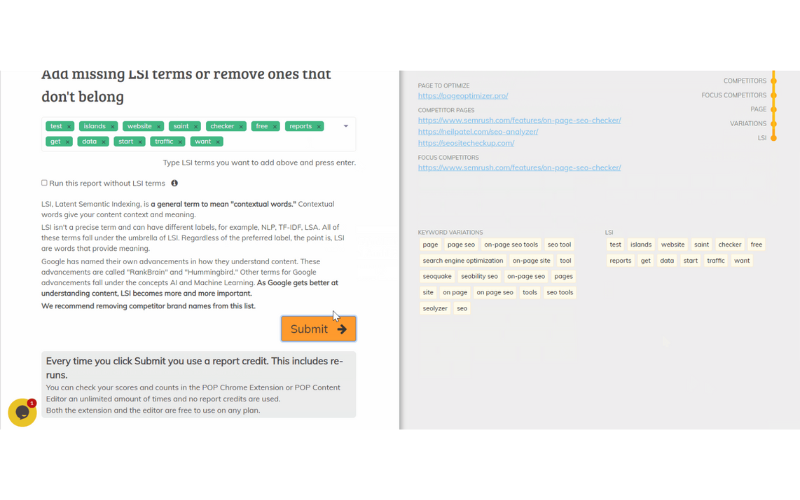 Page Optimizer Pro doesn't have a dedicated tool for keyword research. But you can still utilize this platform for keyword research. When you create a "new project", you'll be asked to enter the keywords your aiming for. You can then match up to 10 competitors based on which ones you'll choose. Page Optimizer Pro will then show you keywords you can add to your headings to increase the page's relevance. The platform also has LSI keywords you can include in your page.
Verdict
When it comes to keyword research, Page Optimizer Pro loses out for not having a dedicated tool for this. With how much data you can obtain and utilize through Surfer's Keyword Research tool, it easily pulls ahead in this department. That's on top of the free keyword research tool Surfer offers, even to non-subsrcibers.
Surfer SEO vs Page Optimiser Pro Pricing Plans
For many individuals and small businesses, the pricing plan of any SEO software will be the deciding factor. No matter how great the features, if the software is at an unattainable pricing for you or your business, then there's no point considering it at present.
As such, it's important we look into the Surfer SEO vs Page Optimizer Pro pricing plans.
Surfer SEO
Surfer SEO is available under three pricing plans:
Basic Plan ($59/month billed monthly | $49/month billed yearly)
Pro Plan ($119/month billed monthly | $99/month billed yearly)
Business Plan ($239 /month billed monthly | $199/month billed yearly)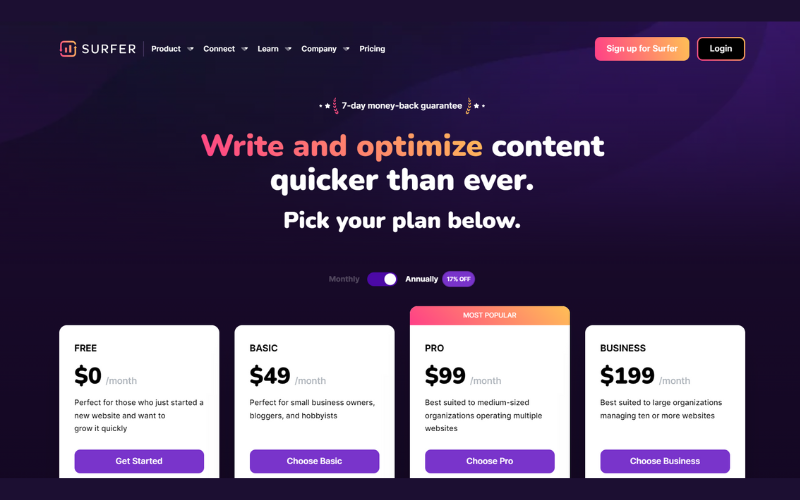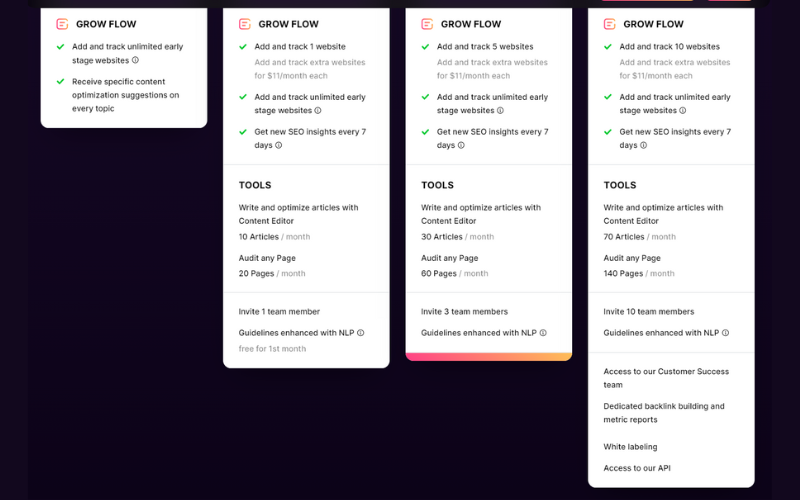 Though no free trial is available, Surfer does offer a freemium that offers limited but still useful features, like Grow Flow. You also get a 7-day money back guarantee when you subscribe to any of Surfer's plans.
Page Optimizer Pro
Page Optimizer Pro has two pricing plans with sub plans:
Single User Plans

Basic ($22/mo)
Premium ($33/mo)
Unlimited ($44/mo | $429/yr)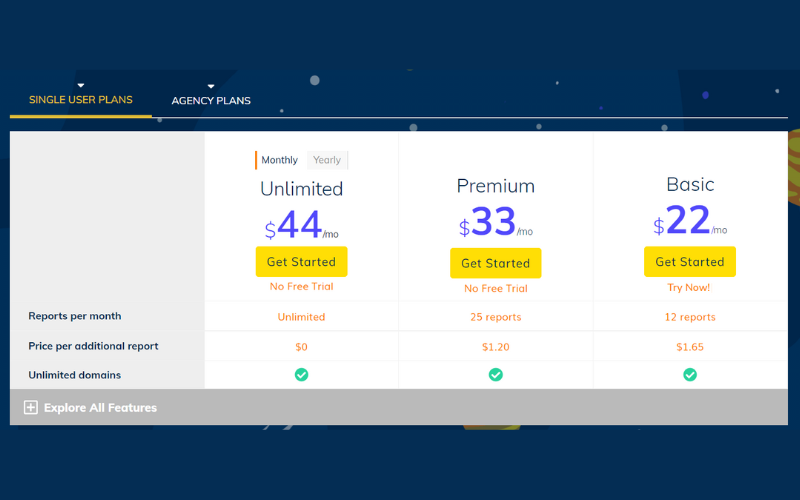 Agency Plans

1 to 5 sub-accoutns ($87/mo | $859/yr)
6 to 10 sub-accounts ($99/mo | $979/yr)
11 to 20 sub-accounts ($109/mo | $1089/yr)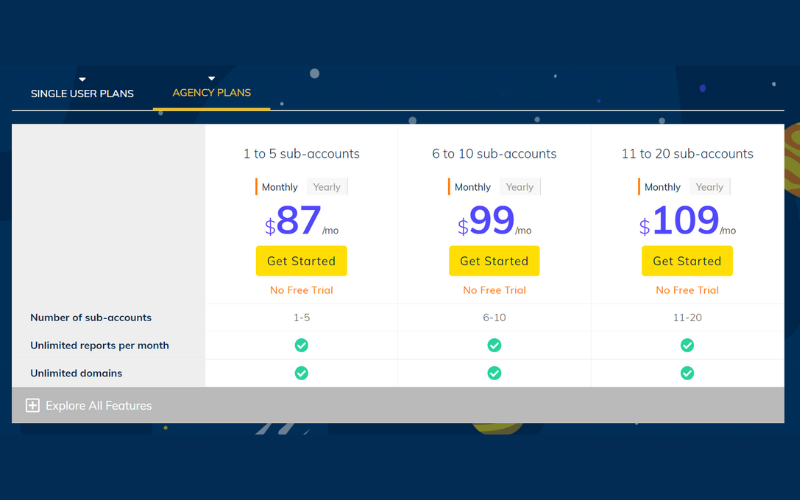 Free trial for Page Optimizer Pro is only available for the Basic plan. You'll get to try the platform for free for 7 days.
Verdict
While Surfer SEO's freemium is great for personal projects and testing the waters, it cannot serve the needs of freelancers and small business owners. So if we're purely looking at the paid plans offered by both platforms, Page Optimizer Pro wins by a landslide. It's the clear more affordable option between the two, making it perfect for individuals, startups, and small businesses.
Final Thoughts
Finding the right SEO tool for you when it comes to on-page optimization can be tough. Considering the two choices—Surfer SEO vs Page Optimizer Pro—the clear winner for us is Surfer SEO. Surfer SEO offers tons more features than Page Optimizer Pro, which when utilized successfully can boost your web pages to the top results.
However, for startups and small businesses, Surfer SEO can cut quite significantly into the budget. As such, Page Optimizer Pro will be the better choice. It's limited in terms of creating new content but by far the most cost-effective if your goal is to optimize your existing content and crafting competitive SEO strategies.
So, before making your choice, consider all the features we've talked about here as well as your budget. Only then can you make a well-informed decision. If you're still unsure which software to pick, don't hesitate to contact us for advice. Thank you for reading!