With more and more businesses recognizing the importance of Search Engine Optimization (SEO), you will now find many SEO tools in the market. The growing number of these tools means we have a lot more to choose from, but at the same time, it can get tricky to know which SEO tool can serve you better. So, today, we'll look at two of the most powerful SEO tools that SEO experts use: Surfer SEO vs Ahrefs. Both are great tools to consider if you want to improve your business's online presence and stay on top of the competition.
The ultimate goal of this post is to help you make an informed decision before you spend money on software. Understanding what these tools can do for you can help you better understand if they are worth the monthly expenditure.
What Are Search Engine Optimization (SEO) Tools?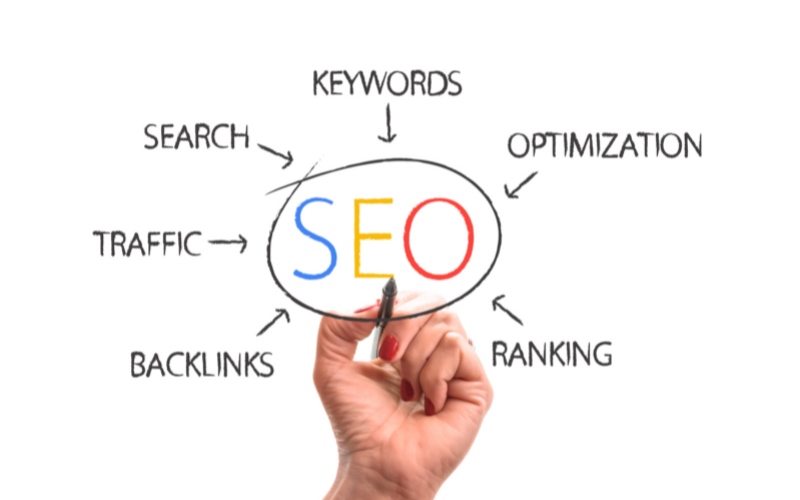 The primary reason SEO tools like Surfer SEO and Ahrefs exist is to help you get higher rankings on search engines, enabling you to reach a larger target audience. These tools may offer varied features, but the end goal stays the same.
After seeing the price tags most popular SEO tools come with, you might wonder, are they worth it? The ROI of these SEO tools can reach a point where they'll be paying for themselves in no time. The amount of data and analytics these paid tools can provide are leagues beyond what you can get from free tools.
But of course, only you know what your business currently needs. For example, small businesses can probably make do with the features free SEO tools provide. But enterprises may find the features limiting or lacking for their SEO strategies' needs. Fortunately, these tools often come with free trials, so you can check them out first before buying in.
Surfer SEO vs Ahrefs Overview
Surfer SEO and Ahrefs differ the most in their on-page SEO. Surfer is best for creating highly-optimized content consistently, while Ahrefs provide information related to backlink analysis and site auditing.
Content optimization is where Surfer SEO shines the most. From keyword research for your content marketing plan to writing optimized content, Surfer SEO will guide you through it all. The user-friendly interface of Surfer's tools makes it popular among SEO beginners and experts alike. You don't need a lot of technical skills to make use of this SEO tool.
On the other hand, Ahrefs is undoubtedly one of the most influential platforms in the SEO industry. No one in the digital marketing community can have not heard of Ahrefs. Not only does Ahrefs provide free top-notch SEO information on their various resources (blog, academy, help center, etc.). They also provide on-page SEO tools backed up by trustworthy data.
Surfer SEO considers 500+ ranking factors to optimize your content. The key features of Surfer include the following:
Keyword Research
SERP Analyzer
Content Editor
Content Planner
Audit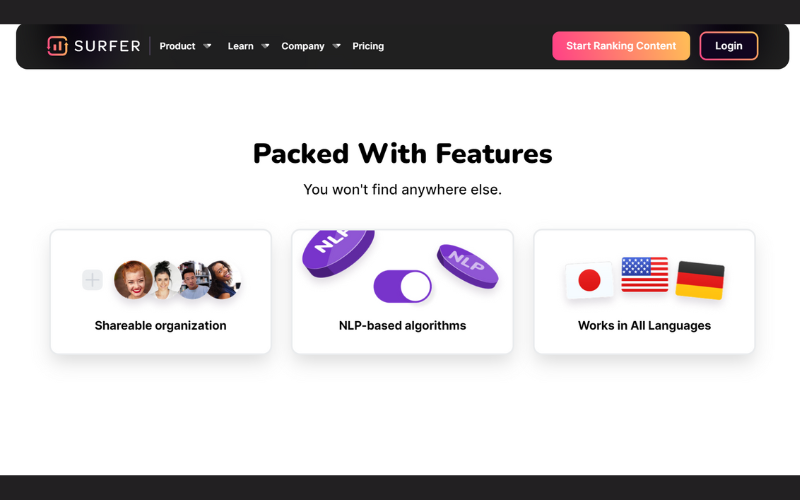 Meanwhile, Ahrefs' decade-long experience in crawling the web and developing professional tools has made it a powerhouse as an on-page optimization tool. Its key features are:
Ahrefs Site Explorer
Keyword Explorer
Content Explorer
Ahrefs Rank Tracker
Site Audit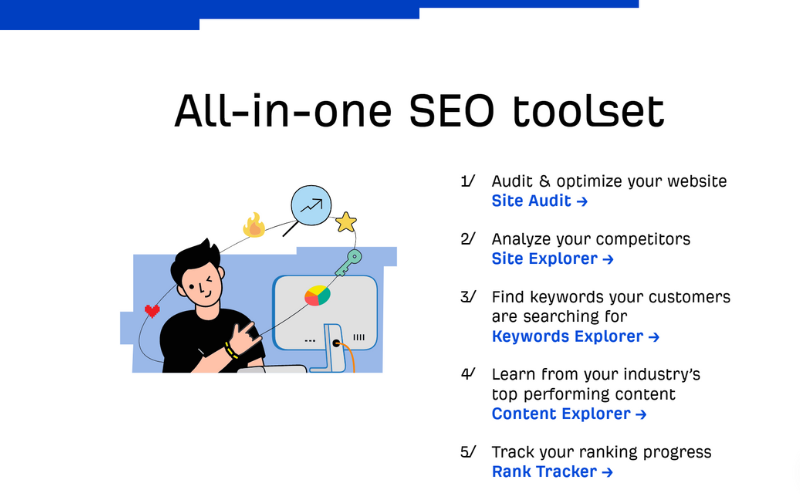 Surfer SEO and Ahrefs key features may look quite similar on the surface. But let's take an in-depth look at each of these key features to see how different they can be.
Surfer SEO: Review of Key Features
Keyword Research
Surfer SEO's Keyword Research tool saves you a lot of time in planning your content strategy. All you need to do is enter your target keyword and you'll receive insights on related keywords, phrases, and topics. On top of this, you'll be given the monthly search volume for the related keywords, as well as the similarity of each keyword. With the aid of this tool, you'll have a clear list of keywords to create an effective content plan for your niche and target location or region.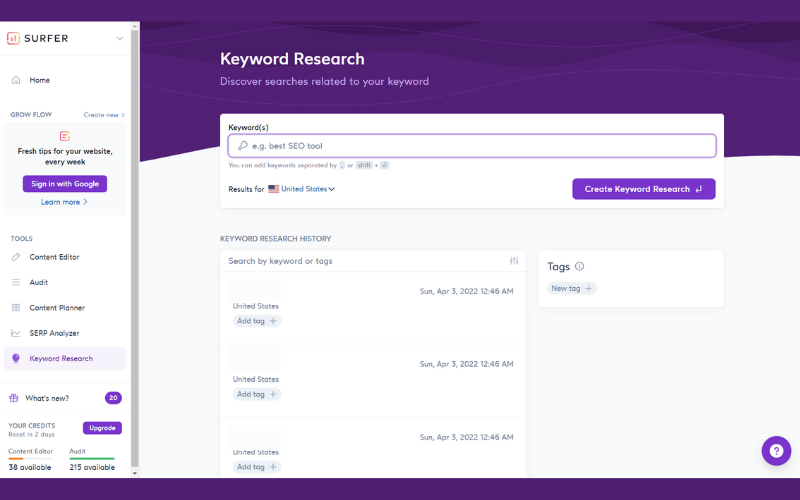 Surfer SEO also offers a free browser extension that can aid you in keyword research: Keyword Surfer. Using this tool, you can see the volume of searches for a keyword on Google. The information you gather from this tool can help you avoid creating content for unpopular keywords.
SERP Analyzer
Before starting the content creation process, it is crucial to look at your competition. In doing so, you'll find out what content is the best fit for the target keyword. Through the SERP Analyzer, you can perform an in-depth competitor analysis.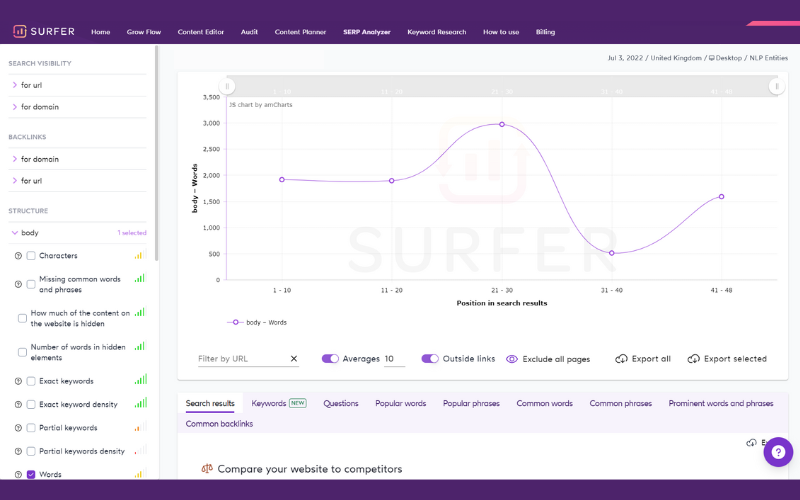 You'll see what keywords your competitors rank for, how their pages are optimized, and what backlinks they have. With this info, you can understand what the top-ranking pages are doing with their content and how you can do it better.
Content Editor
The Content Editor tool is perhaps one of the best tools Surfer SEO offers when it comes to helping you create highly-optimized content for search engines. Start by entering your target keyword. You can then open the document on the Content Editor and see a bunch of suggested keywords to use in your content, including Natural Language Processing (NLP) keyword suggestions.
Surfer's Content Editor also shows you how many words you need to meet the target word count range. If the content you are making is intended to be shorter or longer than your competitors, you can adjust how many words you'd like to target. Content briefs and outline suggestions are also available on the Content Editor.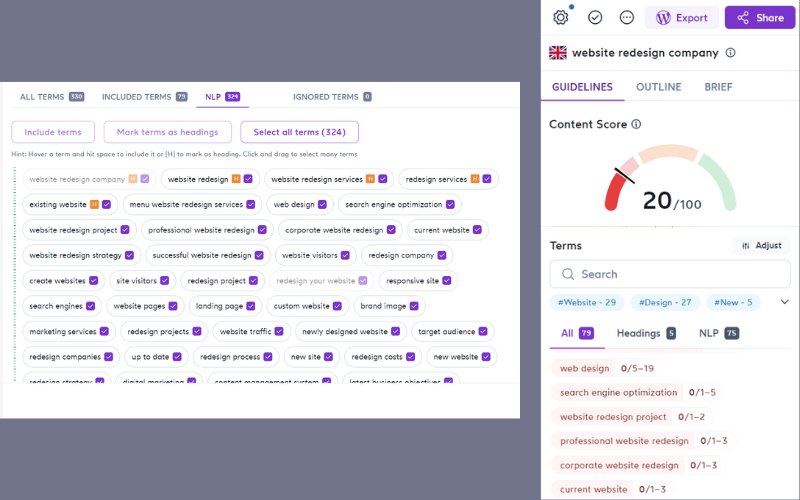 As you effectively identify and add missing keywords, your content score will go up. Following the content editor's tips on improving your content will result in an article that search engines will recognize as relevant to the keyword you want to rank for.
Apart from Surfer SEO's native content editor, you can also write content on WordPress, Webflow, or Google Docs while utilizing the optimization tools using Surfer SEO's free content editor Chrome extension.
Content Planner
Surfer SEO's Content Planner is a valuable tool for crafting your content strategy. Entering your main keyword returns clusters of keyword ideas for various topics related to the given keyword. Utilizing these keyword ideas can help you dominate your niche by producing timely content with relevant keywords that your target audience will find and enjoy.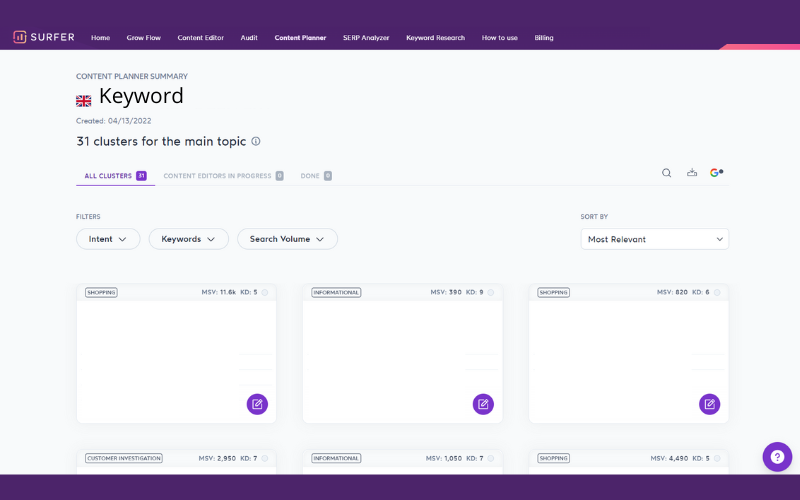 Connect your domain and the content planner will show you missing clusters and the keyword difficulty score. In doing so, you can visualize your website's performance and find areas to improve.
Audit
With the Surfer SEO Audit tool, you can analyze existing content to find SEO errors and room for ranking improvements. Though these things can be done manually, they take a lot of time and effort. The Audit tool automates all the tasks you would have otherwise done manually to get your website up to speed on the latest web presence best practices.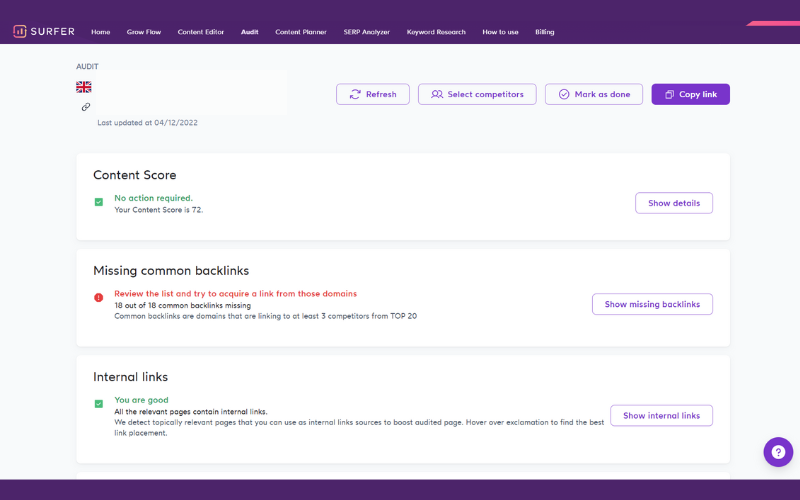 The following are all the critical tasks the Audit tool will help you accomplish:
Uncover prominent terms your page is missing;
Analyze your content structure and on-page ranking factors;
Choose competitors you want to compare with; and,
Find internal linking opportunities.
Ahrefs: Review of Key Features
Ahrefs Site Explorer
With the Ahrefs Site Explorer tool, you not only get one but three SEO tools at your fingertips. These three tools make the Ahrefs Site Explorer a powerful competitive research tool, and are namely: organic traffic research, backlink checker, and paid traffic research. Utilizing all three SEO tools allows you to get ahead of the competition by giving you a better understanding of your SEO campaign and keywords.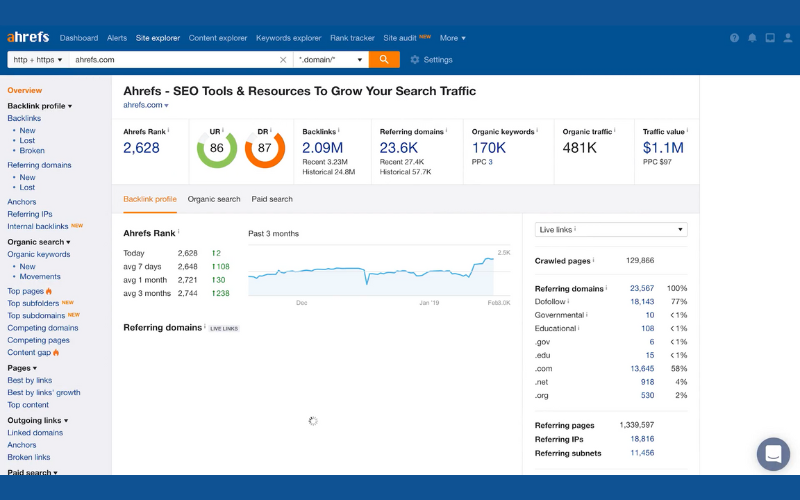 Let's take a quick look at what the three tools combined allow you to do.
Research Organic Traffic. With over 150 million keywords in the US and more for over 150 countries, Ahrefs can show you an accurate representation of a website's organic traffic. So you can be sure you're getting reliable data on your competitors' keyword ranking and website traffic per keyword.
Research Backlinks. Ahrefs' backlink checker enables you to dissect the backlink profile of a specific website. See what sites link to your competitors. With the fastest backlink crawler in the industry, as well as over 14 trillion live backlinks, this is the best tool to use for backlink analysis.
Research Paid Keywords. Knowing what PPC ads your competitors are buying and what keywords they are bidding on will do wonders for your SEO campaigns. You can make informed decisions on what to spend your ad money on and get great ROI.
Research Pages. This section of this SEO tool informs you which pages on a target website have the most backlinks and social shares.
Research Outgoing Links. A target website's linking patterns might as well be transparent with the data Site Explorer will show you.
Keyword Explorer
Ahrefs' Keyword Explorer is keyword research made easy. You'll get thousands of keyword ideas per keyword search. You can then analyze the ranking difficulty and traffic potential of any given keyword. You won't have a problem identifying keywords that will yield the best results.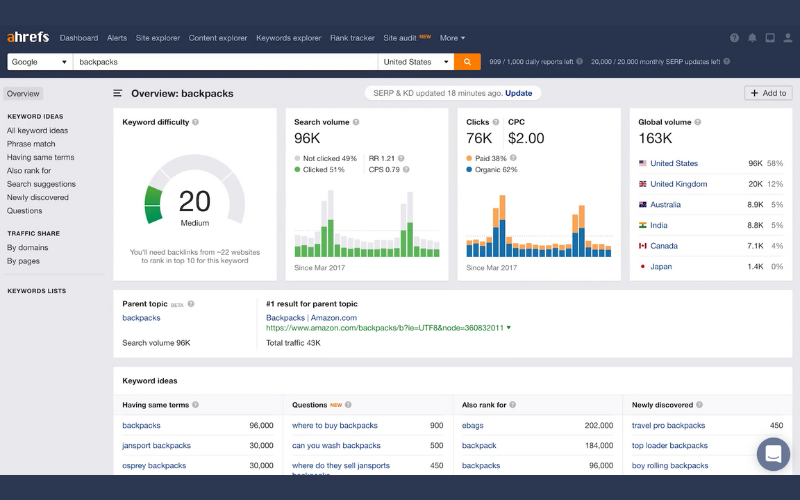 Ahrefs proudly states that its keyword research tool is the most complete in the market—and perhaps with good reason. As it is running on the world's largest third-party database of search queries, Keyword Explorer can provide you with accurate search volumes and keyword difficulty scores for your niche.
Cover more ground with your keyword research, as Keyword Explorer brings you keyword suggestions for ten different search engines. So, if you're marketing on YouTube, Amazon, Bing, and other search engines, you can now have a reliable source for keyword data.
All these are just some of the many features you can take advantage of using this Ahrefs SEO tool.
Content Explorer
Content Explorer is Ahrefs' search engine made for marketers. With the help of Ahrefs' database of 11 billion web pages, you'll never run out of content ideas and link prospects. You can discover top-performing content in your niche and identify proven ideas for your next marketing campaign.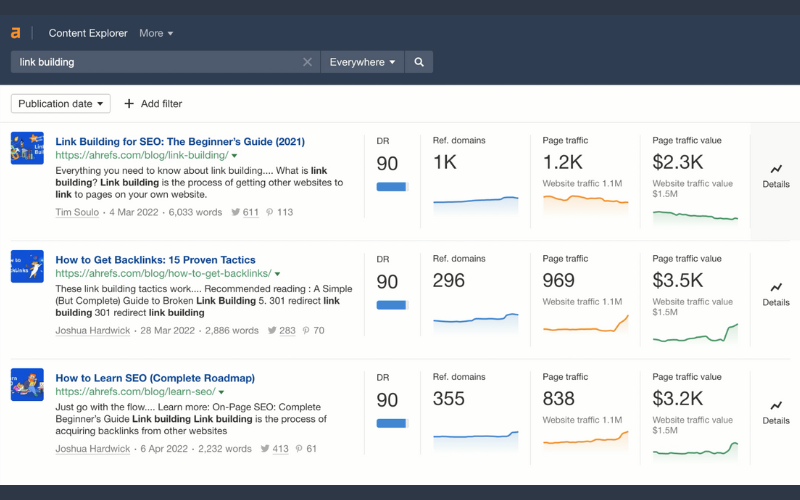 Similar to any regular search engine, all you need to do is enter your search terms. The Content Explorer will then show you the search results of not only sites relevant to your search term. But it will also show the domain rating, referring domains, page traffic, and page traffic value of each site.
Ahrefs Rank Tracker
Ahrefs Rank Tracker is your research assistant and data analyzer that makes rank tracking a breeze. Through this SEO tool, you can monitor your rankings over time and chart your performance against your competitors. This way, you can get a sense of what's working and what's not then make changes accordingly to your SEO strategies.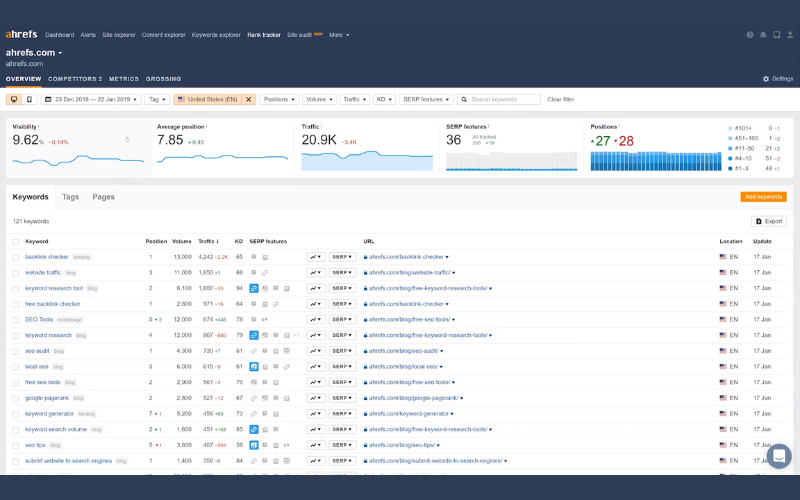 The Rank Tracker may sound like a simple SEO tool, but upon closer inspection, you'll see how powerful this tool can be. With Rank Tracker, you can:
Monitor your Google rankings across 170 countries on desktop and mobile;
Visualize your SEO progress using interactive graphs on the history of your site's visibility, average position and traffic, and positions distribution;
Get data on a total of 13 SERP features to see if your website ranks on any of them;
Segment data the way you want as you sort your keyword list with filters and tags;
Chart your data against up to 10 competitors and automatically receive SEO reports on three key areas: ranking progress, search traffic, and SERP features;
From your list of tracked keywords, determine which pages and websites are competing for search traffic;
Acquire a deeper insight into each of your tracked keywords using a list of up-to-date key metrics; and,
Receive scheduled email SEO reports straight in your inbox—on a daily, weekly, or monthly basis.
Site Audit
Discover what's holding your website back from ranking on the first page of SERPs using Ahrefs' Site Audit. This on-page optimization tool examines what's underneath your website's on-page SEO performance. Site Audit crawls all the pages on your website and provides all the data you need to maximize your site's ranking potential. You'll be given an overall SEO health score, charts of key data, all possible SEO issues, and recommendations on how to fix them.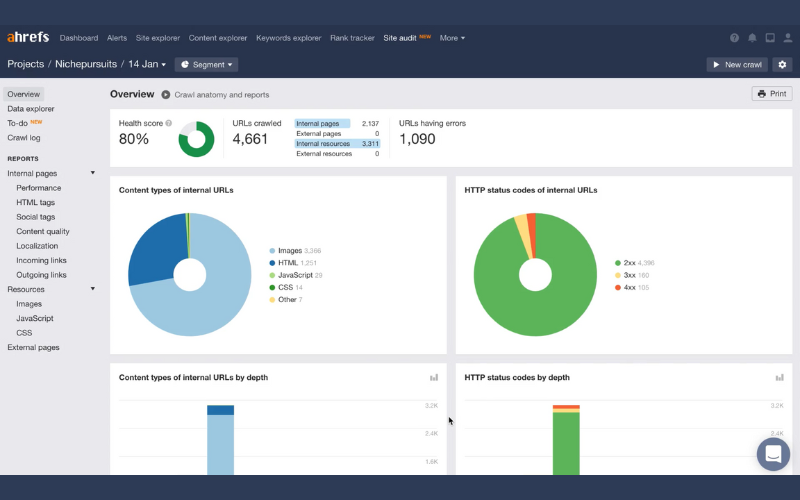 Utilizing Site Audit allows you to identify 100+ pre-defined SEO issues after a thorough crawl. Not only will this save you time on a task you'd otherwise do manually. This also helps you stay on top of web presence best practices. After gathering all the relevant data, you can explore everything the way you want to with Site Audit's Data Explorer.
Apart from websites on desktop platforms, Site Audit can also crawl mobile websites. In doing so, you can keep up with Google's mobile-first indexing roll-out.
Surfer SEO vs Ahrefs: Pricing Plans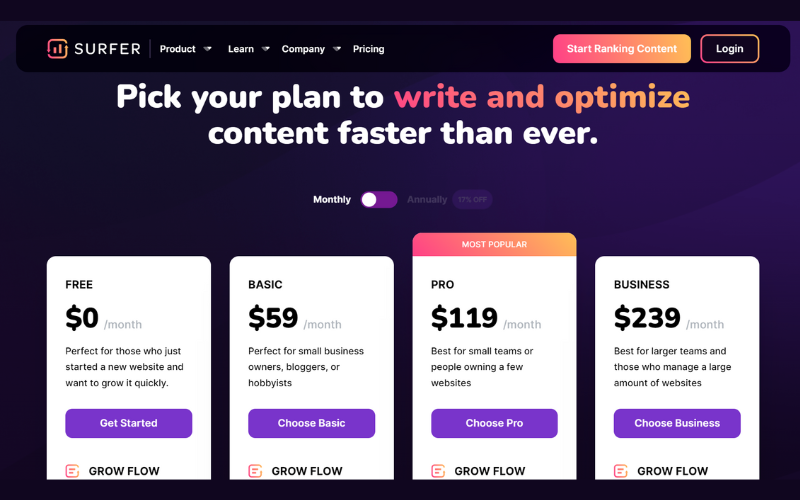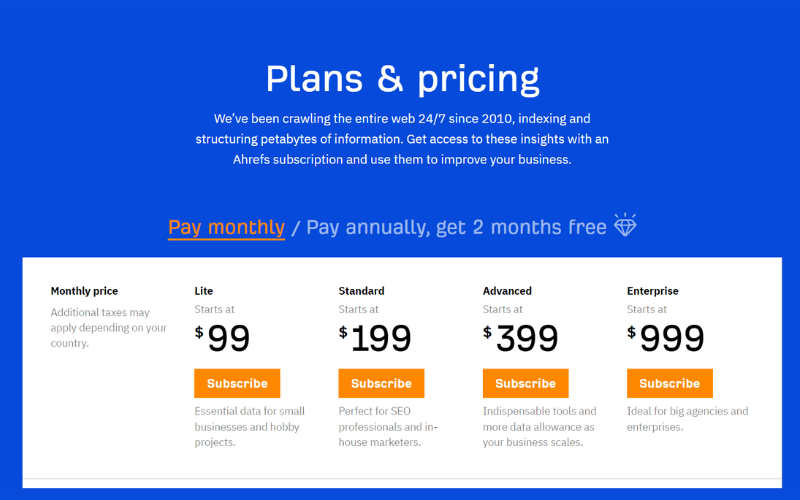 Final Thoughts
Choosing which SEO tools to take on board can be an overwhelming task. Most powerful tools don't come cheap, and though they provide free trials, it can still be hard to 100% be sure you're getting the best tool for your needs.
With that said, breaking down the main features offered by Surfer SEO and Ahrefs can be the first integral step to making a well-informed decision on which software to choose for your business.
Surfer SEO
The Google Docs, Webflow, and WordPress integrations of Surfer's Content Editor through this platform's Chrome Extension allow for fast collaboration when creating materials for content marketing. The Content Editor's user interface is also one of the best among the most popular content editors.
However, when it comes to the analysis of backlinks and competitors, finding link prospects, and providing keyword difficulty scores, Surfer SEO lags miles behind Ahrefs.
Ahrefs
The Ahrefs URL analyzer you get from the Site Explorer tool is invaluable in the SEO industry. You can instantly know the sites giving backlinks to top-ranking pages and utilize this data to your advantage. The wealth of data Ahrefs holds also allows you to optimize for local SEO—an advantage that not a lot of SEO tools can give you.
The user interface of Ahrefs and the mountains of data available for analysis can be intimidating at first. But the resources Ahrefs provide can help you become an expert on using this platform. Better yet, place Ahrefs in the hands of SEO experts on your team and watch as more traffic and infinitely higher ROI come rolling in your business.
Our Verdict
Hands down, when it comes to SEO software, you cannot go wrong with Ahrefs. Its per month/per year pricing plans can be daunting, especially for small business owners. However, many SEO experts and content marketing professionals have attributed exponential growth due to Ahrefs key features.
If you have the budget though, employing the help of both tools can be worth it. Surfer SEO's Content Editor and Content Planner can save you a lot of time on the content creation step of your SEO strategy. Meanwhile, Ahrefs can take care of your site's overall SEO health, as well as identify untapped ranking potential.