To create great content, having a dependable and reliable content optimization tool is integral. Today, we'll compare two of the most popular content optimization tools content marketers love: Surfer SEO vs Clearscope.
The sad reality is that having great content is not enough to become one of the top-ranking pages on search engines. To create content that'll rank, you need to create optimized content. Only then can you hope for the content you've made to attract more traffic and reach as many people as possible.
When it comes to content optimization, we will be remiss not to discuss Surfer SEO and Clearscope. The ultimate goal of this post is to help you make an informed decision on which software will help you optimize content better. Let's get to it.
Surfer SEO vs Clearscope: The Key Differences
The main difference comes down to costs and features offered: Surfer SEO has more features to offer at a lower price compared to Clearscope. Though arguably, Clearscope is easier and more straightforward to use.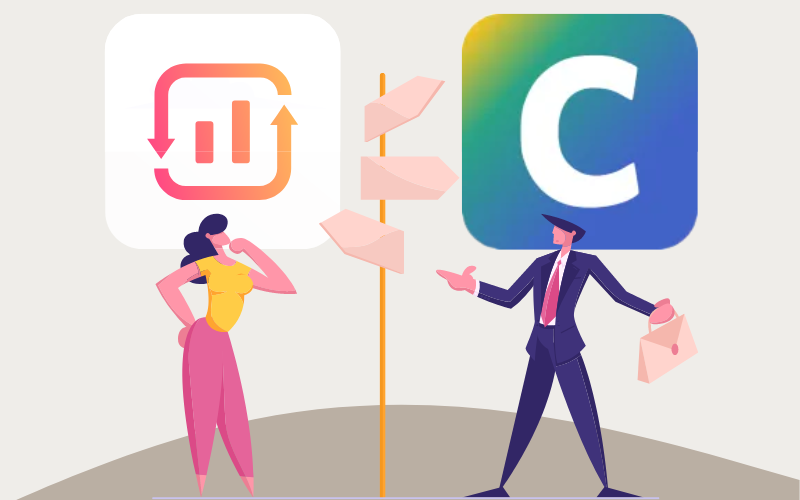 Surfer was first and foremost intended to be a content optimization tool. As such, you'll find that Surfer shines the most in this area. Surfer SEO's Content Editor is one of the most popular content editors in the content marketing scene, and for good reason. It allows for fast collaboration among team members and a streamlined process for creating highly-optimized content.
Clearscope, on the other hand, is a popular choice for enterprises thanks to its excellent customer service and elaborate onboarding assistance. For many businesses, these two factors alone make Clearscope worth every penny. As for Clearscope's Content Editor, it offers a writer-friendly experience as it's so incredibly easy to use for writing relevant and useful content.
Surfer SEO is a content optimization software driven to help you create excellent content that ranks on the first page of Google. It considers 500+ ranking factors to optimize your content.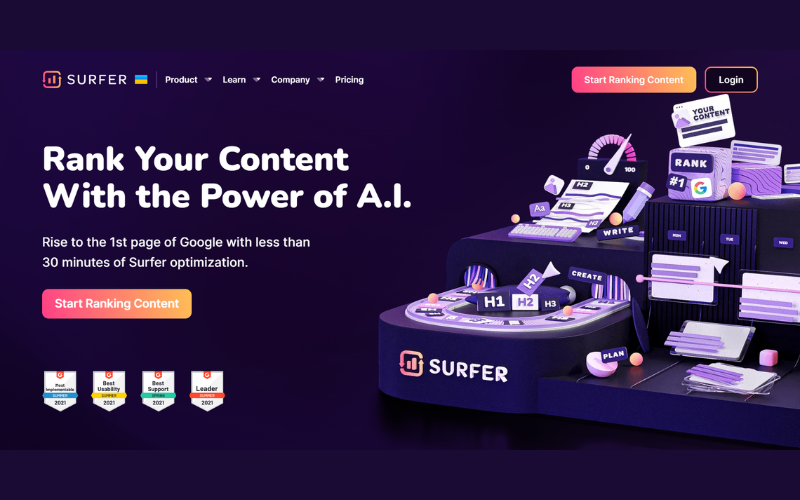 Using superior algorithms, Surfer scans the web to bring you the most relevant keywords and the specific keyword density you need. In doing so, the platform ensures your content will be seen by the largest number of eyes possible.
In the beginning, Surfer was intended to be a content optimization tool. Soon after, other features for Search Engine Optimization (SEO) like the Audit tool and SERP Analyzer were added, creating the one-stop-shop of SEO tools Surfer is today.
Surfer SEO Key Features
Content Editor
Through the Content Editor of Surfer SEO, you can perform on-page optimization before publishing your content. It's straightforward enough to use. Enter your target keyword, wait for the document to be created, then type away in the editor, making sure to hit all the suggested keywords along the way.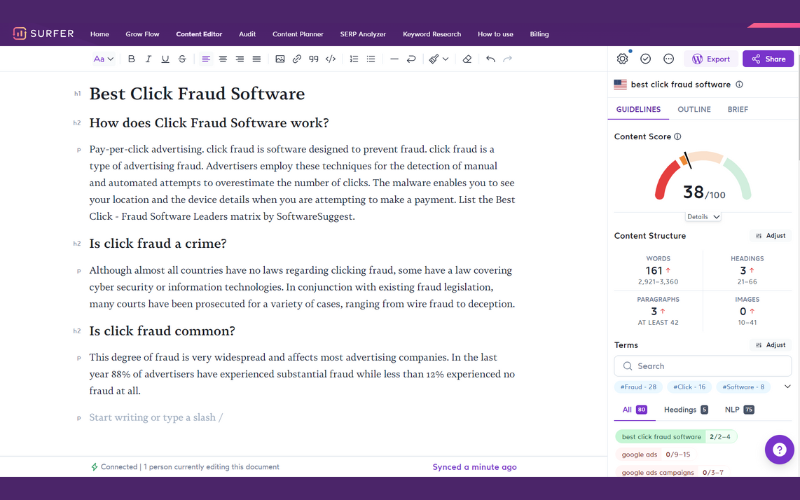 To fully benefit from the optimization Surfer offers, here's a rundown of what you'll need to do.
First, you start by typing in your target keyword. Before pressing enter, you can also set the location (e.g. United States) and crawler type (e.g. Mobile) for the results. Setting your location to a more specific area (e.g. Houston, TX) can help you get top-ranking articles for local SEO.
Next, open the document and you'll see the various tools on the right side of the screen that will aid you in creating highly-optimized content. Customize how your content will be optimized by:
Choosing your organic competitors;
Adjusting the structure requirements of the content; and,
Adding or removing relevant terms/keywords from the list.
You can also view the suggested topic questions to aid you in drafting your content. Add notes for yourself in the future or for team members you're collaborating with.
However, to stop there is to know only half of what Surfer's Content Editor can do. The content editor feature is the major overlap for Surfer vs Clearscope. So, let's take a closer look at the key tools this editor offers. The tools may seem like a lot at first, but once you familiarize yourself with what you can do with this editor, you'll be streamlining your optimization process in no time.
Outline Builder
Draft your content faster with the built-in outline/brief builder in the Content Editor. You'll craft detailed content briefs using the unique titles (H1), headings (H2), and subheadings (H3) generated by Surfer AI. Every title, heading, and subheading also comes with unique AI-generated text, which you can use as is or as a guide to what you're writing.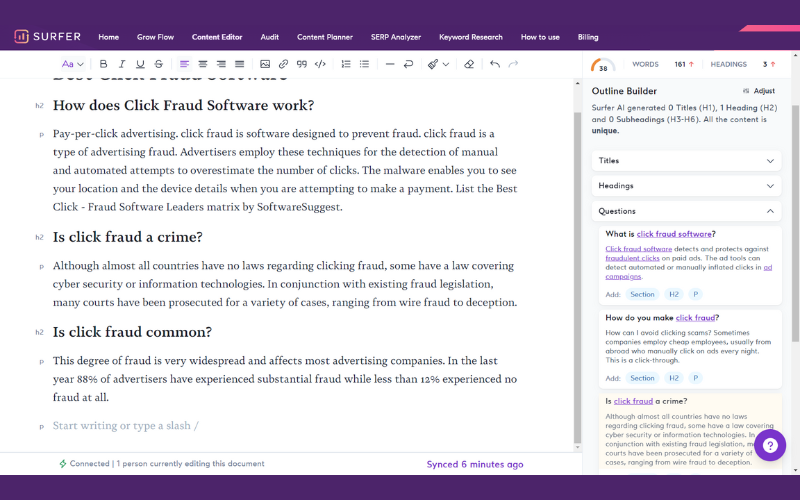 Question and topic suggestions you've selected while customizing can also be seen below the outline builder. Combine all this with the suggestions for keywords to use in headlines and you've got a draft that's highly optimized.
Natural Language Processing (NLP) Keyword Suggestions
One of the best tools to take advantage of in this editor is the Natural Language Processing (NLP) keyword suggestions. Incorporate these suggestions and you can make content that will rank higher on Google and other search engines. That's because these NLP keywords are words, phrases, and sentiments that Google deems important for the target keywords you're trying to rank in.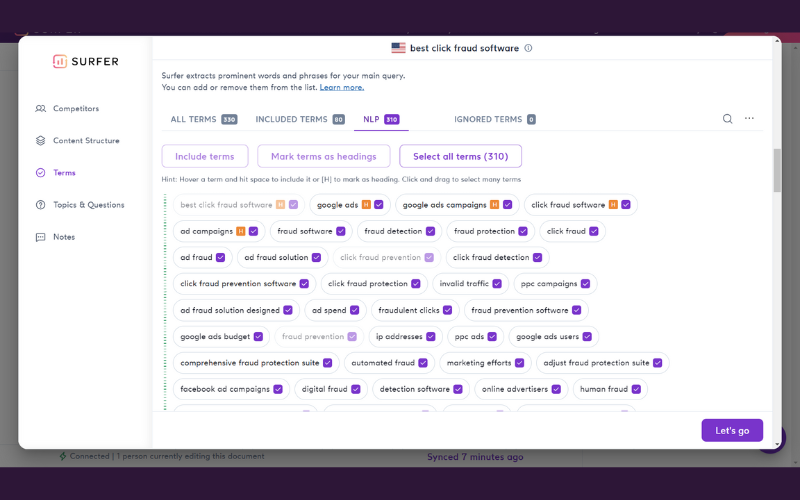 Now, not only will the Content Editor show you what NLP keywords to use, conveniently located on the right side of your screen. You'll also see examples of use for each keyword and how many times you'll need to use these keywords to compete against the top-ranking pages. This allows you to optimize your content to the fullest.
Integrations
Surfer's integrations for its editor are some of this platform's best collaboration tools. Using Surfer's Content Editor Chrome Extension, you can Webflow, Google Docs, and WordPress integrations. So, the Outline Builder, the suggested key terms, content score, and more will be available to you and your team wherever you may choose to create content.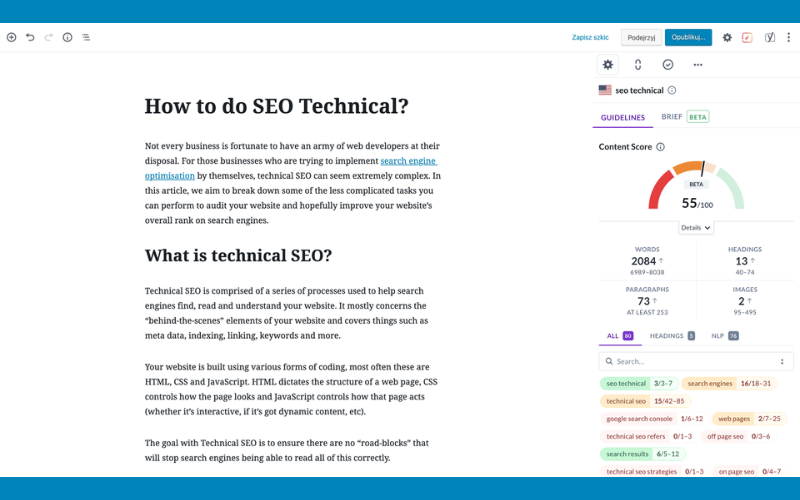 Another useful integration this editor has is Jasper AI. If you combine the content optimization tools on Surfer's editor with this powerful artificial intelligence writer, you'll be cutting down on the time spent writing by a lot.
All this is on top of the fact that shareable links to Content Editor documents are accessible to external writers. This means you don't need to invite them as team members on your Surfer account.
Plagiarism Checker AND ETC
A recent implementation on Surfer's editor is their Plagiarism Checker. Surfer SEO uses its own analysis to check for duplicated matches on the SERPs. Currently, though, the Plagiarism Checker is available on shareable links but not on their integrations (i.e., Jasper AI, Webflow, Google Docs, and WordPress).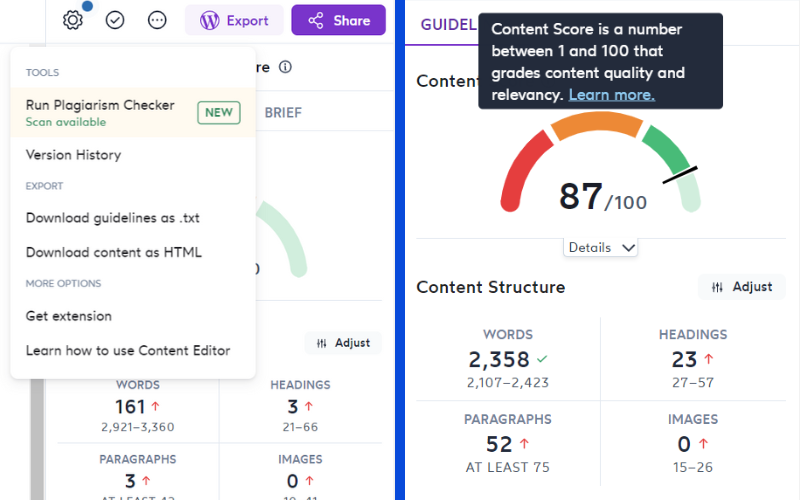 Surfer's editor also provides the Content Score of what you're writing, which grades your content quality and relevancy accordingly. Under the Content Structure section, you'll see the recommended word count, and the number of paragraphs, headings, and images. Also, you can quickly search the key terms for specific keywords, as well as customize what keywords you want to display.
Content Planner
Crafting an effective and complete content strategy takes a few clicks with Surfer SEO's Content Planner. This valuable tool returns clusters of keyword ideas for various topics related to your main keyword. Developing your content strategy based on these keyword ideas allows you to dominate your niche, as you produce relevant content that your target audience will read and share.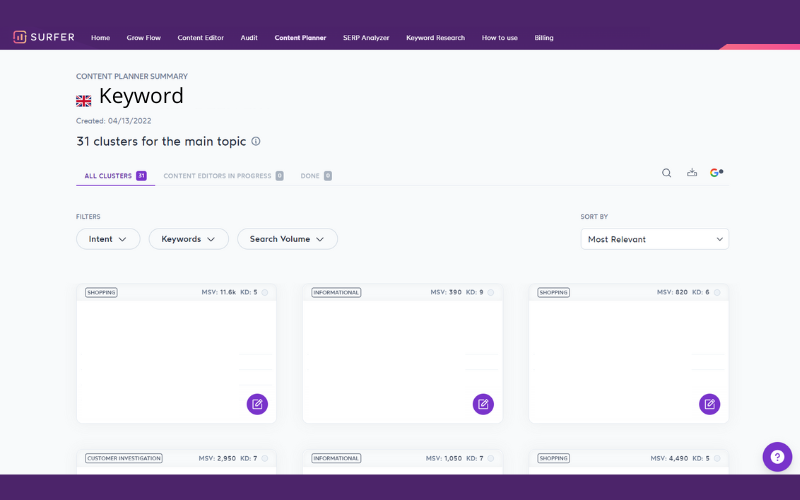 Content Planner also allows you to connect to Google Search Console or Google Analytics, so the recommendations you'll receive can be based on your raw search data.
Keyword Research
Another valuable tool you can use for your content strategy is Surfer SEO's Keyword Research tool. Enter your main keyword and the search results will show you insights on related keywords, phrases, and topics. You can then sort by monthly search volume or SERP similarity. With the help of this keyword research tool, you can craft an effective content strategy using relevant terms for your target niche and location.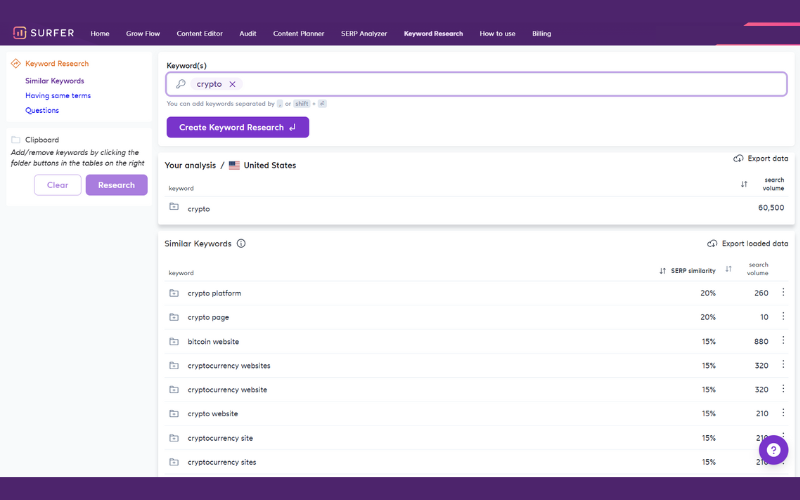 Surfer's Keyword Surfer is also worth mentioning under keyword research. This free browser extension can show you the search volume for a keyword on Google. Using the data points gathered here can help you avoid making content for unpopular search terms on search engines.
SERP Analyzer
See what's under the hood of top-ranking articles using Surfer SEO's SERP Analyzer. In-depth SERP analysis through Surfer's SERP Analyzer will help you know how to beat competitors dominating search engines. That's because the data points you'll receive will allow you to make content that best fits your target keywords.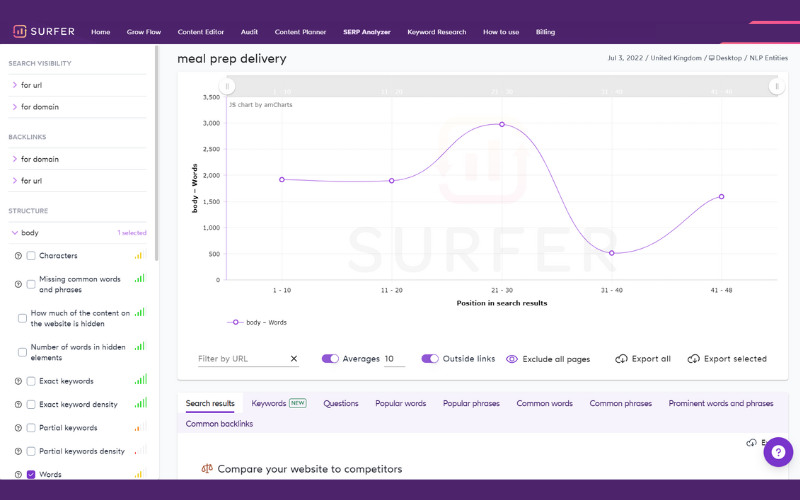 See what keywords your competitors rank for, how their pages are optimized, and what common backlinks they have. You can also see the title tags, meta descriptions, and common words and phrases found in the SERPs. Use this info to understand what your competitors are doing and how you can do it better to rank higher on SERPs.
Audit
Surfer SEO's Audit tool ensures optimization doesn't stop after you've hit publish. With this tool, you can continue to optimize articles after they go live. The audit tool analyzes existing content to look for SEO errors and room for ranking improvements.
With a significant amount of knowledge of SEO, you can argue that these things can be done manually. However, the beauty of this tool is in its automation of the process, allowing you to sit back and focus on other important matters.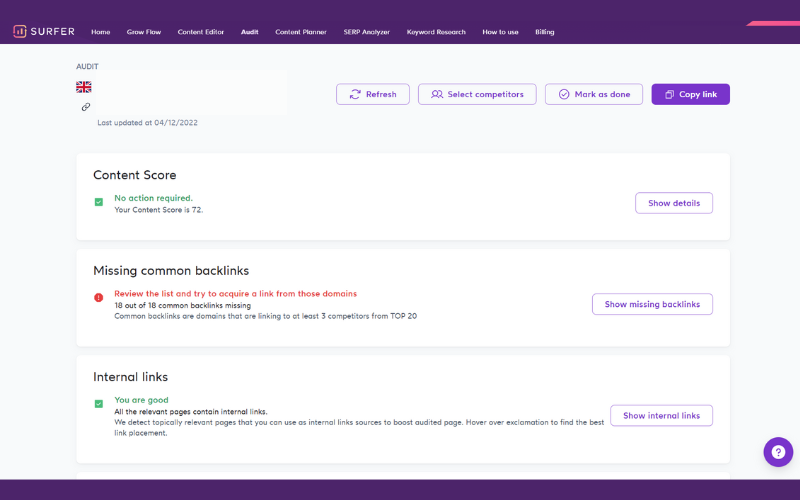 These are all the critical tasks the Audit tool will help you accomplish quickly to ensure your website is following the latest web presence best practices:
Uncover prominent terms your page is missing;
Analyze your content structure and on-page ranking factors;
Choose competitors you want to compare with; and,
Find internal linking opportunities.
Surfer SEO Pricing Plans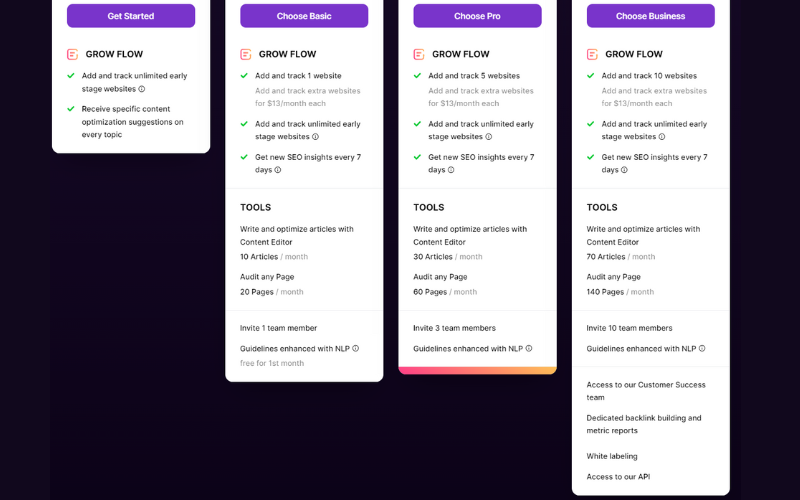 Surfer SEO offers a flat-rate pricing scheme for their available plans. The pricing plans are as follows:
Basic Plan: $59 Per Month | $49 Per Month (Paid Annually)
Pro Plan: $119 Per Month | $99 Per Month (Paid Annually)
Business Plan: $239 Per Month | $199 Per Month (Paid Annually)
Long before many content optimization tools entered the market, Clearscope already made a name for itself as one of the proven and reliable content optimization software for professionals. Though competition has gotten tougher with time, you'll still see Clearscope used and recommended by many freelancers and content writing teams.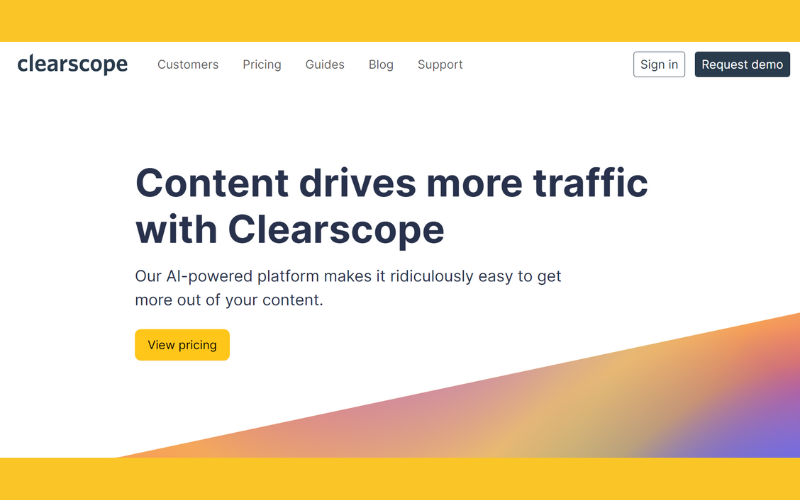 Compared to Surfer, Clearscope offers a very clear-cut product, which is the Content Editor. The tool may be simple, but making search-optimized content is the primary goal of Clearscope and it does it well.
Clearscope Key Features
Content Editor
The Content Editor is the bread and butter of Clearscope. This tool offers straightforward content optimization by providing simple recommendations. All the AI data points Clearscope gathered from SERPs are translated into digestible suggestions for writers.
Surfer SEO vs Clearscope differs in the approach they use in choosing which specific keywords to suggest. Surfer analyzes your competitors and provides key terms, including NLP keywords. Meanwhile, Clearscope's key factors for keyword selection include the search volume and search intent.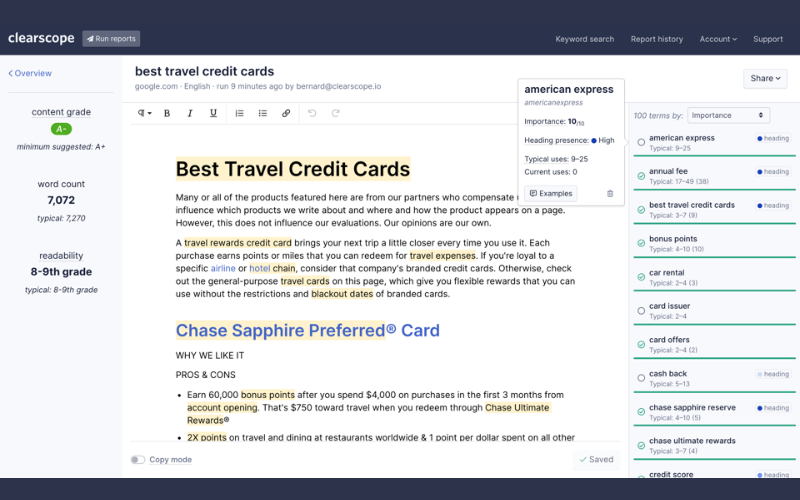 Content Grade
Once you enter your keyword, Clearscope will provide guidelines for your writing and content editing. Your content grade will be based on SEO and readability—the latter of which Surfer doesn't offer.
For your content's SEO, you'll receive a "report card" grade (e.g. A+, B, C-, etc.). For your content's readability, you'll be told what "year" grade it is suitable for (e.g. Grade 6, Grade 9, etc.).
Other factors Clearscope considers are the following:
Word count
Relevant terms
Headings
Structure of the content
Search volume
Monthly search volume
Top competitor content
Outline Builder and Etc
Similar to Surfer, Clearscope also offers various tools like outline/brief creation tools, related search questions, and articles from competitors for comparison. However, Clearscope doesn't allow you to insert images into the editor. Recommendations on how many images you should include are missing as well.
Integrations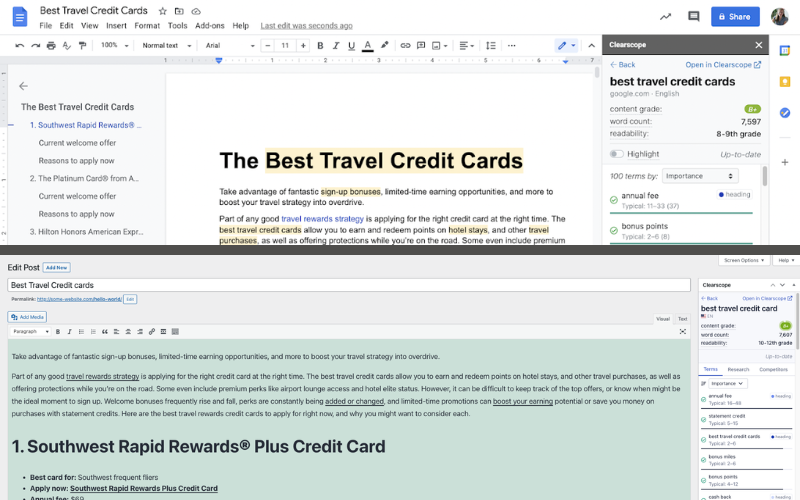 Clearscope's editor has a shareable link you can share with team members and external writers to create content collaboratively. You can also integrate Clearscope into Google Docs and WordPress to optimize directly on the platform of your choice.
Keyword Discovery Tool
Before you create content, you need a list of keywords related to your niche. Each main keyword is the customers' link to your website's content. Knowing the importance of keyword research, Clearscope developed the Keyword Discovery Tool to aid you.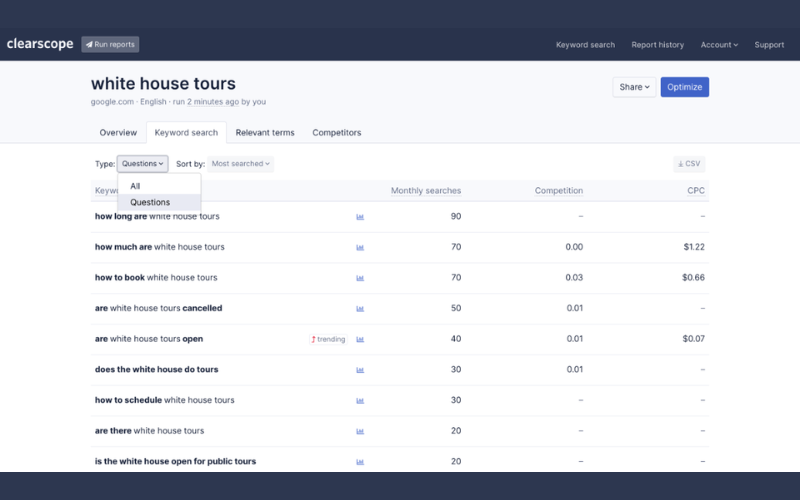 Keyword Discovery Tool will give you a list of Google's most popular autocomplete suggestions related to your main keyword. Using these suggestions, you can accurately identify what customers are looking for.
This tool will also show you data points on monthly search volume, cost-per-click (CPC), Google Ads competing for each keyword, and trending keywords. All the data you'll have will help you avoid irrelevant keywords for creating your content.
Clearscope Pricing Plans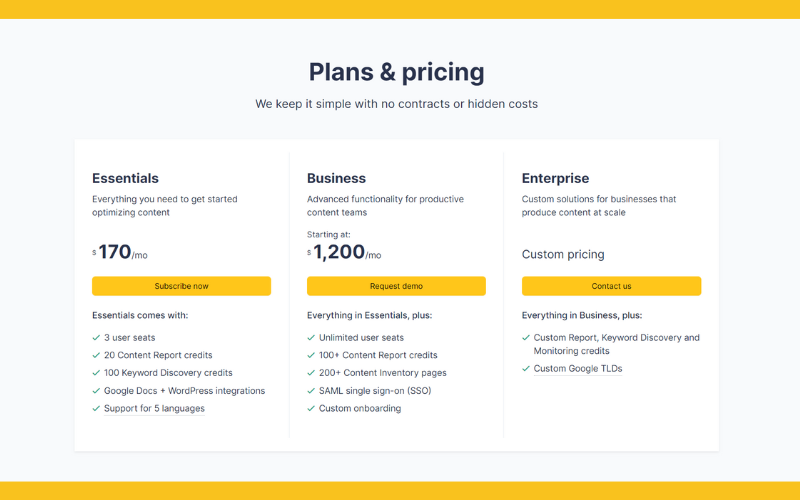 Clearscope offers a flat-rate pricing scheme for their available plans. The pricing plans are as follows:
Essentials Plan: $170 Per Month
Business Plan: $1,200 Per Month
Enterprise Plan: Custom Pricing
Surfer SEO vs Clearscope: Which is better?
Looking at Surfer vs Clearscope—we believe the clear winner is Surfer SEO. For the numerous valuable features that come at a lower price, it's hard not to choose Surfer.
Clearscope is simple and perhaps your business wants simple. Bigger operations with more money to spare could prefer the simplicity and thorough training and onboarding process of Clearscope. However, for small to medium-sized teams, Surfer can give a lot more than what Clearscope offers.
You can argue that opting for a separate SEO reporting software and content optimization tool is the better way to go. However, if we'll look at the pricing plans of Surfer vs Clearscope pricing, it's still far cheaper to get Surfer on top of the SEO reporting software of your choice.
Final Thoughts
At the end of the day, you will decide the best tool for you and your business. However, if you've been stuck for days or weeks debating which of these two to get, we hope this article helped you reach a well-informed decision.
Feel free to browse some more of the articles on this site to help you decide on the best software to take on board your business.