From owners of websites in their infancy to high-ranking employees of big marketing agencies—everyone is keen to know which software can bring the best optimization: Surfer SEO vs Frase. These two aren't the only software out there that can bring SEO-optimized content. But it's fair to say they're close competitors at the top of their game.
They work quite similarly, so you'll only need either of the two to take your website and business to the next level. It all depends on which software will be the better choice for your needs. So, let us help you decide through this guide. We'll compare the features, differences, and similarities between Surfer SEO vs Frase.
The ultimate goal is to help you make an informed decision on which software can bring the best optimization for your needs. In case you're in a hurry, here are the key differences at a glance.
Surfer SEO vs Frase Comparison: Key Differences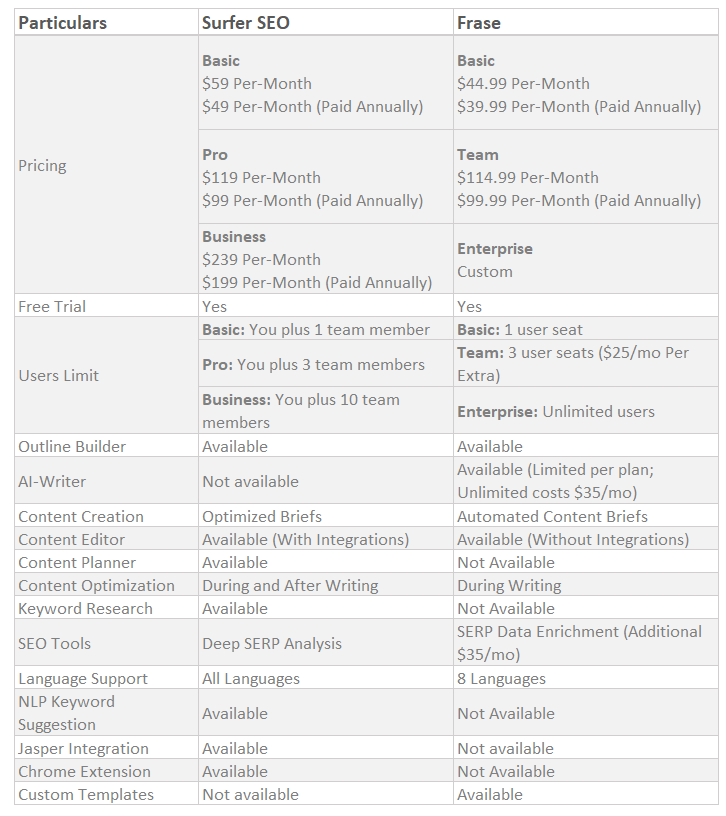 The following are the critical differences between Surfer SEO and Frase:
The cheapest plan for Surfer SEO is the Basic plan at $59 per month ($49 per month if paid annually); while for Frase, the Basic plan is $44.99 per month ($39.99 per month if paid annually).
With Frase, you can have unlimited users if you avail of their Enterprise plan; while on Surfer SEO, through the Business plan, the maximum number of team members you can have is 10.
Frase comes with an AI writer, which is limited to a specific number of characters depending on the plan (but can be unlimited if you pay an additional $35 per month).
Surfer SEO's content editor can be integrated with WordPress, Webflow, and Google Docs; while for Frase, you are limited to their native content editor.
You can plan and optimize your whole content strategy using Surfer SEO; while this feature is not available on Frase.
You can optimize your content on Surfer SEO even after you've published the article.
Keyword research is not available on Frase, while this is a key feature on Surfer SEO.
Surfer SEO has support for all languages, while Frase only has support for 8 languages.
Natural Language Processing (NLP) keyword suggestions, Jasper integration, and Chrome extension are all available on Surfer SEO.
Using Frase, you can create custom templates that can serve as guidelines and AI writer customization.
Surfer SEO is a content optimization software that is driven to help you create excellent content that ranks on the first page of Google. Using superior algorithms, Surfer SEO scans the web to bring you the most relevant keywords and the specific keyword density you need. In doing so, the platform ensures your content will be seen by the largest number of eyes possible.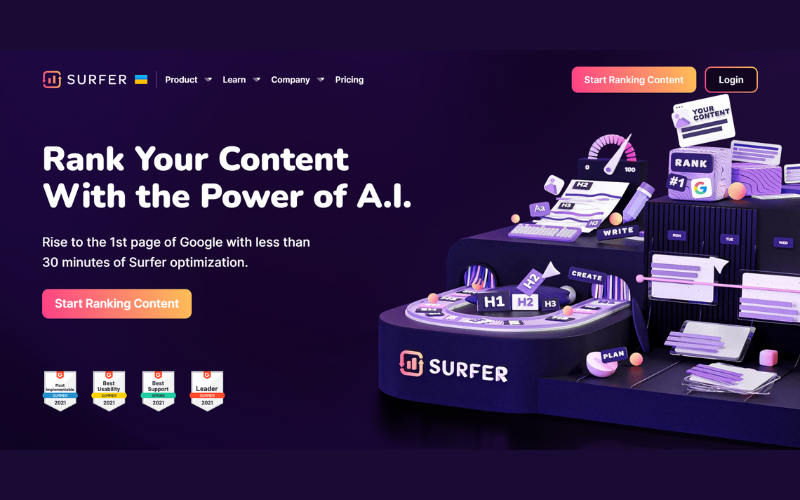 Through the content editor of this cloud-based tool, you can perform on-page optimization before publishing your content. But optimization doesn't stop after you've hit publish. Surfer SEO can audit and optimize articles after they go live.
Competitor analysis is also available through Surfer SEO's SERP analyzer. This allows you to compare your URL with your competitor's URL, so you can pinpoint what's missing. The SERP analyzer shows you what keywords your competitors rank for, how their pages are optimized, and what backlinks they have. With all this in your hands, you can find strategic ways to outrank your competitors.
Frase is a content creation and optimization platform that uses AI tools to help you research, write, and optimize high-quality content for search engines in minutes instead of hours. By integrating Frase AI into your Google Search Console data, you can discover the best opportunity on the content you need to cover.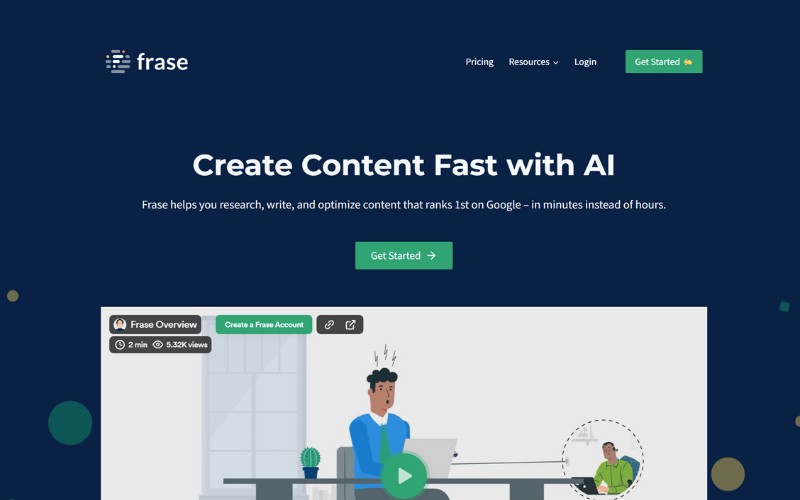 Developed foremost as a content production tool, Frase is optimized to streamline your content production process. Frase not only helps you produce (and automate) content briefs and research your topic. It also provides a list of keywords to include and suggests ideas related to your target keyword.
Improve SEO for existing content on your website using Frase's content editor. All you need to do is copy and paste the existing content of your choice. Frase's content creation tools that make the overall process easy include an outline builder, a questions tool, and content and topic research.
In-Depth Evaluation of SEO Tools: Surfer SEO vs Frase
Content Creation
Surfer SEO
Though content optimization tools are at the forefront of Surfer SEO, this platform still offers various features to help with content creation. You can get optimized briefs and outlines in a matter of minutes. Through Surfer SEO's outline builder, you can view unique headline and paragraph suggestions (note: as of writing, paragraphs are not available in all languages yet).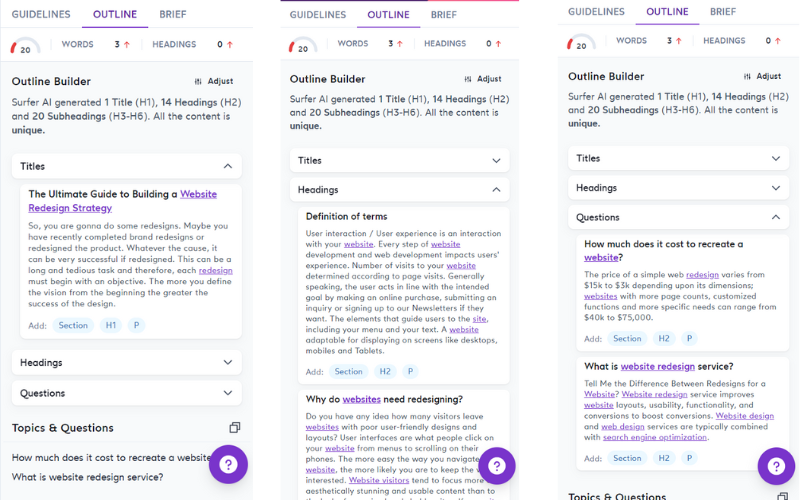 If you already have Jasper AI, you'll be glad to know that you can integrate this third-party service into Surfer SEO. Combining one of the best content optimization software with a powerful AI writer like Jasper AI cuts the time you need to spend to write content significantly.
Frase
Developed as a content production tool, content creation is where Frase shines the brightest. After creating a document, you start out on their content editor with a content brief. To hasten the process, you can automate the brief and immediately fill the content of your blog post.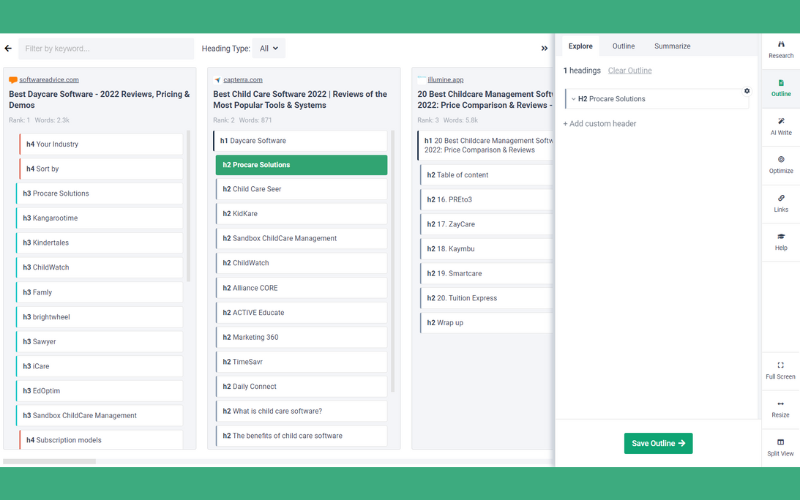 Frase can also take content ideas from other websites to help you build a content ideation space. To do so, you'll first explore the competitors' content Frase has prepared for you. Next, you'll prepare an outline using Frase's outline builder using either the competitors' headings or your custom headings (or both). Lastly, you can summarize all the ideas you've gathered to effectively create an initial draft of your article. Doing so decreases the time you need to dedicate to researching the topic.
Verdict
Frase offers a more streamlined content creation process compared to Surfer SEO, especially in how it can decrease the time you need to research a topic.
Content Editor
Surfer SEO
To use Surfer SEO's content editor, you first need to enter the keyword of your choice and then start writing content. On the right side of the content editor tool, you'll see your content score and all the keywords you'll need to include to improve your score. If certain keywords are unfamiliar, you can click on them to see examples of how to incorporate them into your article.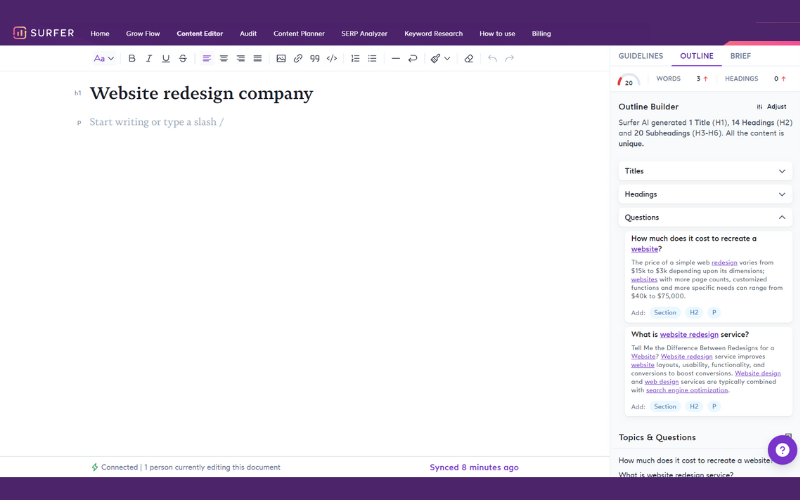 Perhaps one of the best features of this content editor is the inclusion of Natural Language Processing (NLP) keyword suggestions. By incorporating these suggestions, you can make content that will rank higher on Google and other search engines.
Surfer SEO's content editor integrations allow fast collaboration, which is indispensable when you're working with a team. You and your team can create and optimize an article on WordPress, Webflow, Google Docs, or Surfer SEO's native content editor.
Frase
Frase's content editor looks similar to Surfer SEO. On the right side of the screen, you'll also see the content score, as well as the keywords you'll need to integrate. Upon clicking on the keywords, you'll be given examples of their instance in your competitors' content.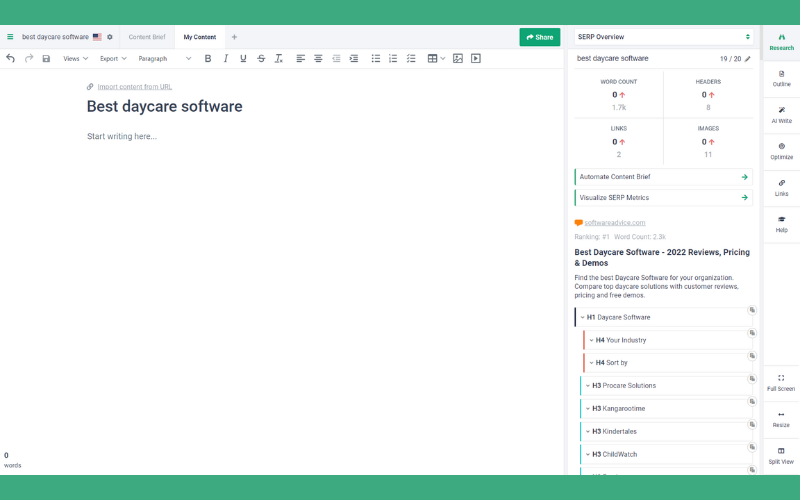 Apart from the lack of NLP suggestions, Frase shows keywords in a list compared to Surfer SEO's clustered showcase of the keywords. Though this is a minor thing, you will find yourself scrolling more to check the keywords when using Frase.
Verdict
The combination of NLP suggestions and integrations for fast collaboration makes Surfer SEO the better choice over Frase's content editor.
Content Planner
Surfer SEO
Surfer SEO's content planner enables you to create the complete strategy for any topic of your choice in a matter of minutes. Enter the keyword then click on "generate ideas" to quickly generate dozens of keyword ideas for each topic. These ideas will help you dominate your niche as you produce timely content, packed with relevant keywords, that readers will want to read and share.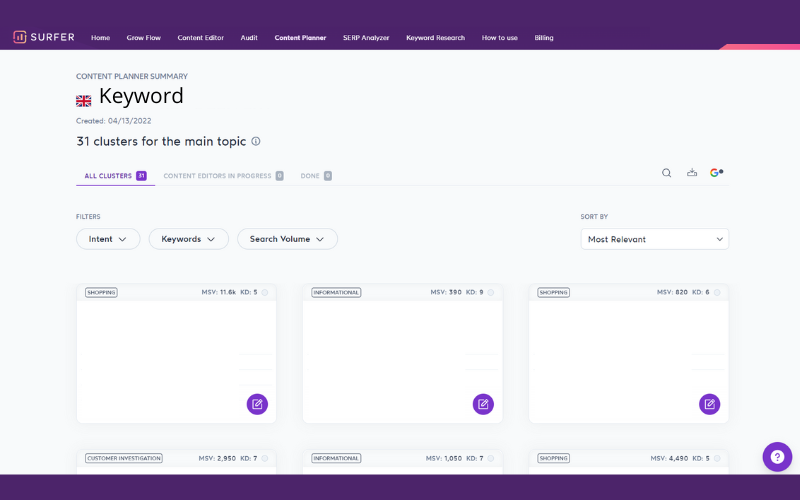 The content planner can also help you quickly visualize the performance of your website and what areas you need to improve. As such, utilizing this content planner will not only provide you with streamlined content creation. But it will also help boost your site's performance in the long run.
Frase
Though Frase doesn't have a content planner feature, it does offer two features that contribute significantly to streamlining the content production process: project status settings and team project folders.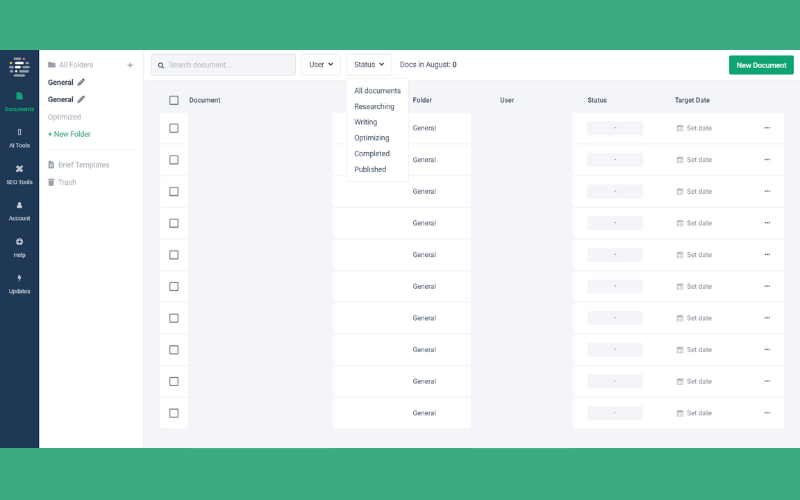 Project status settings allow your writers to let you know when assignments are complete by updating the status. Meanwhile, as the name suggests, team project folders allow you to organize your documents into folders for your personal projects, your team, or your agency's clients.
Verdict
Surfer SEO's content planner makes creating a complete content strategy quick, easy, and effective, while Frase lacks similar features in this area.
Content Optimization Tools
Surfer SEO
Surfer SEO began as a content optimization tool, adding their content creation tool at a later date. As such, you won't be surprised to find that content optimization on Surfer SEO is in-depth and thorough.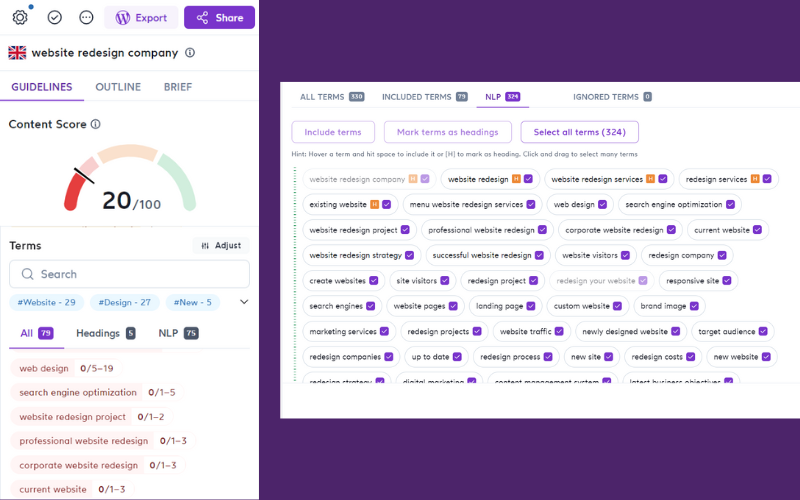 Using Surfer SEO, you can have your content analyzed based on over 500 ranking factors. Afterward, Surfer SEO will give you suggestions for improvement based on that. Meanwhile, the SERP analyzer on Surfer SEO can dissect a specific page on your website. It will show you the content score, backlink score, image optimization, and many more. You can also use the SERP analyzer to see what keywords your competitors rank for, how their pages are optimized, and what backlinks they have.
Frase
For each document you open or create with Frase, you will be given a topic score against search engines. With this, you can immediately see how well-written your content is for search engines and make changes accordingly.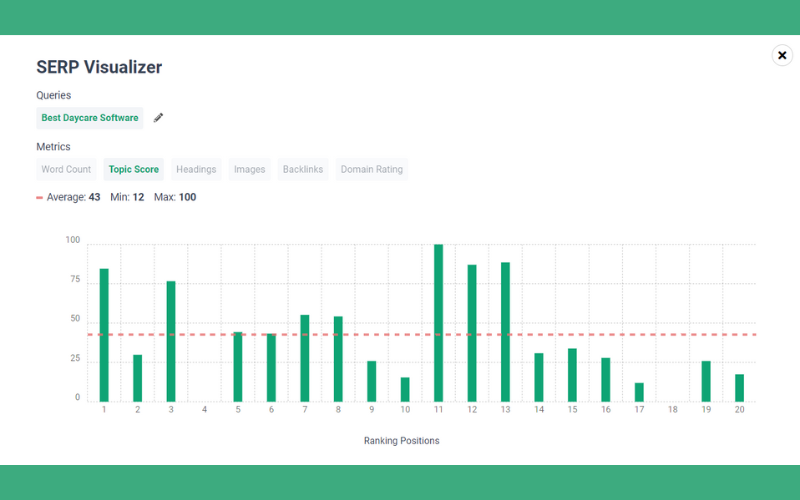 You can also see a competitor score based on your keyword and topic. The keyword suggestions Frase offers are also helpful for optimizing your content.
Verdict
Frase provides simple, straightforward optimization with its content optimization tools, while Surfer SEO can give you thorough and in-depth analytics to optimize your content.
Keyword Research
Surfer SEO
You won't be stuck in another keyword drought when you use Surfer SEO's keyword research feature. All you need to do is enter one of your target keywords. You'll then get insights on related keywords, phrases, and topics to your main keyword. In doing so, you'll get a deeper understanding of your audience's interests and write content accordingly.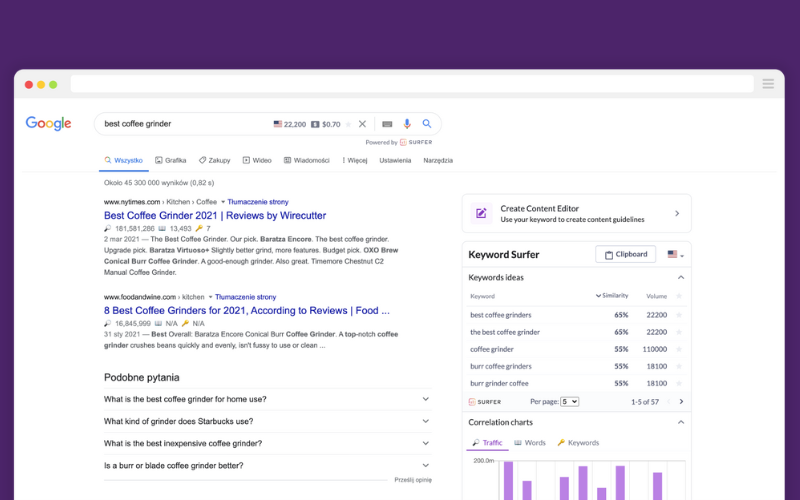 One of the free tools Surfer SEO offers is the Keyword Surfer extension. This tool enables you to see how many people are searching for a keyword while on Google. By applying what you find through this tool, you can avoid creating content for unpopular searches.
Frase
Keyword research is a feature that is lacking in Frase, which can limit how you strategize for content creation. Frase does offer keyword search volume, which is unlockable through an additional $35 per month. Through keyword search volume, you can access monthly search volume for keywords in the outline builder, as well as commercial and informational keyword modifiers.
Verdict
Surfer SEO is the way to go if you want in-depth keyword research for no additional cost.
Pricing Plans
Surfer SEO
Surfer SEO offers a flat-rate pricing scheme for their available plans. The pricing plans are as follows:
Basic: $59 Per-Month | $49 Per-Month (Paid Annually)
Pro: $119 Per-Month | $99 Per-Month (Paid Annually)
Business: $239 Per-Month | $199 Per-Month (Paid Annually)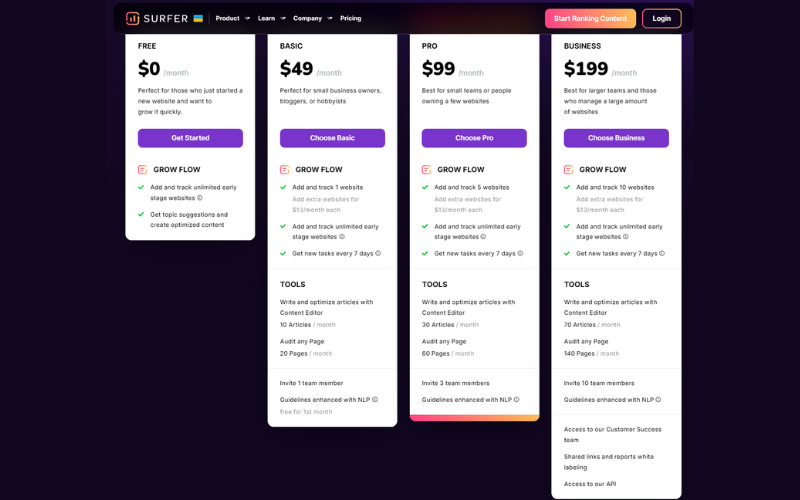 If you have a bigger state of operations, you might find the most elaborate plan still lacking. Fortunately, you can contact Surfer SEO's sales team for a custom plan.
All the plans Surfer SEO offers have limited numbers of articles you can write and optimize per month. Pages you can audit also have a limited number each month.
Frase
Frase offers a flat-rate pricing scheme for their available plans. The pricing plans are as follows:
Basic: $44.99 Per Month | $39.99 Per Month (Paid Annually)
Team: $114.99 Per Month | $99.99 Per Month (Paid Annually)
Enterprise: Custom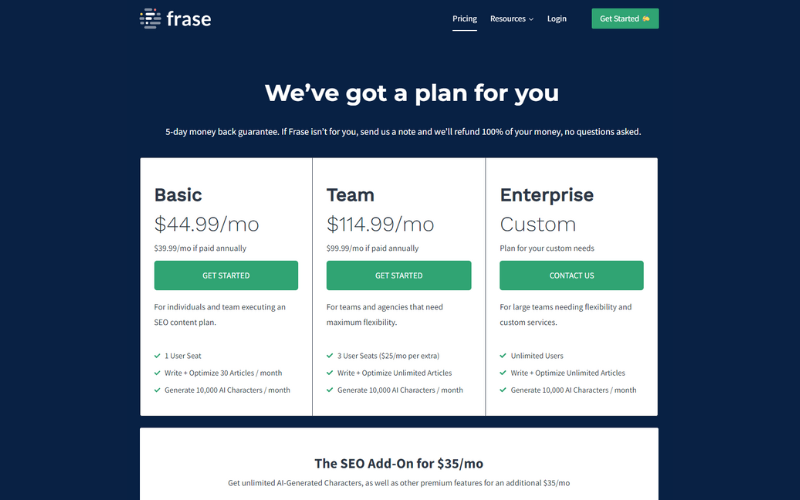 Do take note that other premium features from Frase can only be availed as an SEO add-on for an additional $35 per month. These features are keyword search volume, SERP data enrichment, and unlimited access to Frase AI writer.
For the Team and Enterprise plan, you get unlimited document credits and not just the 30 articles/month limit that comes with the Basic plan.
Verdict
For content production, Frase is the more affordable choice between the two, given that you can get unlimited document credits with the Team and Enterprise plan. However, if you value gaining deeper insights on SEO and creating an effective content strategy, Surfer SEO's higher price tag could be worth it to you.
Final Thoughts
Though Surfer SEO and Frase can seem quite similar at a first glance, the two platforms have enough differences that can make one more suitable for you than the other.
Surfer SEO
The notable features that place Surfer SEO ahead are NLP suggestions, content editor integrations, content planning, thorough content optimization, and keyword research. Though the Jasper AI integration and Chrome extension features do not necessarily boost Surfer SEO far ahead, they are still good-to-have features.
The set number of documents and pages per month can be severely limiting, depending on your needs, especially given the heftier price tag of this platform. However, the wealth of features Surfer SEO offers could be enough to sway you towards getting this SEO tool.
Frase
Frase's AI writer, automated content briefs, useful topic research tools, and sufficient content optimization tools make it a considerable competitor against many SEO tools. If a more streamlined content production process is what you're after, you can't go wrong with Frase.
Bigger operations that create large volumes of documents per month may find Frase a bang for their buck. Though the full potential of this platform is locked behind a paywall, you may find it worth investing in after you've tried the base features.
Our Verdict
Surfer SEO is the better all-around SEO tool of the two if you value content optimization, content planning, and an overall effective content strategy. The monthly limitation on the documents you can create and optimize and the pages you can audit can be a deal-breaker to some. However, for small to medium businesses, the limitations set can be just right to create content that ranks consistently on search results. After all, quality trumps quantity when it comes to search engine rankings.