Search Engine Optimization (SEO) is a must for any website owner who wants their site to be found online. But which tool is the best for optimizing your website's content? In this article, we'll compare two popular SEO tools: Surfer SEO vs WriterZen.
We'll look at each tool's features, how easy they are to use, and how well they help writers produce SEO-friendly content. By the end of this article, you'll know which tool is the best fit for your website's writers.
Benefits Of Using A Content Optimization Tool
Whether you're a freelance SEO content writer, a team manager of writers, or a website owner, you'll surely benefit from employing the help of a content optimization tool. If you're not already using one, you're likely missing out. Here are just some of the benefits of using a content optimization tool.
First, a content optimization tool can help you write with great expertise in a subject matter. The related keywords and topics the tool will provide will showcase how knowledgeable you are about what you're writing and boost your status in the industry.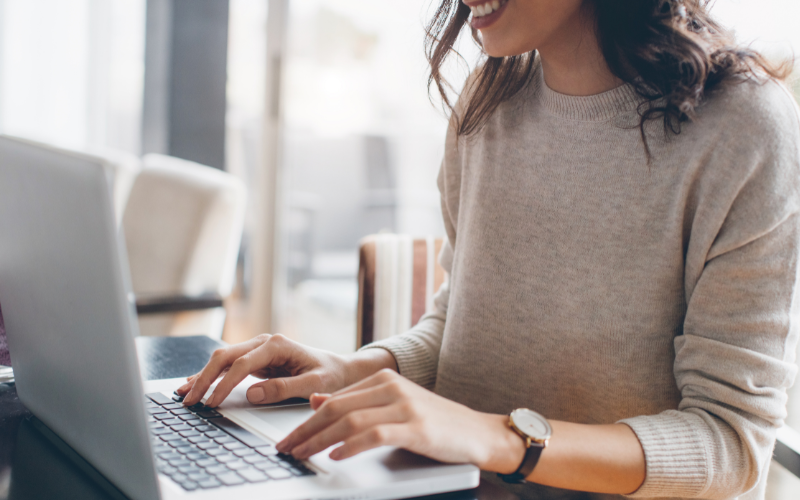 Second, a content optimization-focused SEO tool will help increase organic traffic by providing high-volume keywords. These keywords perfectly align with your target audience's intent, so you're sure to capture their attention and drive traffic to your web pages.
Finally—though there are surely more benefits than what can be listed here—SEO solutions focused on optimizing content will identify any issues with your content. By addressing these issues, you can refine your content and free it from issues that are preventing it from ranking higher.
Content optimization is indispensable to any on-page SEO strategy. As such, having the best content optimization tool on board can help take your content and website to new heights.
Surfer SEO vs WriterZen Overview
Surfer SEO and WriterZen mostly differ in the range of services they offer. Both offer on-page SEO via their content editor/content creator. However, on top of content optimization, Surfer SEO also offers backlink analysis and site audits.
For website owners and digital marketing agencies who want more than just a content-optimizing SEO tool, Surfer SEO is the more popular choice. You not only get content that's optimized for search engines. Surfer SEO also provides an in-depth competitive analysis that you can use for your content strategy or improve existing content SEO campaigns.
Meanwhile, WriterZen is an SEO writing platform that helps simplify your content creation process from content to conversion. The SEO tools they carry on their platform are all focused on content creation and content optimization. This makes WriterZen perfect for website owners and writing agencies who are looking for a straightforward, no-frills content optimization tool.
Surfer SEO vs WriterZen Key Features
Surfer SEO offers the following features to boost your organic traffic, increase your visibility, and improve your rank:
Grow Flow
Keyword Research
SERP Analyzer
Content Editor
Content Planner
Audit
Meanwhile, the following features from WriterZen will simplify your content creation process to help you establish domain expertise and drive organic traffic to your site:
Topic Discovery
Keyword Explorer
Content Creator
Plagiarism Checker
Grow Flow
Grow Flow is Surfer SEO's AI growth management platform. This feature alone, which comes provided in all of Surfer's plans (albeit with limitations per plan), makes Surfer SEO worth the investment.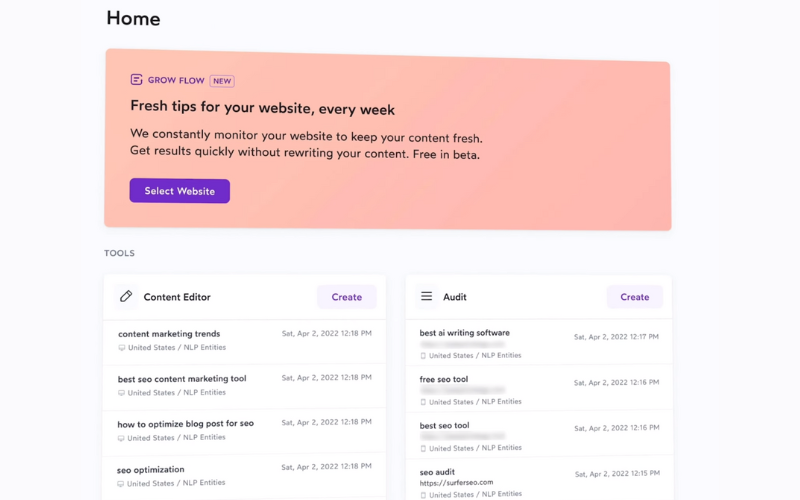 With Grow Flow, you'll receive AI-generated tasks to improve your SEO strategy. This is especially useful if you're quite new to SEO and want to bring your website up to speed. The following are just some examples of AI-generated tasks that Grow Flow will give you:
SEO insights on web pages with missing or weak content
Topics that can help you establish authority in your niche
Keywords with high-ranking potential
Notifications of missing keywords in existing content
Relevant internal link suggestions
Analysis of website growth and performance
Keyword Research Tool
If you've used Google Keyword Planner, then Surfer SEO's Keyword Research Tool won't be that foreign to you. All you need is just one keyword and you'll discover a huge list of potential target keywords using this keyword tool.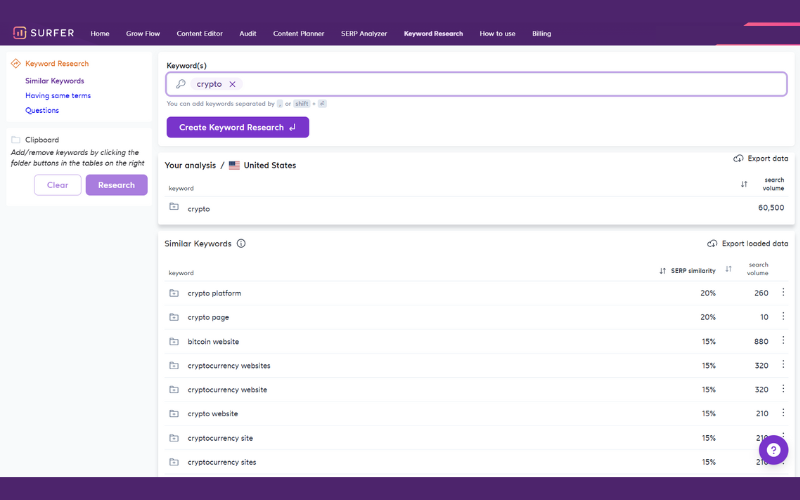 After entering your initial keyword, you'll receive insights on related keywords, topics, and phrases. The monthly search volume, with high search volume accuracy, keyword similarities, and keyword difficulty for the related keywords you've received will be given as well. As such, Surfer's Keyword Research Tool can aid you in creating a comprehensive content plan for your niche and target region.
SERP Analyzer
SERP Analyzer is Surfer SEO's feature that allows you to run an in-depth analysis of your competitors. In doing so, before you even begin the content creation process, you'll have a definite idea of what content will best fit a target keyword. You may even consider SERP Analyzer as a supplement when you conduct keyword research in this regard.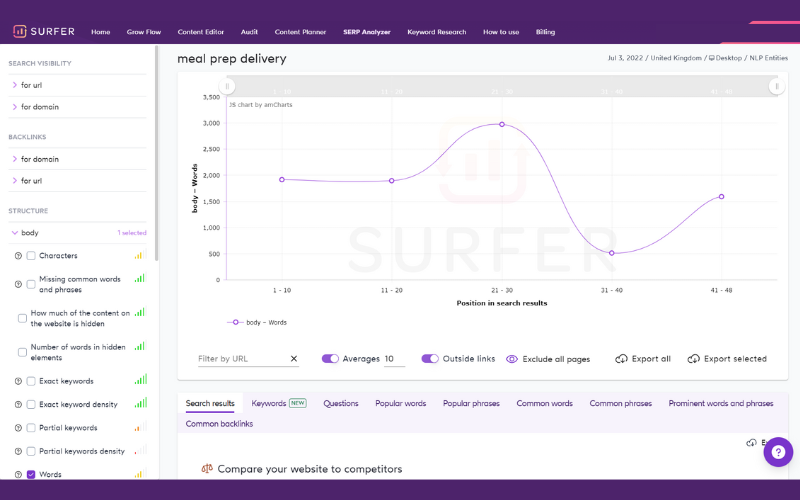 After inputting the URL or domain of top-ranking pages, you can see the URL or domain's visibility, backlinks, and structure. This way, you can find out how competitors optimize their pages and how you can do it better. You can also find out what particular keyword, popular phrases, and common words your competitors rank for.
Content Editor
When it comes to content writing, Content Editor is Surfer SEO's best tool offering. Through this editor, you can create highly-optimized content for search engines. It's a straightforward tool that packs a lot of punch.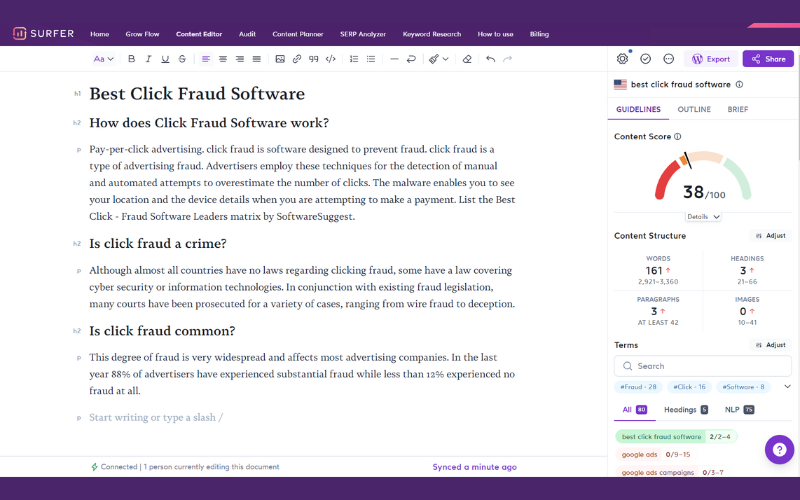 You start by entering your target keyword, making sure to set the location (e.g. United Kingdom) and crawler type (e.g. Desktop) accordingly. The latter function is especially useful in helping your articles rank high for local SEO, as you can set the location to somewhere more specific (e.g. Yorkshire, England).
After doing so, you'll be given a Content Editor document centered on your keyword. Before starting your content writing—or before you import content you've already written—you can further customize how your content will be optimized by doing the following:
Choose your organic competitors from a list of top 20 competitors
Adjust the structure requirements of the content
Add or remove relevant keywords from the list
Topic question suggestions are also available to help you draft your content. You can also leave notes for other users you are collaborating with.
Outline Builder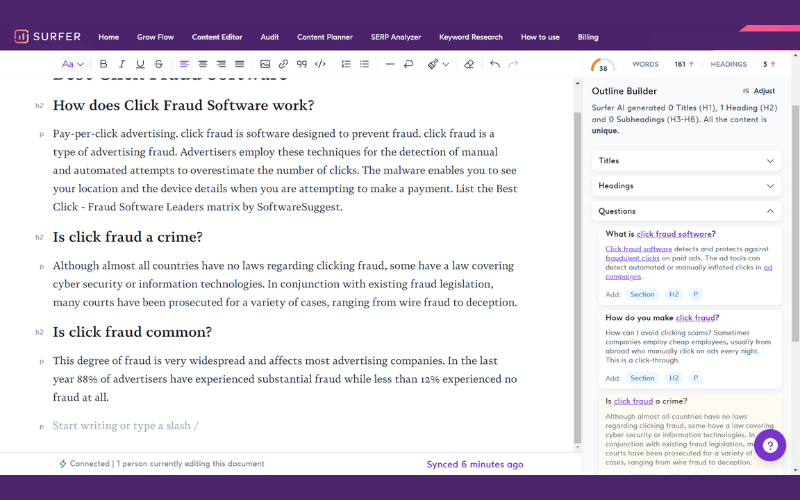 The outline builder of this content writing tool allows you to create drafts at lightning-fast speeds. With Content Editor's outline builder, you'll receive unique, artificial intelligence-generated titles (H1), headings (H2), and subheadings (H3). Each title also comes with AI-generated text based on user search intent, which you can utilize to guide your content writing.
Natural Language Processing (NLP) Keyword Suggestions
Perhaps one of the best features of Surfer SEO's Content Editor is the NLP keyword suggestions. Generated through Surfer's NLP analysis, these keyword suggestions can help you make content that will rank higher on Google and other major search engines. The reason for this is that NLP keywords are sentiments, words, and phrases deemed important by Google for the target keyword you're trying to rank for.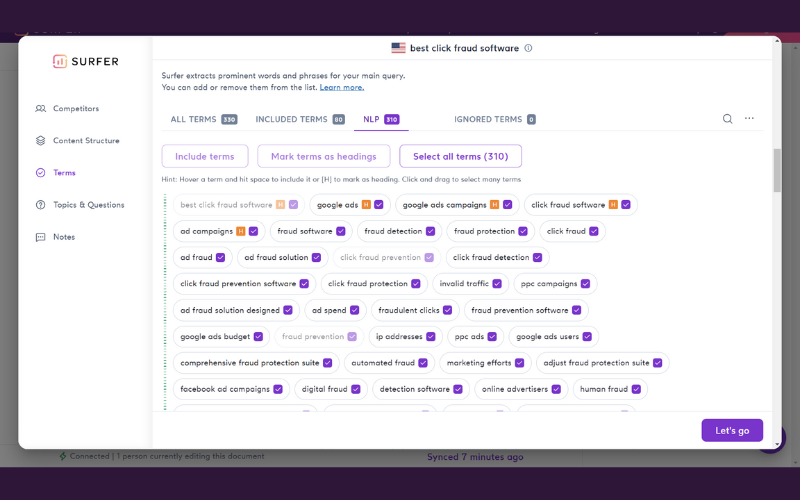 On top of these NLP keyword suggestions, you also get examples of use for each keyword. These examples are taken from your direct competitors, which helps even further optimize your content writing process.
Integrations
WordPress, Webflow, and Google Docs integration are possible with Surfer SEO's Content Editor Chrome extension. With this nifty tool, you can choose to write with your team either in Surfer's native editor or those third-party sites.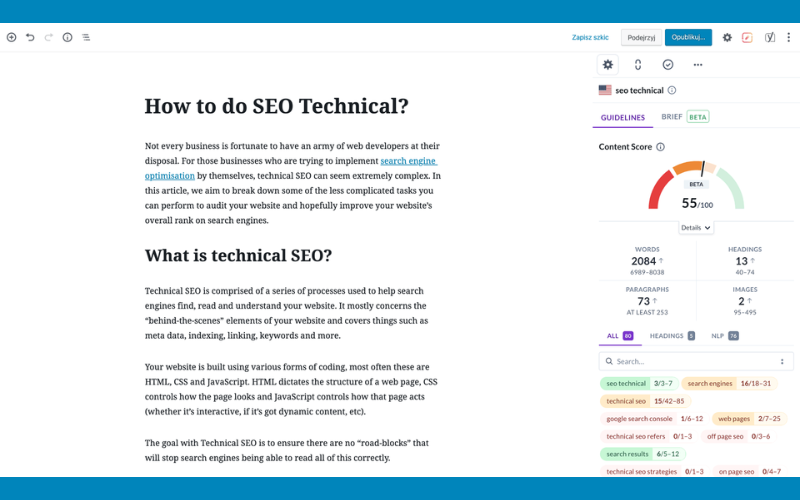 If you do choose the native editor, you don't have to worry about sharing your Surfer account to other users just to collaborate. Sharing the Content Editor link to others allow them to view and edit the document for an unlimited time.
While Surfer SEO doesn't have its own AI writer tool, they do have Jasper.AI integration. As such, you can utilize this powerful AI writing tool while optimizing your content on the Surfer SEO platform.
Plagiarism Checker, ETC
A recent competitive feature added by Surfer SEO is the Plagiarism Checker. Using Surfer's analysis, the Plagiarism Checker finds any duplicated matches for your content on the SERPs. Once it finds matches, you're notified to change your content to avoid plagiarism. Do take note that, as of writing, Webflow, WordPress, and Google docs integration using the Chrome Extension doesn't include this tool.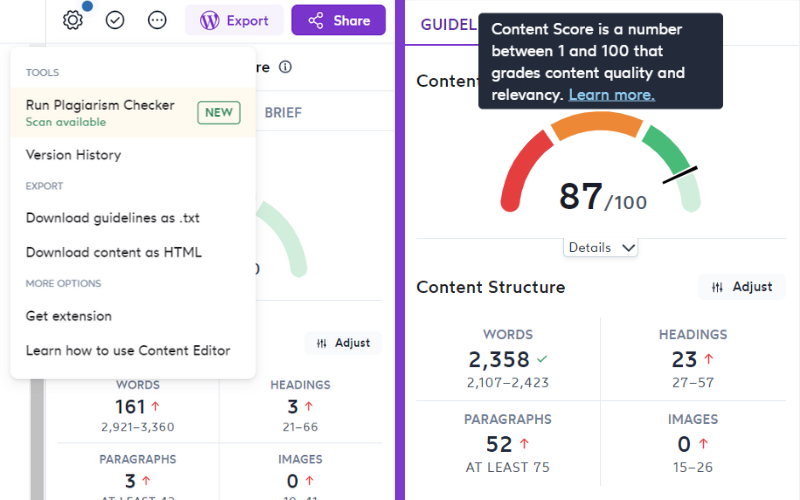 Other features you'll find on Surfer's editor include:
Content Score, which grades the quality and relevancy of the content you're writing
Content Structure, which shows you the recommended paragraphs, images, word count number, and headings
Search bar and filter for key terms, which can help you quickly identify what keywords you are missing
Content Planner
Surfer SEO Content Planner is another feature that content writers and content marketing agencies alike will appreciate. Crafting your content strategy becomes efficient and streamlined with the help of Surfer's Content Planner. It'll only take a few clicks and voila! You have clusters of keyword ideas and secondary keywords related to the exact keyword title you inputted.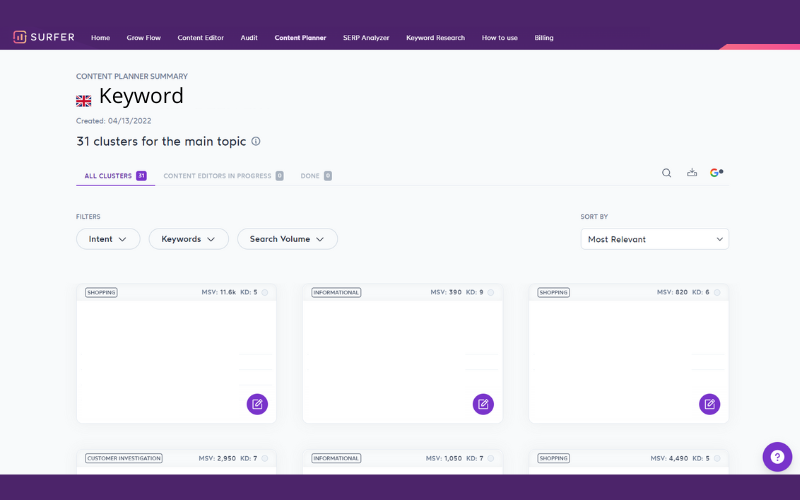 As such, utilizing Surfer's Content Planner allows you to produce content with relevant keywords that will help you dominate your niche. You can also connect Surfer's Content Planner to Google Analytics or Google Search Console to receive recommendations based on your raw data.
Audit
Surfer SEO is committed to optimizing users' content even after the content has been published. As proof of this commitment, Surfer developed the Audit tool. Through Surfer's Audit, you can analyze an existing blog post on your web pages to identify SEO errors and opportunities for ranking improvements.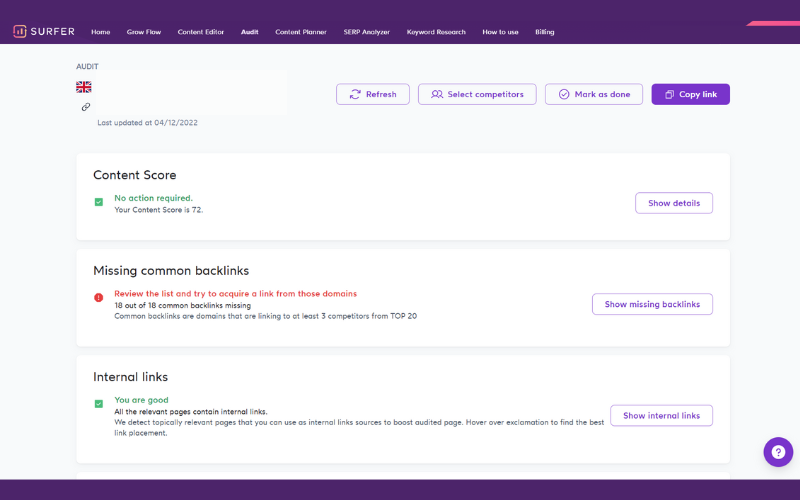 If you have sufficient knowledge about SEO, you may not find Surfer's Audit anything special. After all, identifying SEO errors can be done manually, as long as you know what you're looking for. However, by automating this process, you and your team can focus your efforts on other important things.
Here's an overview of what Surfer's Audit can help identify to ensure your web pages are up to par with the latest web presence best practices:
Uncover prominent terms your page is missing;
Analyze your content structure and on-page ranking factors;
Choose competitors you want to compare with; and,
Find internal linking opportunities.
Topic Discovery
Establishing domain expertise is a breeze with WriterZen's Topic Discovery tool. A single seed keyword will give you access to ranking topics and headlines from the top 100 competitors. You can then use these topic and headline search results to build your content strategy, all based on content ideas already ranked by Google.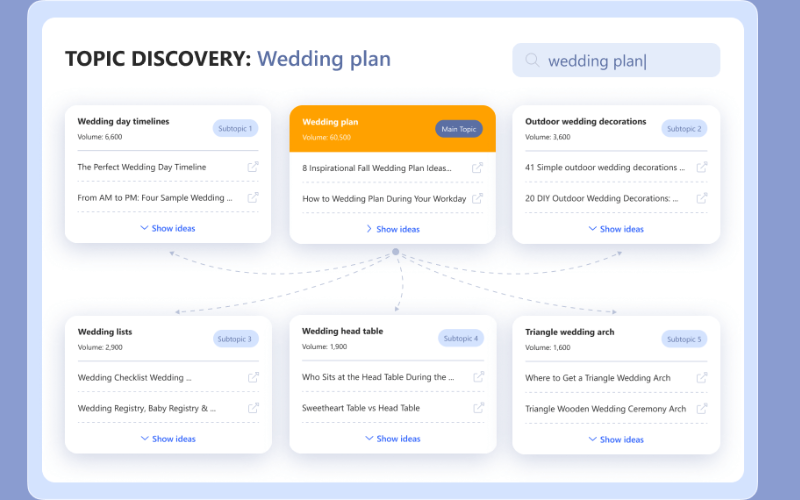 The Google Suggest Insights feature in Topic Discovery helps you include all related information to user intent standpoints. You can also utilize Topic Discovery to find missing or weak content to build a sure-win content strategy.
The user interface of Topic Discovery is also stellar in how it helps you visualize your content ideas. The advanced filtering system helps you screen through all the overflowing ideas and choose topics that best fit with your strategy.
Keyword Explorer
With WriterZen's Keyword Explorer, you can conduct keyword research with their propriety algorithm that ties together a complete keyword research process. All the keyword suggestions you'll receive are guaranteed t be of great authority, as WriterZen ensures the keywords only come from Google keyword and suggest database.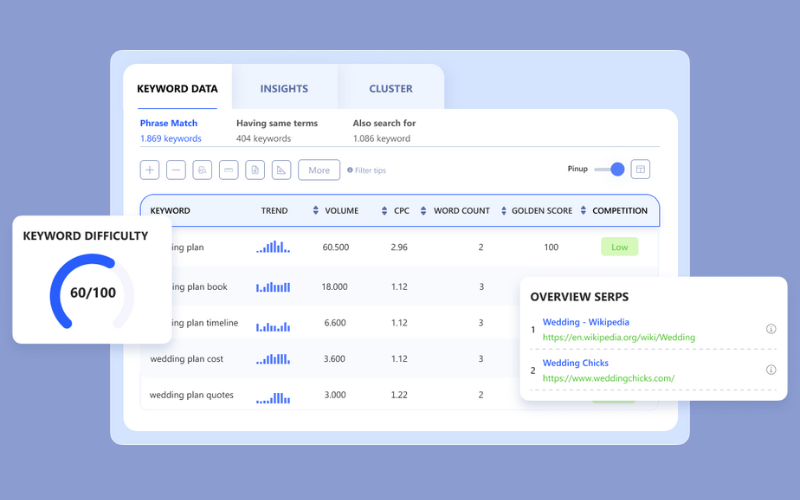 The most unique feature of WriterZen's Keyword Explorer is the patented Golden Filter. The golden keyword filter helps you discover the supply and demand for a particular keyword. It then bulk checks allintitles to gauge the level competition for a seed word. After you receiving this filtered list of keywords from the golden keyword filter, you can categorize them to fit them better in your SEO strategy.
All this is just a snippet of what comes with Keyword Explorer. On top of all this, you also get various info like search volume, keyword trends, cost per click, keyword difficulty, keyword golden score, and keyword trending.
Content Creator
After you've discovered your topics and conducted keyword research, the next stop is WriterZen's SEO optimized editor: Content Creator. This content optimization tool will breathe life into your content. That's because Content Creator was created based on the workflow of outlining, selecting the target keywords, and then focusing on writing.
Let's look at an overview of all the key features of this content optimization tool to better understand how this can help you make better content.
Competitive Analysis
Content optimization all starts with analyzing your competition. WriterZen screens the top 20 URLs ranking for a seed keyword to discover their secret to success.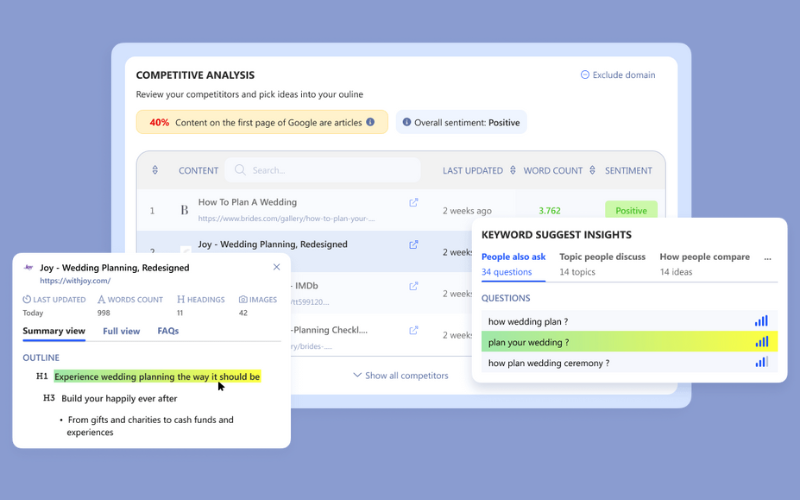 From this screening, WriterZen extracts keywords that drive high traffic, which have high content relevance and low search difficulty. You can also browse the competition's articles straight from the Content Creator platform to find winning elements and make them yours. Finally, you can identify and answer users' major questions through the Google Search and Social Media insights provided by Content Creator.
Content Blueprint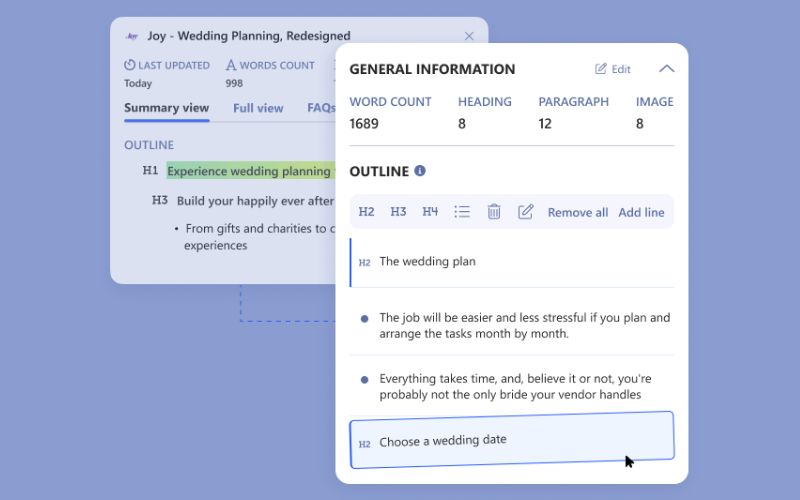 Creating content drafts is as easy as clicking a few buttons on Content Creator. Browse the SEO optimized outlines generated by Content Creator from trends and practices of top-ranking competitors. The clean user interface encourages you to expand on the suggested outline to fit your ideas.
Google NLP Entities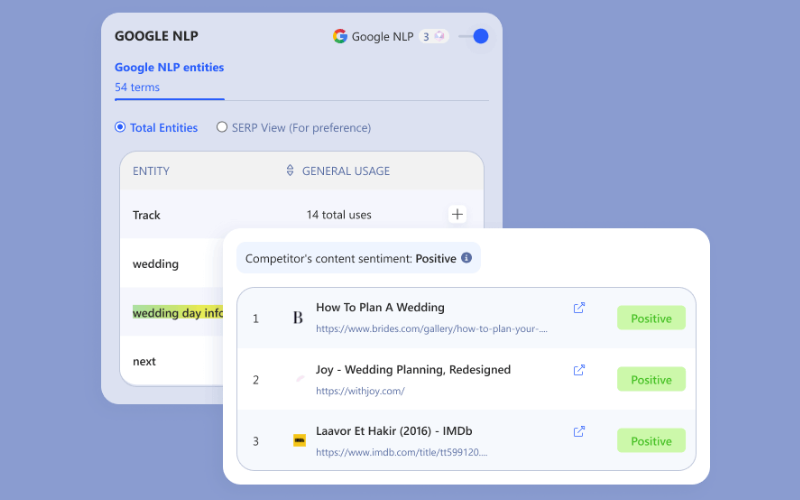 To help Google bots better understand your content, Content Creator compiles NLP entities you can incorporate into your blog post. Search engines consider these entities vital and essential for human readers. As such, WriterZen gives you a list of these entities, all with a high salience score that delivers the best impact on Google bots.
Integrations
Currently, optimized content creation is only possible on WriterZen's native content optimization tool. It does not have WordPress or Google Docs integration as of yet. WriterZen has stated that they are working on better team functions. So, in the meantime, you can share Content Creator access via a link sent out to your teammates.
AI Assistant
WriterZen's AI writing tool is a GPT-3 powered AI writing assistant, available as an add-on to any WriterZen subscription plan. This writing assistant generates unique titles, descriptions, and outlines to help you craft the perfect article. Not only that—you can also select key points and use the AI assistant to spin them into readable paragraphs, which can expand into a complete article.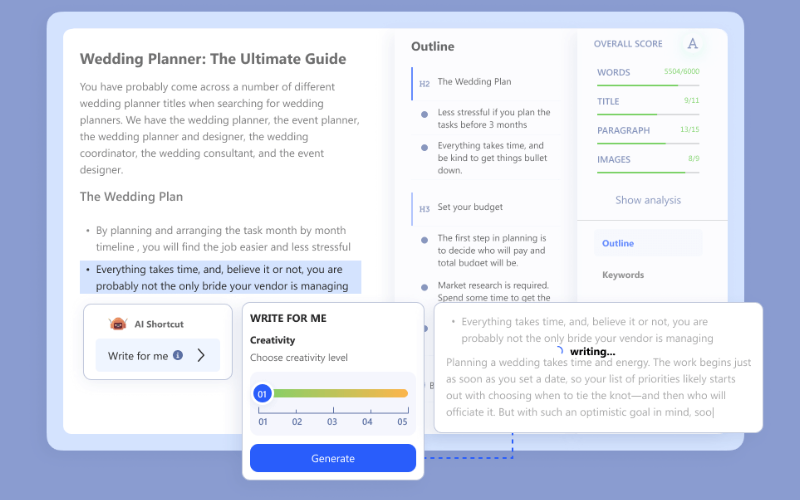 The artificial intelligence basis of this tool is highly-trained and tested. It only gets better with time using WriterZen's enhanced deep learning model updates. You also gain access to versatile AI templates you can build on that fit any step of your content creation cycle.
Plagiarism Checker
WriterZen's Plagiarism Checker ensures your content is not just highly-optimized but also plagiarism-free and original. The in-built originality checker of this tool measures text uniqueness. It will find duplicated content and show you the source to help you better understand the intend and extend of the plagiarism. Afterwards, the tool also runs checks directly from Google's database of billions of web pages.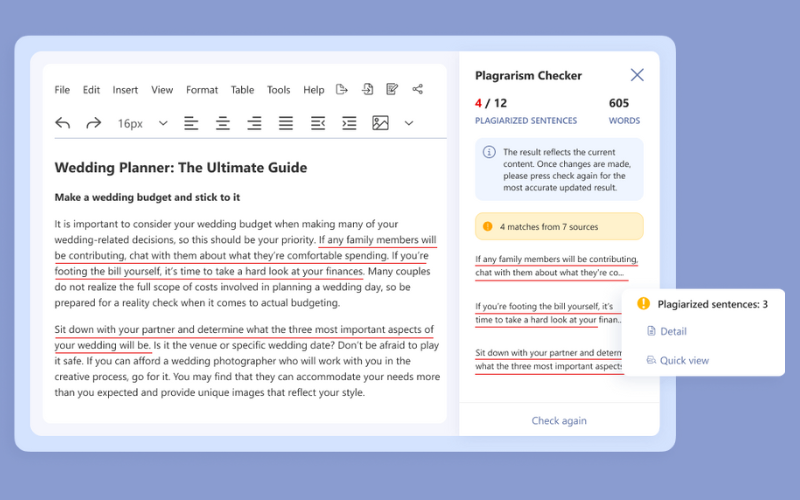 If you're in charge of checking multiple content for your agency, you can use Plagiarism Checker to generate reports to share with your team. This not only speeds up the content creation process for your team but also ensure you're maintaining your professional standards.
Surfer SEO vs WriterZen: Pricing Plans
When it comes to WriterZen vs SurferSEO, what can make or break these platforms to some users is the pricing plan.
Surfer SEO Pricing
Surfer SEO has four subscriptions plans—one free and three paid.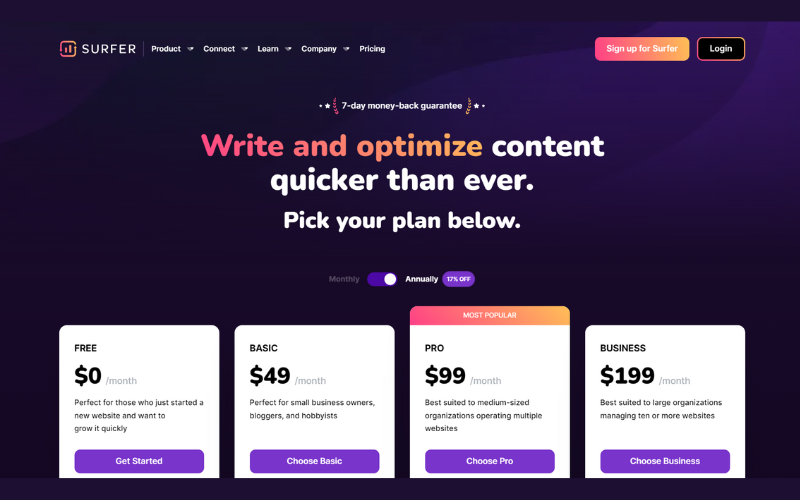 With the lowest-tier plan, you get 10 articles per month for the Content Editor and 20 pages for the Audit.
Surfer SEO offers a 7-day money-back guarantee if you're not satisfied with the platform.
Most users that have reviewed Surfer SEO have rated their customer service as satisfactory. You'll often receive a reply within 24 hours when you email their customer support. On top of the customer support Surfer SEO offers, they also have tons of resources on their website.
WriterZen Pricing
WriterZen offers three subscription plans.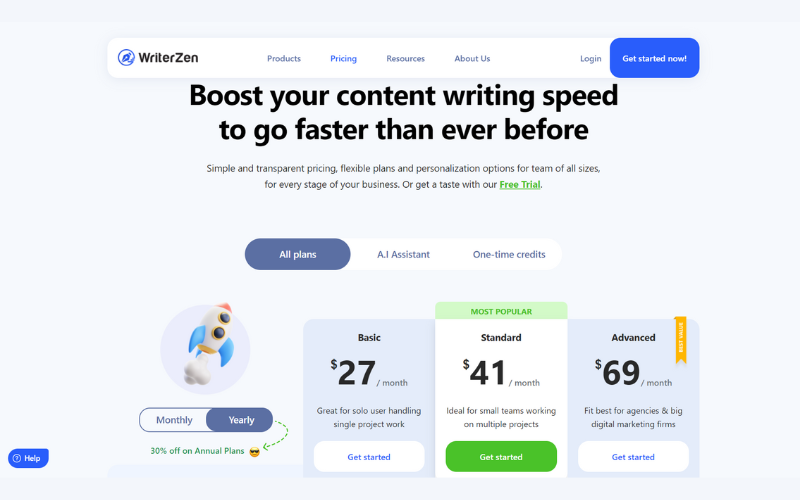 With the lowes-tier plan, you get 50 articles per 30 days and 50 topic look up per day.
A 7-day free trial is available, no credit card required. You get access to all the features, albeit with limitations. But it is enough to explore all that WriterZen has to offer.
WriterZen's AI Assistant is available as an add-on.
You can also avail of one-time credit top ups.
Users who depend on WriterZen have rated their customer service as satisfactory. WriterZen also has a wealth of resource (blog posts and webinars) to help educate users.
Verdict
WriterZen is undoubtedly more affordable vs SurferSEO. You get 40 more articles per month on a plan that is $20 cheaper when you go with WriterZen. Granted, you will miss out on Surfer's other useful tools like Grow Flow and Audit. But if you're focus is content optimization for written content alone, then WriterZen's subscription plan prices are a steal compared to Surfer.
Final Thoughts
In the list of all the marketing tools you should want in your business, a content optimization tool that helps you create search-optimized articles should always be included. A tool like this can aid your keyword research and enhance your content strategy to boost your business' success. And from the two content optimization tools we've covered today, you've seen just how much a tool can offer to your business.
With that said, if you're still unsure which software to choose, allow us to share our verdict. Both Surfer SEO and WriterZen offer great tools you can use to produce search-optimized articles that can dominate search results. However, if you already use other SEO tools for SEO strategies like off-page SEO and link building (e.g. SEMRush, Ahrefs, etc.), then you'll benefit from getting WriterZen instead of Surfer SEO. If you don't or are not interested in getting a separate SEO tool, then you'll benefit more from Surfer SEO.
Of course, also take note of the price you'll be paying. WriterZen is a significantly more bang-for-your-buck platform if all you want is content optimization. But the price of Surfer SEO becomes worth it when you'll utilize all the tools they are offering.
Need more advice on software? Be sure to contact us and we'll be more than happy to help.